Looking to know which is best, EPCOT vs Hollywood Studios? In this guide, I'll give you the quick and long answer, plus some tips to save you time!
Do you only have one day to spare at Walt Disney World and are unsure which park to visit? I'm going to break down the differences between EPCOT and Hollywood Studios, highlighting the best of each park so that you can make the most of your Disney trip!
As someone who has been going to Disney since she was a toddler, I'm here to help!
What is EPCOT?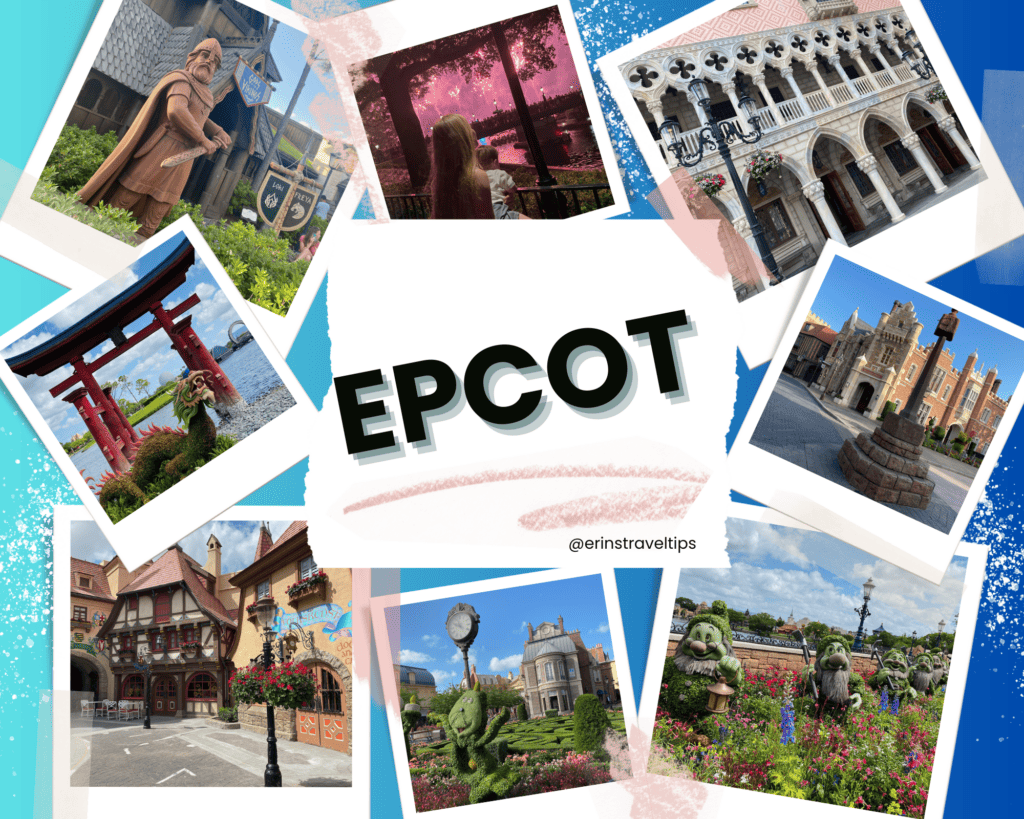 EPCOT, which stands for Experimental Prototype Community of Tomorrow, is one of the four theme parks within the Walt Disney World Resort near Orlando, Florida.
EPCOT is unique in its focus on the celebration of human achievement, technological innovation, and international culture. The park is divided into two main areas: Future World, which exhibits high-tech explorations of science, technology, and the planet, and the World Showcase, which presents a collection of pavilions embodying the culture, cuisine, and traditions of 11 countries from around the globe.
Of all the Disney parks, I've visited EPCOT the most! As a child, I honestly didn't care for it too much, especially futuristic shows like Captain EO with Michael Jackson (in 3D, I might add!) and animated fertility shows, I wasn't exactly jumping for joy to visit EPCOT. However, a lot has changed over 30 year span, and I have to say it's at an all-time high! So, don't skip the EPCOT details, I'm going to share my favorite places and must-know tips below!
EPCOT Map
The EPCOT Map above gives a general layout, but you'll want to use Disney's brochure for more details.
What is Hollywood Studios?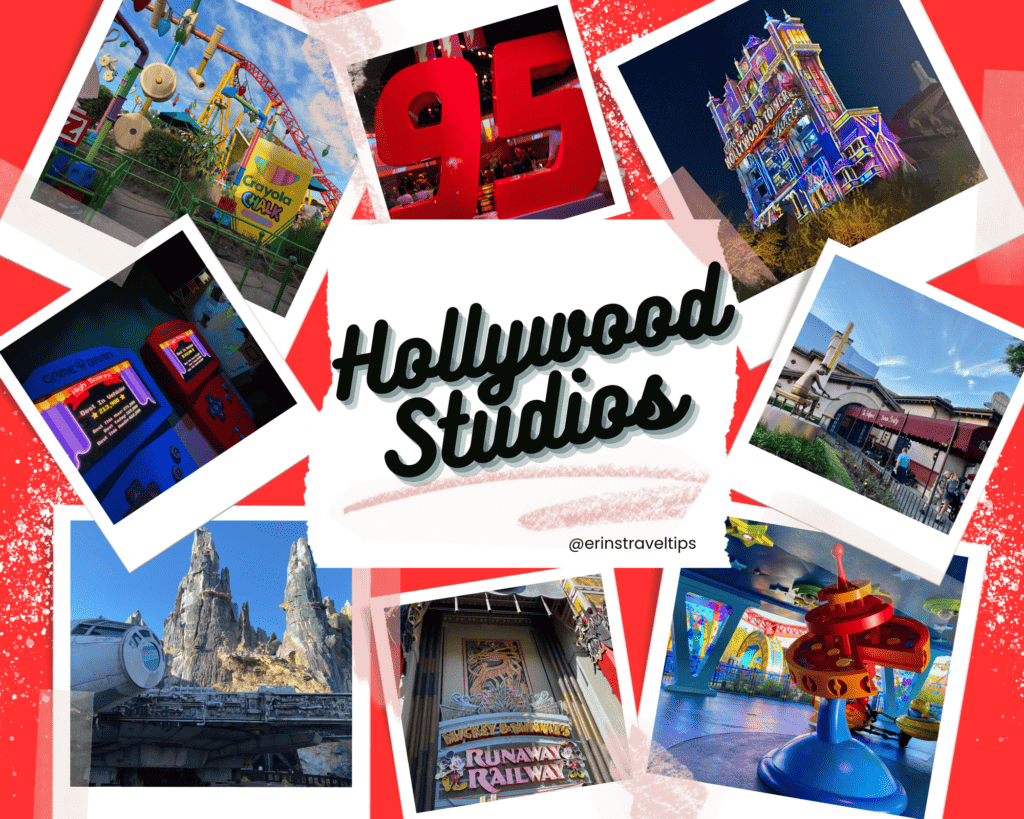 Hollywood Studios, located near EPCOT in Walt Disney World is a vibrant tribute to the Golden Age of Hollywood. The park immerses visitors in the glitz and glamour of the entertainment industry, featuring attractions inspired by Disney, Pixar, and Star Wars.
Combining nostalgia with adventure, Hollywood Studios offers a captivating journey into the heart of cinematic magic.
Hollywood Studios Map
Disney Hollywood Studios Map above gives a general layout, but you'll want to use Disney's brochure for more details.

EPCOT vs Hollywood Studios: The Quick Overall Answer
While this is not an all-inclusive list, here is a quick breakdown of EPCOT vs Hollywood Studios.
| Feature | EPCOT | Hollywood Studios |
| --- | --- | --- |
| Theme | Future World and Epcot's World Showcase | Themed by Movies and TV Shows |
| Rides | Soarin' Around the World, Test Track, Frozen Ever After, Spaceship Earth, Mission: SPACE | Rock 'n' Roller Coaster, Slinky Dog Dash, Star Wars rides, Twilight Zone Tower of Terror |
| Shows | EPCOT Fireworks show, Turtle Talk with Crush, Festival of the Lion King, Matsuriza | Beauty and the Beast Live on Stage, Indiana Jones Epic Stunt Spectacular, Star Wars: A Galaxy Far, Frozen Sing-Along; Far Away, Fantasmic! |
| Character Experiences | Minnie Mouse, Donald Duck, Joy, Mulan, Belle, Goofey, Princess Aurora, Princess Jasmine, Snow White | Mickey Mouse, Minnie Mouse, Ariel, Disney Junior pals, Star Wars characters, Green Army Drum Corps, Toy Story characters |
| Dining | More options for restaurants along with the popular Food & Wine Festival. | Wide variety of food and drink options, but fewer restaurant choices. |
| Shopping | Lots of shops and within quick walking distance of Disney's Boardwalk. | Many shops sell souvenirs and a short boat ride from Disney's Boardwalk. |
| Overall Experience | More educational and cultural experience theme park. | IPs and thrilling experiences, with a focus on movies and TV. |
Verdict: EPCOT
In a quick comparison between EPCOT and Hollywood Studios, the scale tips in favor of EPCOT.
Hollywood Studios is heavy on the thrill and definitely has some of Disney World's best rides, but EPCOT offers a more balanced park experience that's enjoyable for a wide range of people. There's simply so much more to do at EPCOT.
EPCOT is much more likely to please everyone when it comes to food, too. Foodies and adventurous eaters might feel let down at Hollywood Studios. Younger kids might feel left out at Hollywood studios, too, where most of the rides are best suited for older children, teens, and adults.
For a more detailed look into the Hollywood Studios vs EPCOT debate, as well as to see who wins in various categories, keep reading!
EPCOT vs Hollywood Studios: Best Rides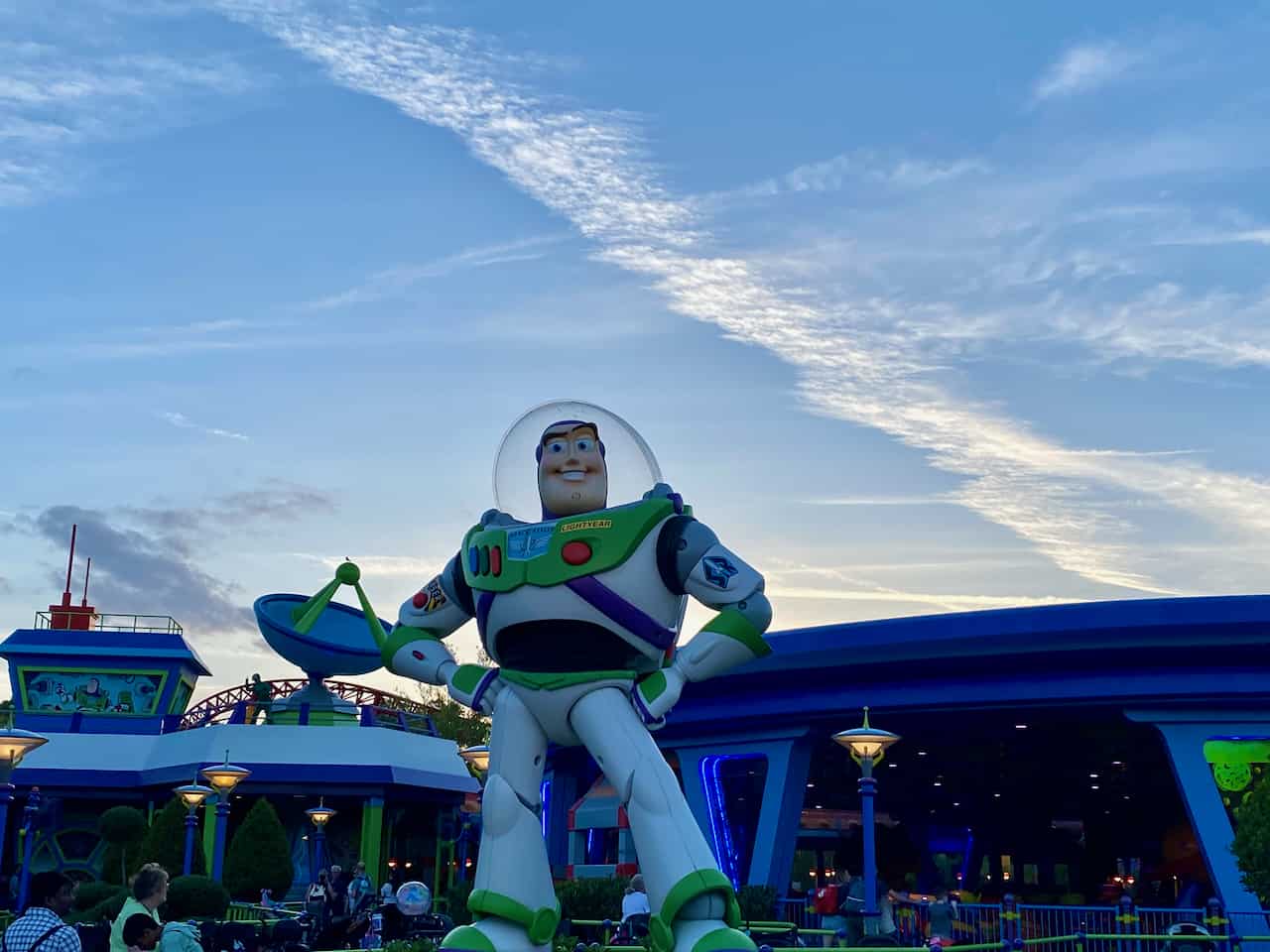 Verdict: Hollywood Studios
Let's not beat around the bush; the rides are the main reason to go to Disney World. Between EPCOT and Hollywood Studios, the latter is the clear winner.
Hollywood Studios has exhilarating, showstopping rides — every single one is epic. Hollywood Studios is arguably the best of all four parks when it comes to rides.
Whereas thrill is Hollywood Studios' mainstay, EPCOT's rides are more varied — a mix of headliners and B-tier attractions. EPCOT loses out on this category, but it's the kind of park where you can have a full day without even going on any rides.
Best Rides at Hollywood Studios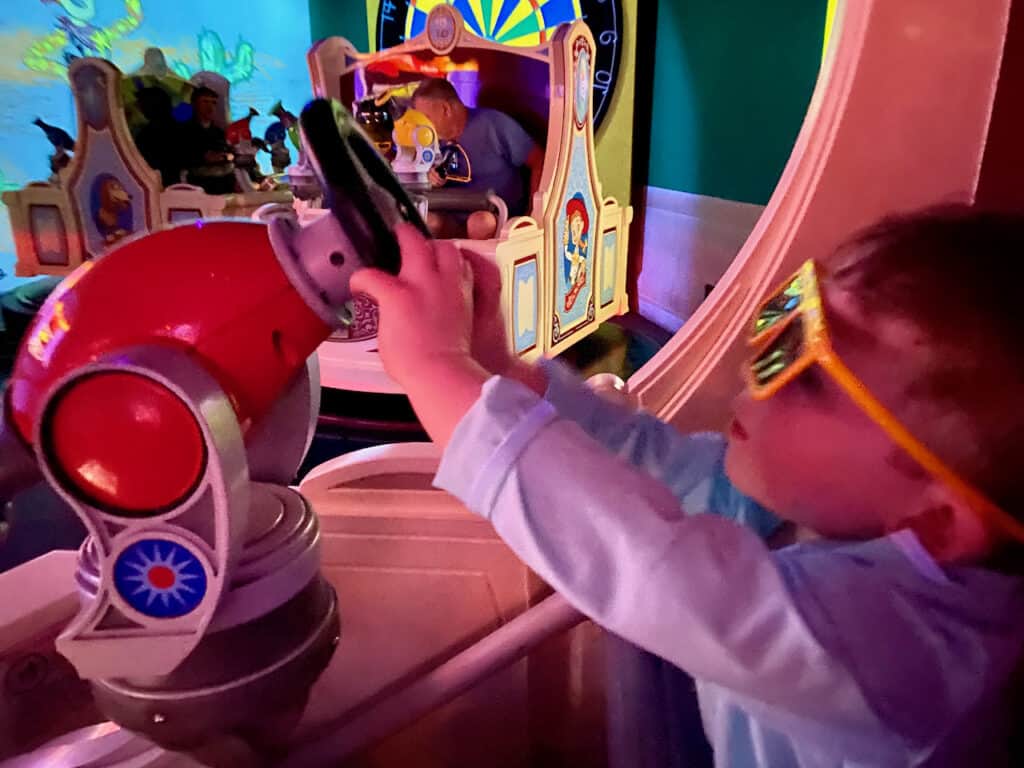 1. Rise of the Resistance
Suitable For: kids, teens, and adults
Genie+ Attraction? No
Star Wars: Galaxy's Edge has proven to be one of Walt Disney World's most successful additions to any of its parks. Rise of the Resistance is the crown jewel.
This ride involves you adventuring through the Star Wars Universe. You get taken captive by the First Order Star Destroyer but fear not because the Resistance will help you escape.
The long lines can be a pain, and it's not a Genie+ attraction, but you can speed up your waiting time by purchasing an individual Lightning Lane pass. It's my favorite of the Star Wars rides in Hollywood Studios (over Star Wars: Rise of the Resistance).
2. Twilight Zone Tower of Terror
Suitable For: Kids, teens, and adults
Genie+ Attraction? Yes
Rise of the Resistance is hard to beat, but Tower of Terror comes pretty darn close. On this ride, you enter an ominous elevator inside the dusty, old Hollywood Tower Hotel.
I don't want to give any spoilers (this ride is best experienced if you go into it relatively blind!), but the story is incredibly interesting. It's enhanced by special effects and unpredictable drops. It's scary and totally exhilarating!
3. Rock n Roller Coaster
Suitable For: Kids (48″ or taller), preteens, teens, adults
Genie+ Attraction? Yes
Head over to Rock n Roller Coaster for a pure dose of thrill. This intense rollercoaster goes from 0 to 57 mph in a matter of seconds. It turns you upside-down just as fast, too.
The ride features songs by Aerosmith. In the ride's storyline, the band is late for a concert and takes you along on the insane, rushed ride through Hollywood.
I've been riding Rock 'n' Roller Coaster since I was a teenager, and it was my absolute favorite ride in the park. It has been shut down for renovations, which probably is needed considering I was a teenager 20 years ago.
4. Toy Story Mania
Suitable For: Toddlers, teens, adults
Genie+ Attraction? Yes
Toy Story Mania is an interactive experience where you explore Andy's room before taking on a series of shooting challenges, trying to hit moving targets in various scenes wearing your 3D glasses.
It's interactive and competitive; you're vying against other ride-takers to get the highest score. This is a great ride for all ages. Even my two-year-old absolutely loved it!
🎯 Pro Tip: Keep your eyes peeled for any secret targets — they're worth more points!
5. Slinky Dog Dash
Suitable For: Children (over 38″), teens, adults
Genie+ Attraction? Yes
The Slinky Dog Dash is also located is Toy Story Land. It's a relatively easygoing roller coaster but not suitable for two-year-olds. My son hoped to ride it, but it's better suited for older children and adults.
Since this is one of the newer rides, come early to avoid long lines.
6. Mickey & Minnie's Runaway Railway
Suitable For: Toddlers, kids, teens, and adults
Genie+ Attraction? Yes
By the name, you might write this off as an attraction for kids. It is indeed great for families with kids, but parkgoers of any age can join the fun!
What begins as a scenic tour led by Goofy quickly becomes a ride on a runaway train. The ride takes you through zany scenes in the cartoon world of Mickey Mouse cartoons, done in nostalgic but sharp animation.
Best Rides at EPCOT
1. Guardians of the Galaxy: Cosmic Rewind
Suitable For: Kids, teens, and adults
Genie+ Attraction? No
Guardians of the Galaxy: Cosmic Rewind is one of EPCOT's newest rides. It is an enclosed rollercoaster that takes advantage of its indoor setting to feature video effects. It's also EPCOT's first and only rollercoaster.
The experience begins with a tour of the Galaxarium, showcasing differences between our galaxy and the one Xandar is in. Then, you board the rollercoaster itself on a mission to help the Guardians of the Galaxy. The ride is set to throwback songs from the '70s and '80s.
2. Soarin'
Suitable For: Kids, teens, and adults
Genie+ Attraction? Yes
Soarin' is a close second. It's a hang glider simulator that makes use of a huge, 180-degree IMAX screen to take you on a journey around the world. It also features wind and aromas — 4D!
On Soarin', you go from the Swiss Alps to the Great Wall of China to the Pyramids of Egypt, and tons more iconic natural and man-made landmarks locations.
3. Test Track
Suitable For: Kids, teens, and adults
Genie+ Attraction? Yes
Ever wanted to go on Tron-style, futuristic joyride? Test Track lets you do just that. On this fast-paced ride, you ride a concept car on a high-speed track with obstacles, sharp turns, and rough terrain. There's also an outdoor area where you can hit speeds of over 60mph.
The one downside of this ride is how ridiculously long the wait times are. Consider making it one of your Genie+ selections.
4. Remy's Ratatouille Adventure
Suitable For: Toddlers, kids, teens, and adults
Genie+ Attraction? No
Remy's Ratatouille Adventure is one of EPCOT's newer rides. The ride follows Remy's perspective of the film Ratatouille — condensed into 5 minutes. It's a 4D experience, you "shrink" down to Remy's size and join him as he makes his way through Gusteau's restaurant. It's a charming, exciting, and heartwarming ride!
5. Frozen Ever After
Suitable For: Toddlers, kids, teens, and adults
Genie+ Attraction? Yes
Located in Norway, Frozen Ever After is a fun ride on for all ages. Years ago, this same ride covered the history of Norway as you rode on a Viking ship. In some ways, I miss the older version, but they did a good job repurposing the ships.
6. Spaceship Earth
Suitable For: Toddlers, kids, teens, and adults
Genie+ Attraction? Yes
Spaceship Earth is considered EPCOT's flagship ride, located within its iconic, giant "golf ball" sphere. This is a dark ride in which you take a journey through time, from the Stone Age all the way to the modern era.
It's one of Disney's longest rides, about 15 minutes long. It's definitely not one of the more exciting rides, but they have made improvements on it over the years. I tend to save this ride until later in the day after seeing the new attractions and popular rides.

EPCOT vs Hollywood Studios: Best Restaurants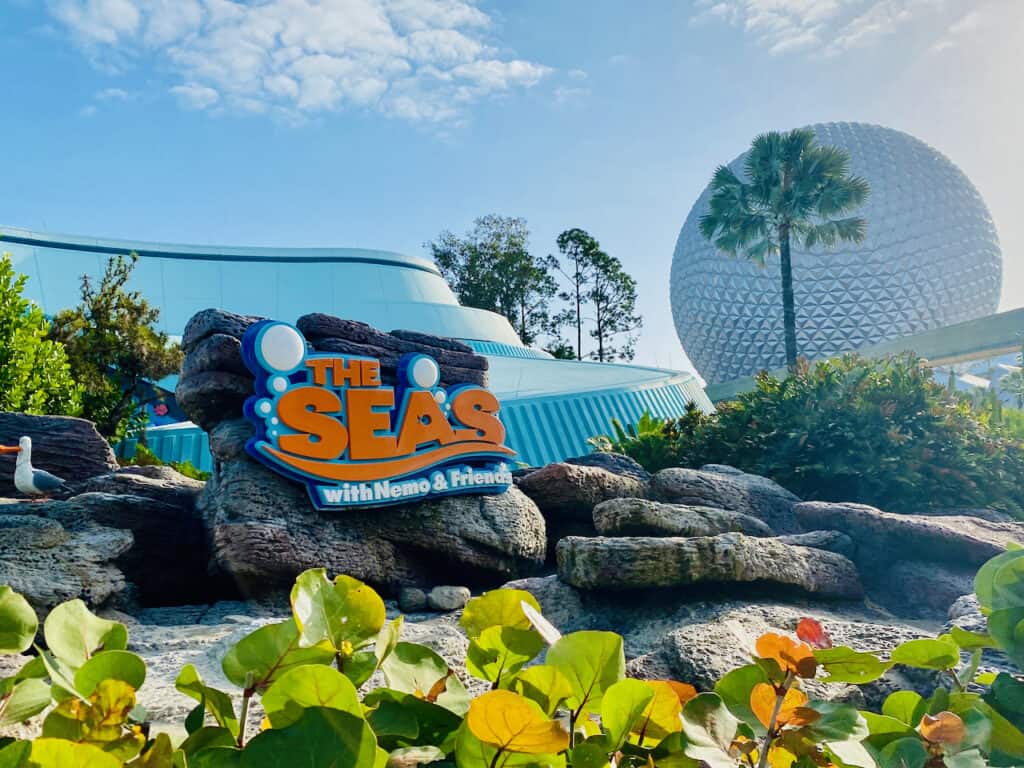 Verdict: EPCOT
One of EPCOT's themes is bringing together cultures from around the world, so it's no surprise that food is a big part of that. The sheer magnitude of restaurants is staggering. There are dozen table-service restaurants and tons more food stalls and counter-service eateries.
I think EPCOT is actually the best Disney park for food, period. Despite the diverse options, picky eaters will still be satisfied in most cases.
There are no bad Disney World parks when it comes to food but, honestly, Hollywood Studios' offerings could be so much better. It doesn't help that the food offerings are mostly standard American theme park fare.
EPCOT Restaurants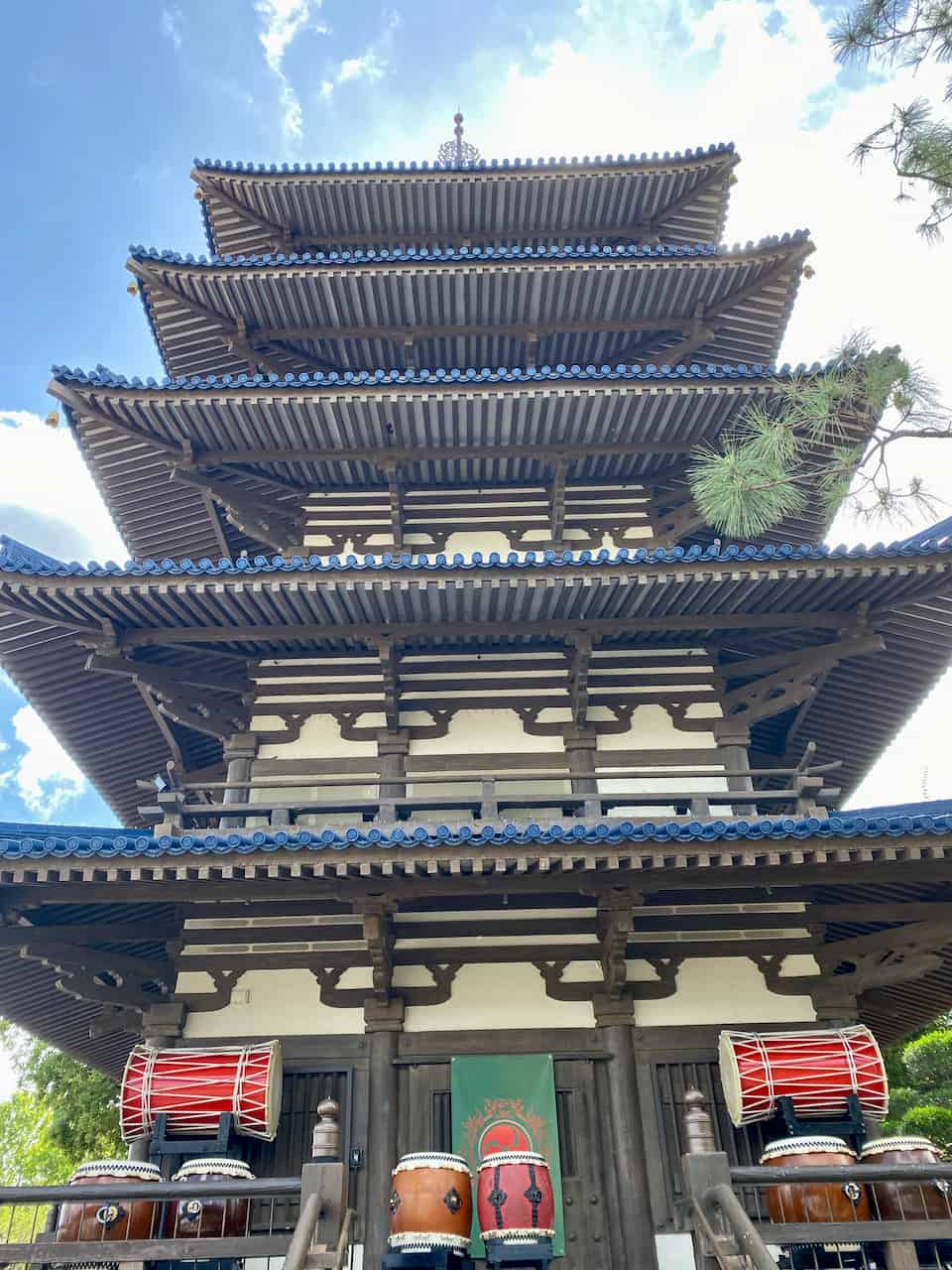 Le Cellier Steakhouse
If you can snag yourself a reservation at Le Cellier Steakhouse, consider yourself lucky. It's one of EPCOT's most popular restaurants! You get that Canadian chateau ambience without it feeling too stuffy.
Le Cellier Steakhouse serves hearty portions, including their steaks, There is a mix of inventive and familiar dishes. My personal recommendation is the Le Cellier Beef Bourguignon Poutine.
Rose & Crown Dining Room
Travel across the pond to the UK via Rose & Crown, a pub-style eatery that serves British staples such as fish & chips and shepherd's pie. They get bonus points for offering vegan alternatives to plenty of the items.
Tip: Rose & Crown makes a great vantage point for viewing EPCOT's fireworks show (more on that in the next section), so try to get a reservation that coincides with it.
Via Napoli Ristorante e Pizzeria
Via Napoli isn't the only place to get pizza in Disney World but it's certainly the best. Admittedly, the pizzas here are pricier than in other locations around the parks. However, they're larger and made with higher-quality ingredients. If you visit, try something unique like the Prosciutto e Melone pizza. It has cantaloupe on it!
Chefs de France
We're still in Europe, just one country over in Chefs de France. This casual French restaurant has an expansive menu and wine list. The prices are pretty reasonable, especially since the portions are big. The baked macaroni is a hit with kids but you might have to finish it for them! For sharing with the whole family, order the cheese board starter.
Teppan Edo
If you want dinner and a show, look no further than Teppan Edo, a hibachi-style restaurant. The chef cooks the food right in front of you in a fun, interactive show that kids especially will love.
Beyond the performance, the food is amazing, with tons of entrees and sides to mix and match. Try the Nihonbashi (steak and chicken) with udon noodles.
Hollywood Studios Restaurants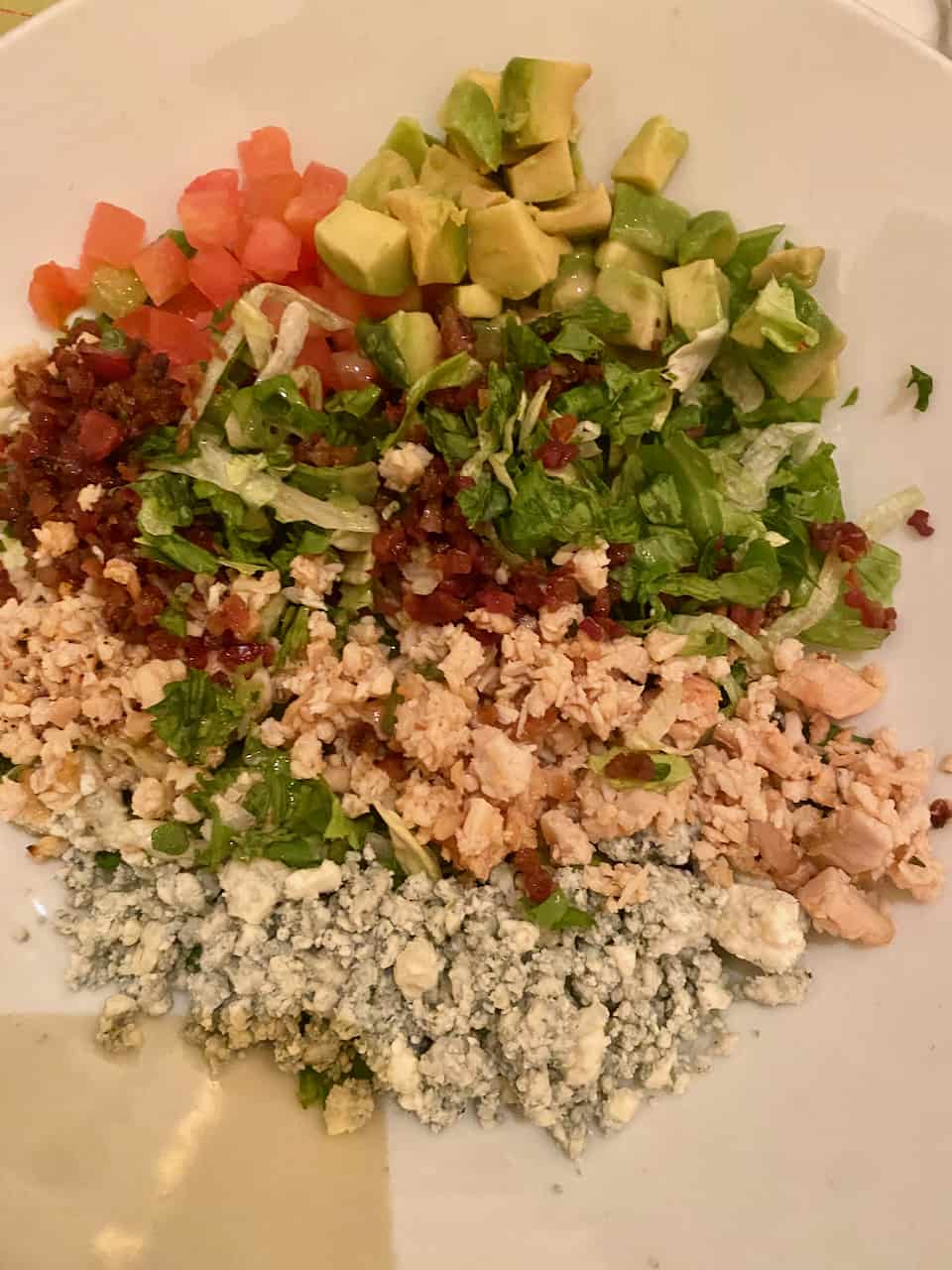 Hollywood Brown Derby
Hollywood Brown Derby is the absolute best restaurant in Hollywood Studios, leagues ahead of the competition.
It has an Old Hollywood atmosphere with gourmet eats like Lobster Cioppino and Free-Range Chicken à la King. Hollywood Brown Derby is also a reliable option since they have a lounge for walk-up guests when reservations are full.
Most of all, I like their ambiance; while their Cobb salad was good, we enjoyed the Filet Mignon more. But I honestly preferred the Yachtsman Steakhouse in Disney's Yacht Club Resort.
50's Prime Time
50's Prime Time's dining room is set up to evoke the feeling of being in a home from the 1950s. There are even black-and-white TVs showing playing shows from that era.
You'll find plenty of nostalgic comfort foods on the menu, like chicken pot pie, meatloaf, and lasagna. The servers make it a very interactive experience and (playfully) scold you if you don't eat your greens.
Sci-Fi Dine-In Theater
The interior of Sci-Fi Dine-In Theater is modeled to be like a drive-in theater, complete with car-shaped booths and a projector screen that shows short, nostalgic sci-fi clips.
Keeping with the theme, the menu is primarily diner food like burgers and shakes. Great for picky eaters, not so great for adventurous ones. You're there more for the unique theme than for the food. Note, also, that conversations can be a bit awkward here, as all the seats face the screen.
Hollywood & Vine
For families with kids, Hollywood & Vine is a nice choice for Hollywood Studios dining. It's a character dining restaurant, with various Disney characters going around that you can take pictures with.
Honestly, it's pretty pricey, and reservations fill up quickly, but it's such a uniquely "Disney" experience that it's worth considering. It's a buffet-style restaurant serving both interesting and kid-friendly fare.
Oga's Cantina
Oga's Cantina is really a bar, not a restaurant. There are just a couple of small bites to choose from. However, I had to include it thanks to the stellar atmosphere — it's an alien bar in the Star Wars Universe. Also, what it lacks in food, it makes up for with an extensive list of cocktails, wine, and beer. This is definitely the place to go for a drink in Hollywood Studios!
🌴 Related: Best Weekend Getaways in Florida

EPCOT vs Hollywood Studios: Best Nighttime Events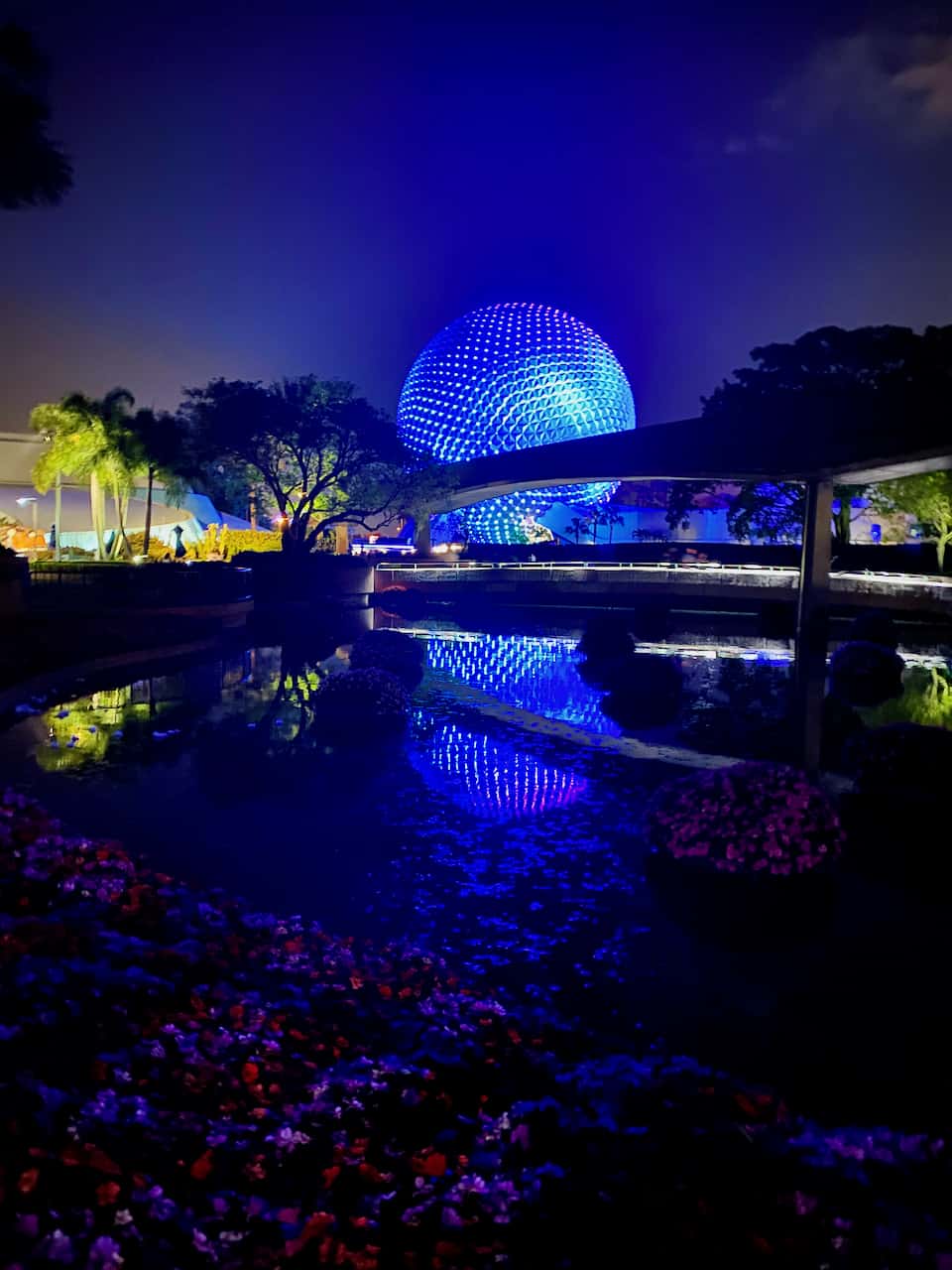 Verdict: EPCOT
This one is kind of a no-brainer, as EPCOT has a full fireworks show at night while Hollywood Studios doesn't. However, even though EPCOT wins this category, Hollywood Studios' nighttime events are amazing, too.
Nighttime Events at EPCOT
EPCOT Forever is EPCOT's nightly firework show. It's a true extravaganza, with plenty of pyrotechnics and lasers. There's both original music and renditions of Disney songs. It's actually a temporary show, replacing the previous one until the next one is ready (likely in late 2023).
Light and music shows frequently happen at Spaceship Earth, too. There are seasonal shows to fit the festivals (more on those later). There is also the 15-minute Beacons of Magic light show that happens multiple times every night.
Another thing to do at EPCOT at night is to attend one of the evening concerts at the World Showcase. Performances typically run throughout the day but they're more dazzling at night — plus more enjoyable, as the heat of the day has died down. These are usually seasonal, too.
Nighttime Events at Hollywood Studios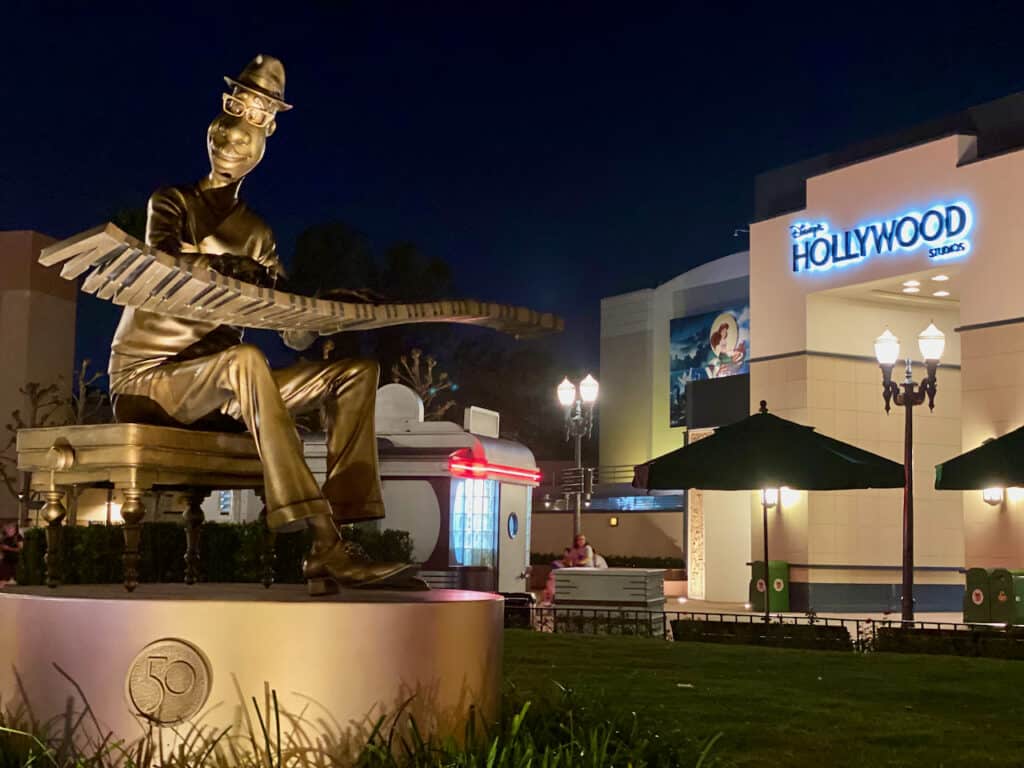 Though Hollywood Studios lacks a fireworks show, it does have an awesome nightly show: Fantasmic! Long-time Disney fans will love this show the most, as it features tons of Disney characters put together in an original story.
Another tribute to Disney is the Wonderful World of Animation, a projection show that happens nightly at the Chinese Theatre. It showcases the history and growth of Disney (and Pixar) animation, from the early 1900s to the current day.
Whether you're at EPCOT or Hollywood Studios, nighttime is also a great time to visit the Disney Boardwalk or Disney Springs. There are plenty of dining and recreation options — you can keep the fun going all night!
💰 Pro Tip: Many people don't realize Disney Springs and Disney Boardwalk are FREE. If you're staying in Orlando for a few days, you can make the most out of your dollars by skipping the parks on one day and seeing attractions and shows at Disney Springs. We often combine it with a pool day!
Epcot vs Hollywood Studios Festivals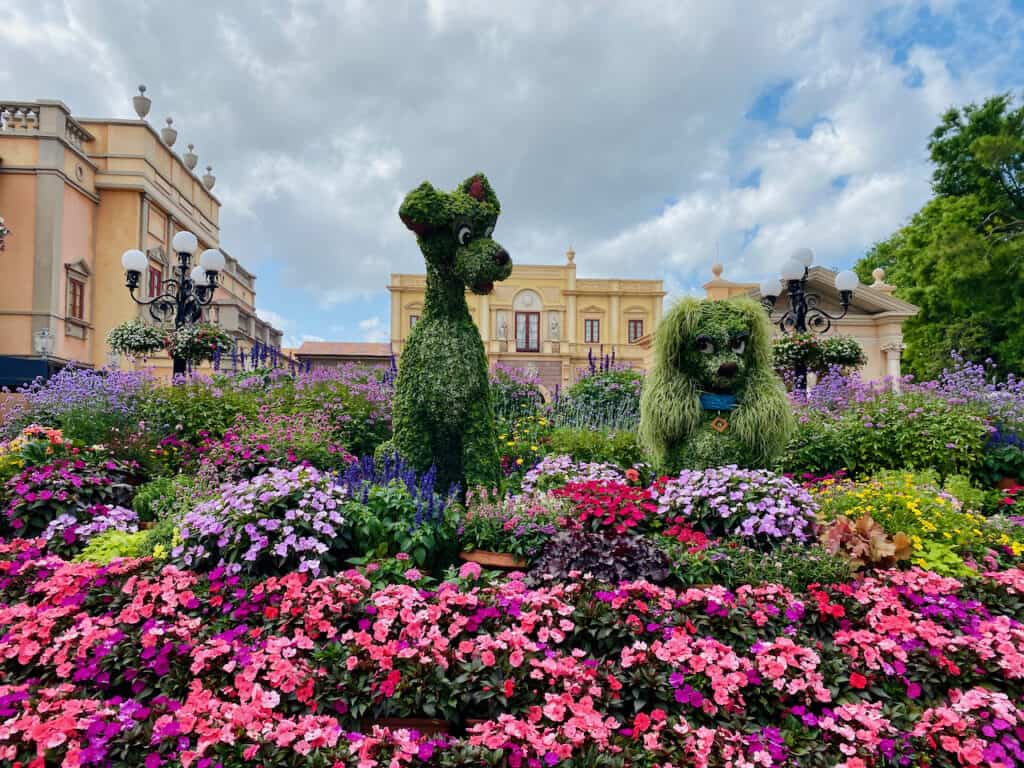 There's no verdict to be made here, as festivals are just an EPCOT thing, but you can't discuss Hollywood Studios vs EPCOT without mentioning them! They're some of the most iconic events at Disney World.
Four seasonal festivals at EPCOT happen every year. Each one features a special show at the America Gardens Theatre, as well as unique decorations and food booths around the park. Here's a quick rundown on each festival:
The Festival of the Arts – January and February. It typically has art and animation activities that parkgoers can participate in.
The Flower & Garden Festival – March to July. EPCOT is in full bloom, decked out with gorgeously landscaped gardens and topiaries.
The International Food & Wine Festival – July to November. This multiplies EPCOT's already impressive food and beverage offerings, featuring more booths than any other festival.
The Festival of the Holidays – November to late December. It features cultural holiday activities and foods from around the world.
If any of these festivals sounds appealing to you — and it'll be coinciding with your travel date — that's a big push for choosing to go to EPCOT rather than Hollywood Studios. However, specific festival dates tend to bring in more crowds than non-festival times, especially during the evenings and weekends.

Best Hotels Nearby EPCOT or Hollywood Studios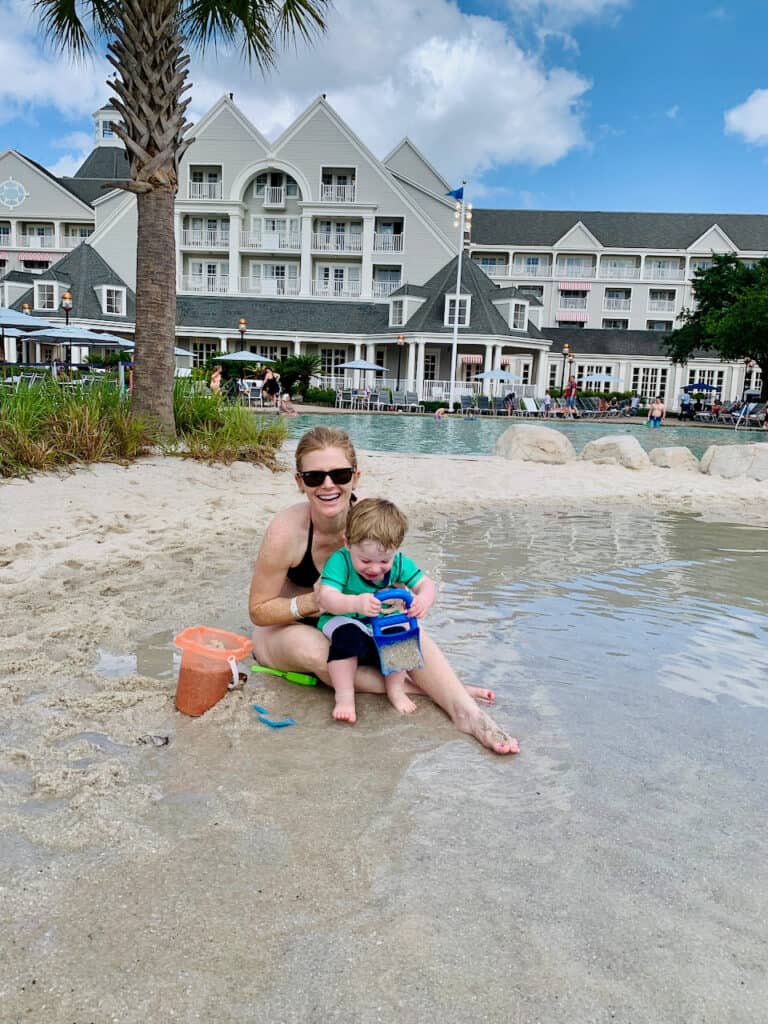 There are tons of options for places to stay when visiting Disney World, but I highly recommend staying at the Disney resorts. Not only do you have the chance to stay close to the parks, but you also get 30-minute early entry to the parks!
Disney's Beach Club Resort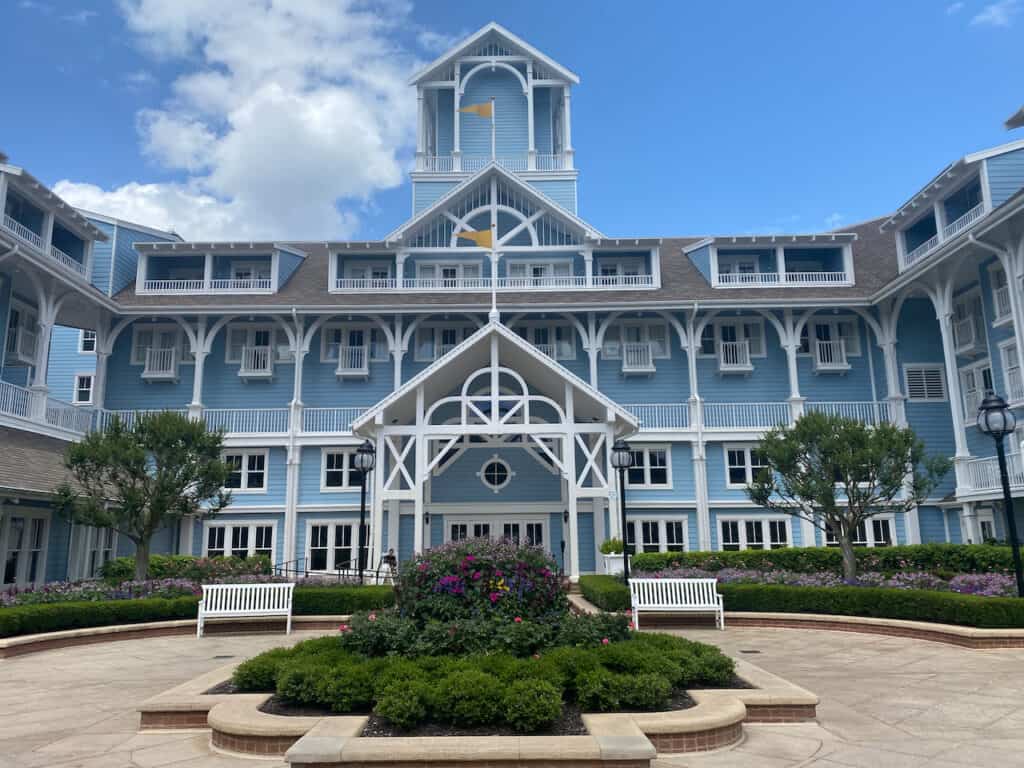 There are more than 20 Disney Resorts to choose from, but Disney's Beach Club Resort is the ultimate destination, in my opinion. It's one of the closest to Hollywood Studios and EPCOT, with walking trails connected to both parks. It's about a 5 or 10-minute walk to EPCOT and a 15 or 20-minute walk to Hollywood Studios.
Aside from the proximity to the park, the Disney Beach Club Resort's main draw is its pool complex, Stormalong Bay. There are sand-bottomed pools, a massive pirate ship waterslide, a lazy river, and tons more amenities.
⏰ Pro Tip: By staying at a Disney property like the Disney Beach Club Resort, you are able to get into the theme parks a half hour earlier than everyone!
Disney's Yacht Club Resort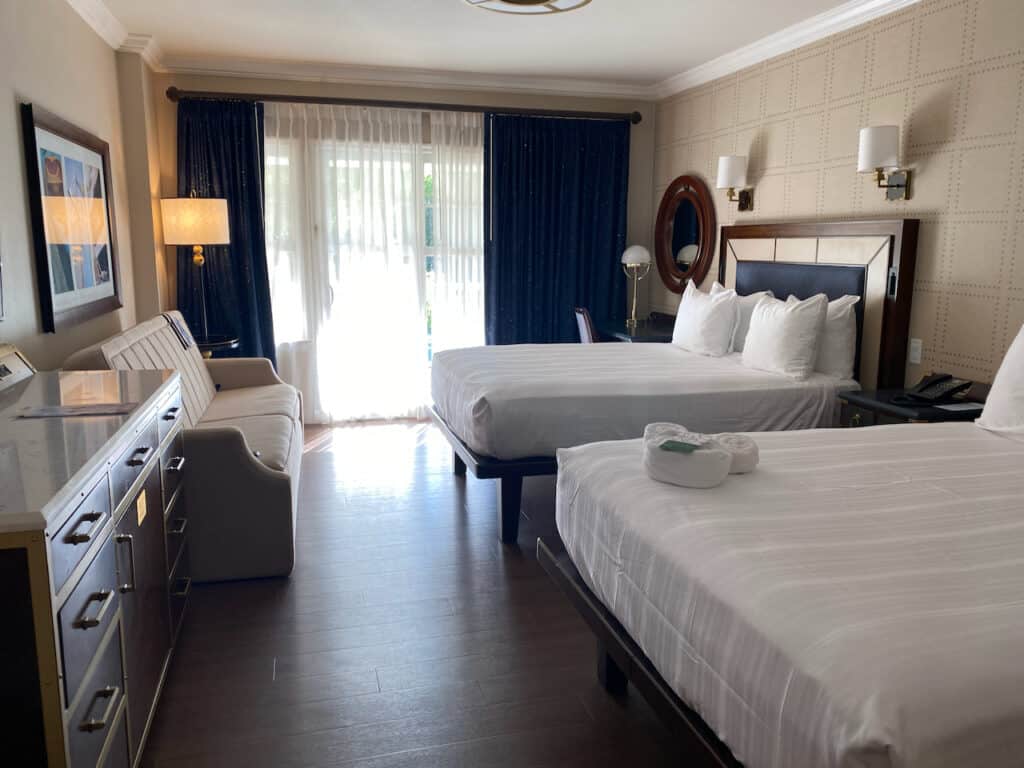 Disney's Yacht Club Resort is the sister property of Disney's Beach Club Resort (they are attached). It has the same walking trails and transportation to Hollywood Studios and EPCOT. The two also share the Stormalong Bay pool complex. They have stayed at both properties, and they are almost identical.
Disney's Yacht Club Resort tends to be slightly more polished and upscale. The convention center is also attached to the Yacht Club Resort. Another factor is that the boat transportation from the resorts to the parks leaves from the Yacht Club side.
🍷 Pro Tip: I love getting a nice steak at the Yachtsman Steakhouse if you're in the mood for a splurge. During our last meal there, the server brought out complimentary white chocolate and eligible paints for our toddler to enjoy.

Epcot vs Hollywood Studios: Park Transportation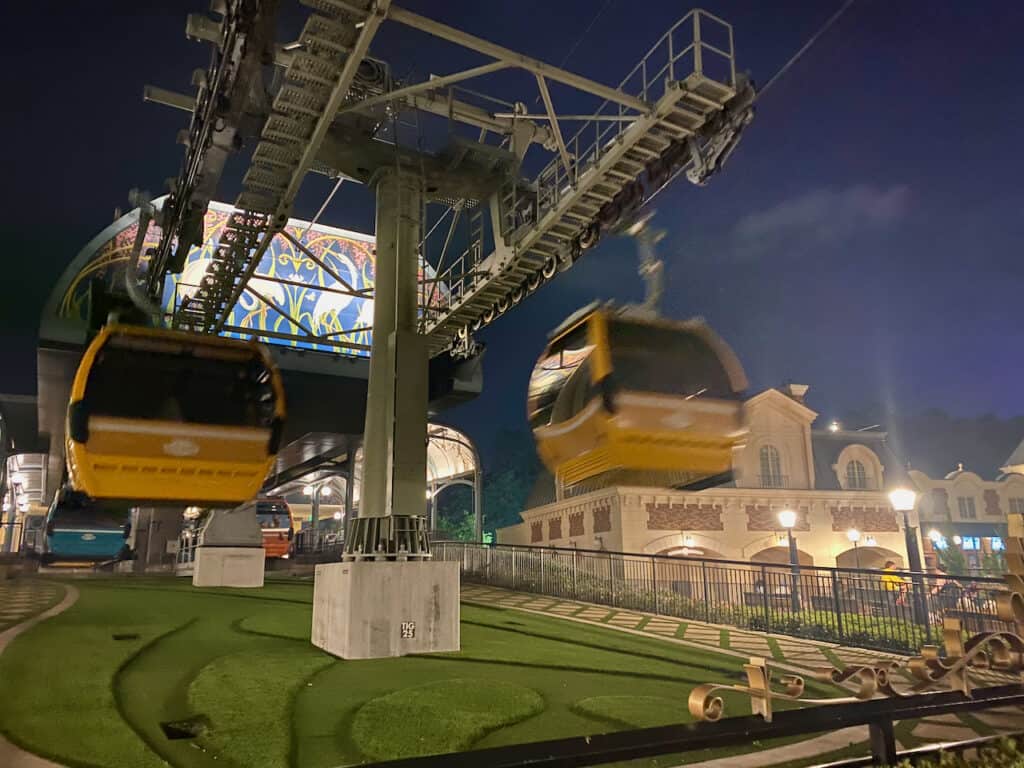 Verdict: EPCOT
All Disney parks have many of the same transportation options. EPCOT and Hollywood Studios are both accessible by car, bus, boat, and Disney's Skyliner (gondola).
EPCOT, however, can also be accessed by Disney's monorail, giving it a slight edge over Hollywood Studios. But both have excellent transportation and are ADA accessible.

Most Preferred Theme Park by Age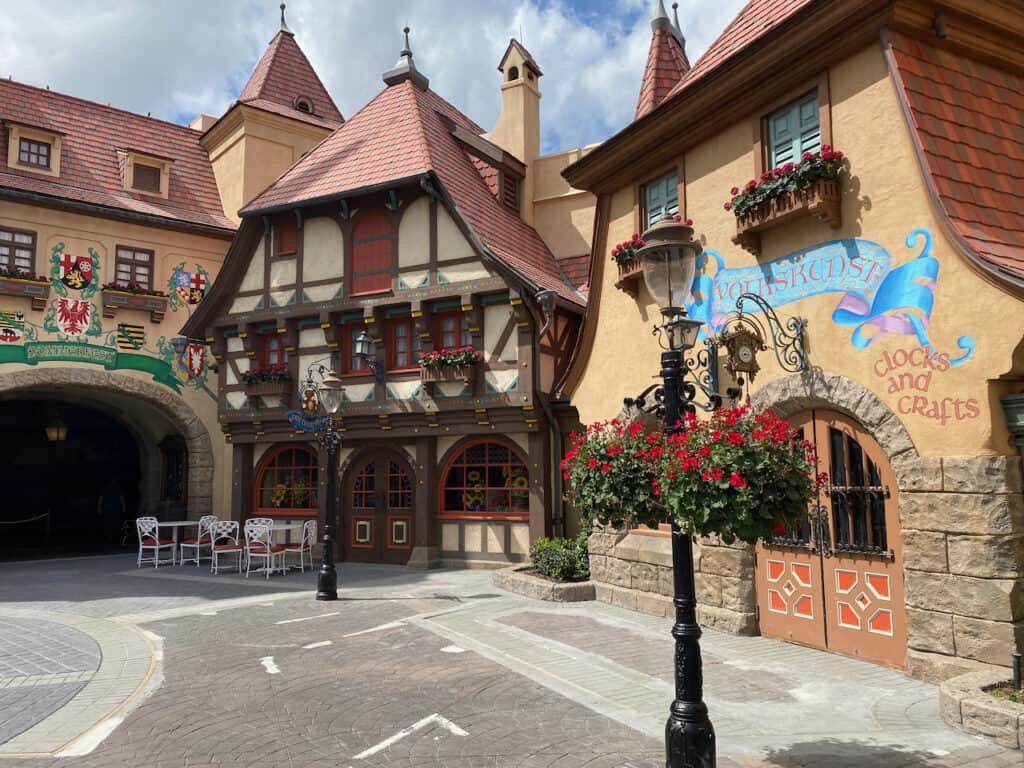 EPCOT vs Hollywood Studios for Toddlers: EPCOT
EPCOT has a wide variety of rides, including slower and gentler ones that are suitable for toddlers. There are fewer height restrictions, too. You'll find that most of the rides in Hollywood Studios are thrill rides and are geared toward older children, teens, and adults.
As a mom of a toddler, I spend a lot of time looking for age-appropriate things to do for my son. At EPCOT, you will want to check out the new playground area. It's great for parents because there are plenty of food options and a bathroom nearby. It's also technically two playgrounds because one is for younger and older children.
Also, if your child likes trains, you'll have to make a stop at the German Pavilion, which has an outdoor miniature train village. Little ones especially love watching trains while mom and dad sample the selection of pretzels or Bavarian beer on draft!
EPCOT vs Hollywood Studios for Younger Kids: Hollywood Studios
While most people thing of Magic Kingdom for younger kids, I think Hollywood Studios is also an excellent choice.
This Disney park is ideal for kids that like thrill rides. In recent years, I think EPCOT has done a great job at redefining that image with new rides like the Guardian of the Galaxy roller coaster.
EPCOT vs Hollywood Studios for Teenagers: Hollywood Studios
I've found that most teens prefer Hollywood Studios. It makes sense, considering the thrill rides and the whole Hollywood aesthetic. Like younger kids, teens may not be excited about EPCOT's educational angle. You can't really beat the new Star Wars rides.
EPCOT vs Hollywood Studios for Adults: EPCOT
This category largely depends on personal preference (all of the categories do, really, but particularly this one). Do you like exploring different cultures around the world or do you want to experience the fictional worlds of your favorite movies?
On average, I find most adults like EPCOT more than Hollywood Studios. They seem to appreciate the food and beverage options, educational information, and a wider variety of ride types in EPCOT compared to Hollywood Studios.
EPCOT vs Hollywood Studios for Star Wars Fans: Hollywood Studios
Ever since the opening of Star Wars: Galaxy's Edge, Hollywood Studios has been the go-to destination for Star Wars fans all around the globe. Star Wars don't need to think twice — go to Hollywood Studios!

Final Thoughts on EPCOT vs Hollywood Studios
If you're a fan of their intellectual property (IP) or if rides are all you care about (I don't blame you!), then Hollywood Studios wins the Hollywood Studios vs EPCOT debate. However, in terms of the overall experience, EPCOT is the true winner.
Hollywood Studios excels in its thrilling rides and immersive IP-based experiences, while EPCOT offers a diverse range of attractions and cultural showcases. You also can't forget the tons of interesting dining options. It's the ideal park for a full day of exploration.
So, if you're looking for a park that offers something for everyone and provides a well-rounded Disney experience, EPCOT is the way to go for your Disney vacation.
Frequently Asked Questions
Why is EPCOT so special?
Compared to other Disney World Parks, EPCOT is unique because it blends technology, culture, and nature-based experiences. Also, EPCOT's year-round festivals make it unique.
Does Hollywood Studios or EPCOT have more rides?
EPCOT has more rides than Hollywood Studios — 11 vs 9. However, Hollywood Studios offers more newer rides than EPCOT in comparison.
Is Epcot or Hollywood Studios better for a 3-year-old?
EPCOT is better for 3-year-olds. It has quite a few rides and experiences that are suitable for younger kids. Also, don't forget EPCOT has a wonderful kids' playground too. Most of the attractions at Hollywood Studios are too intense for toddlers. 
Like It? Pin It for Later
Related Articles to Read Next