Disney Springs and Disney BoardWalk are two of the most visited areas in Walt Disney World Resort in Orlando, Florida.
Each offers a unique experience and features different amenities and entertainment options that could dramatically influence your trip.
In this article, I'll cover both Disney areas in detail, what they have to offer, and my favorite features to make your time well spent!

Disney Springs vs Disney Boardwalk: A Brief Introduction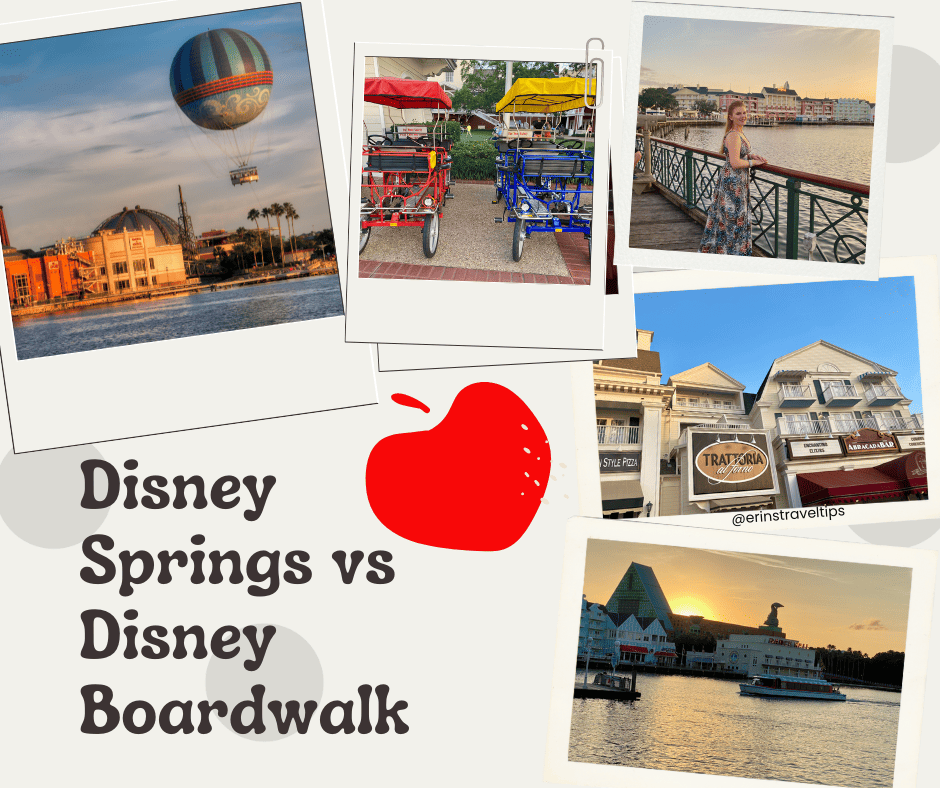 What is Disney Springs?
Previously known as Downtown Disney, Disney Springs is a shopping, dining, and entertainment complex inspired by Florida's charming waterfront towns. So whether you spent the day at SeaWorld or Disney World, everyone is welcome here!
Disney Springs was rebranded in 2015 and expanded to include four distinct areas:
The Marketplace
The Landing
Town Center
West Side
Visitors can delight in complimentary attractions and offerings in each of the four distinct locations.
Here is a brief summary of what you can find in each of them. For a downloadable brochure, click here.
The Marketplace
This is a family-friendly area featuring numerous shops and restaurants. Here, you'll find the largest Disney character store in the world, the World of Disney. It's also home to other unique stores like The LEGO Store, where children can play and build while parents shop.
The Landing
Formerly known as Pleasure Island, The Landing is now a waterfront area with several upscale, signature restaurants. It provides a mix of high-end dining like The BOATHOUSE and Morimoto Asia, alongside more casual options. Here, you'll also find unique boutiques and entertainment venues, making it a great spot for a leisurely evening.
Town Center
Town Center was designed to resemble a classic Florida town and hosts a variety of high-end retail shops and fast-casual dining options. It's beautifully designed with Spanish-revival architecture and a series of bubbling springs. Town Center is where you'll find popular stores like Sephora, Anthropologie, and Zara.
West Side
West Side has a more urban feel, with several entertainment venues like the House of Blues and the Cirque du Soleil Theater. It also houses more dining options and shops and the AMC Disney Springs 24, a large movie theater.
Each of these areas in Disney Springs has its own character and ambiance, offering visitors a variety of shopping, dining, and entertainment experiences.
It's also an ideal spot for a tranquil evening stroll, a shopping spree for Disney goods, or simply to immerse oneself in the vibrant Disney ambiance.
What is Disney BoardWalk?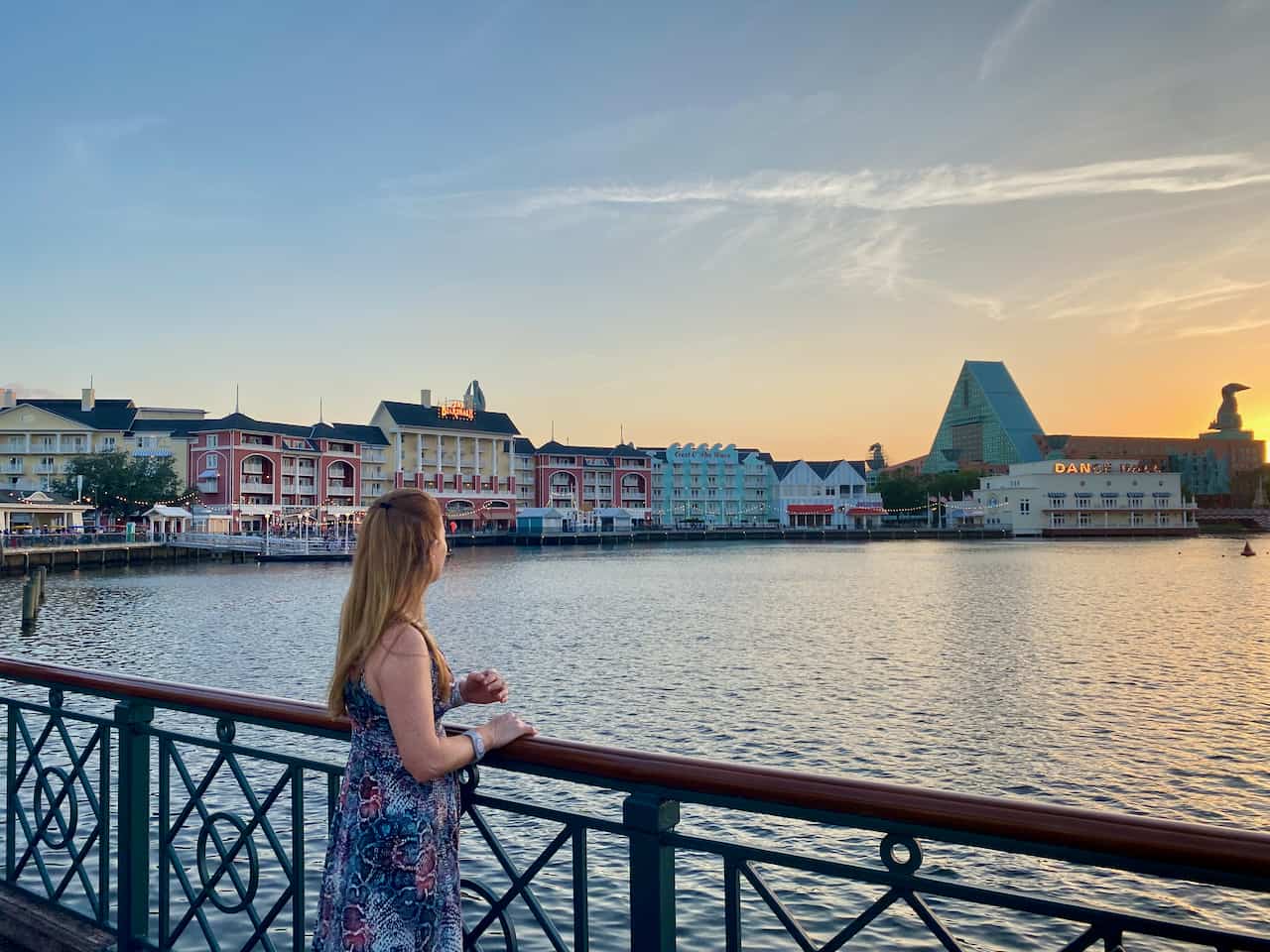 Disney BoardWalk is a charming, quarter-mile long promenade located within the Walt Disney World Resort. Reminiscent of coastal towns of the 1940s, it captivates visitors with its nostalgic charm and vibrant atmosphere.
Disney BoardWalk is conveniently nestled between EPCOT and Disney's Hollywood Studios and is accessible by foot or boat from these parks. I usually stay at the Disney Beach Club Resort or Disney's Yacht Club Resort, which is easy to reach on the opposite side of Crescent Lake.
Disney BoardWalk hosts a range of charming shops, eateries, and nightlife venues. Dining options range from casual boardwalk-style food stands to upscale dining at spots like the Flying Fish. For those seeking evening entertainment, the Boardwalk features venues like the Atlantic Dance Hall and Jellyrolls, a lively dueling piano bar.
This area also provides a variety of recreational activities. You can rent a surrey bike to explore the BoardWalk or enjoy a leisurely stroll with scenic views of the lake. In the evenings, the BoardWalk comes alive with street performers, including magicians and musicians, adding to the bustling and enchanting environment.
Accommodations are also available on the BoardWalk itself, with resorts designed to fit the seaside theme. These include Disney's Boardwalk Inn and Disney's Boardwalk Villas, which provide a convenient and immersive stay for guests (currently under renovations).

Disney Springs vs Disney BoardWalk: Quick Summary
Here is a table comparing the key differences between Disney Springs vs Disney BoardWalk.
Key Details
Disney Springs
Disney BoardWalk
Opening Date
March 22, 1975
July 1, 1996
Disney Property Size
120 acres
24 acres
Number of Shops
99
4
Number of Eateries
68
9
Number of Attractions
19
4
Hotel on Property
No
Yes
Disney Springs Hours /
Disney BoardWalk Hours
10 am to 11 pm;
10 am to 11:30 pm
(Friday & Saturday)
6:30 am to 10 pm
Please note: Business hours and other details vary depending on the season or as the business needs to adjust them. I highly recommend verifying specifics before your visit dates for the most current information.

Disney Springs vs Disney BoardWalk: Location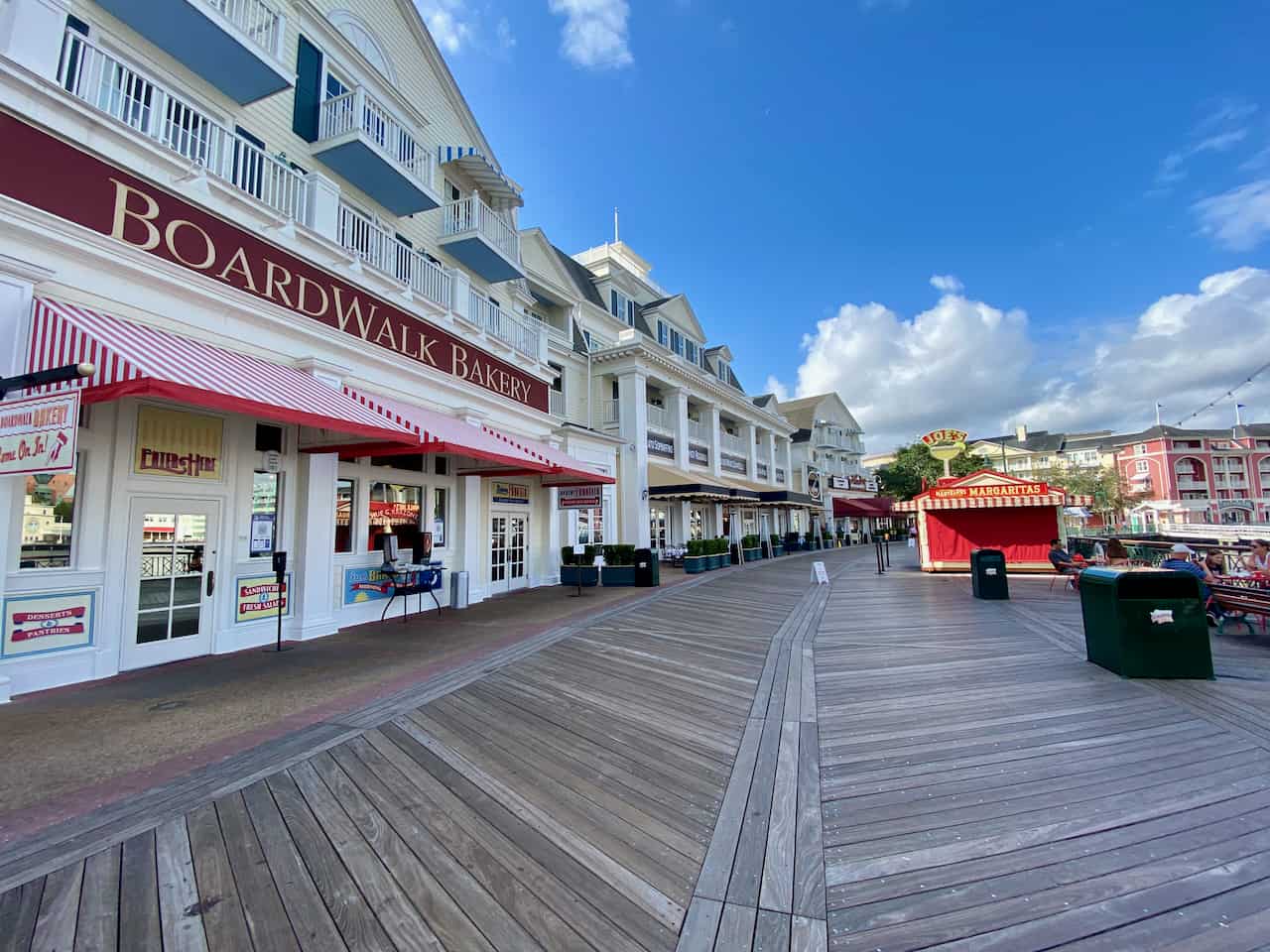 As I mentioned earlier, Disney Springs is larger than Disney BoardWalk. Disney Springs is 120 acres, while Disney BoardWalk is only 24 acres. This means that Disney Springs has about five times the land area of Disney Boardwalk.
Disney Springs is also more spread out than Disney Boardwalk. This means there is more to see and do at Disney Springs than at Disney BoardWalk.
Below is an interactive map to help you determine which location is best suited to you.
🥇 Verdict: Depends
Regarding location, Disney's BoardWalk is the best if you spend time at EPCOT or Hollywood Studios since you can walk there or take a boat. Disney Springs location is best suited to travelers coming by vehicle.

Disney Springs vs Disney BoardWalk Attractions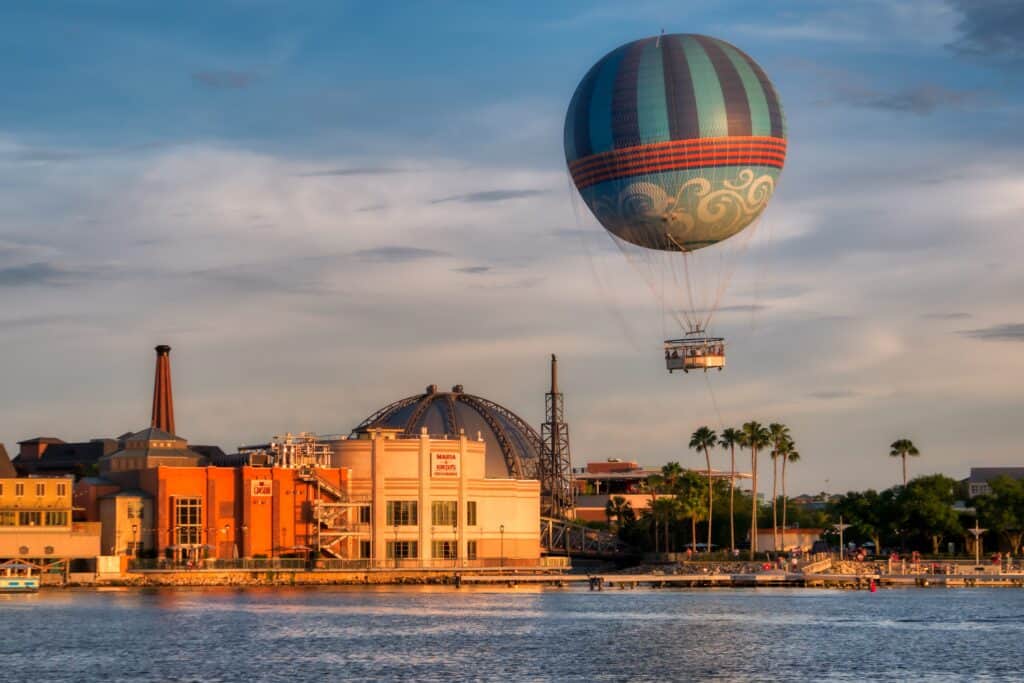 Disney Springs offers an array of entertainment choices, including the House of Blues, Aerophile Balloon Flight, and the AMC Movies at Disney Springs 24 for the movie buffs.
Marketplace Train Express, Splitsville Luxury Lanes, and a splash pad to cool off are also especially popular among young visitors.
Disney's BoardWalk does not have as many entertainment options as Disney Springs. Families often like to sit around the artificial green space, which is suitable for playing catch with the kids.
There are Surrey bikes and plenty of games you can play, like at a carnival.
🥇 Verdict: Disney Springs

Disney Springs vs Disney BoardWalk Shopping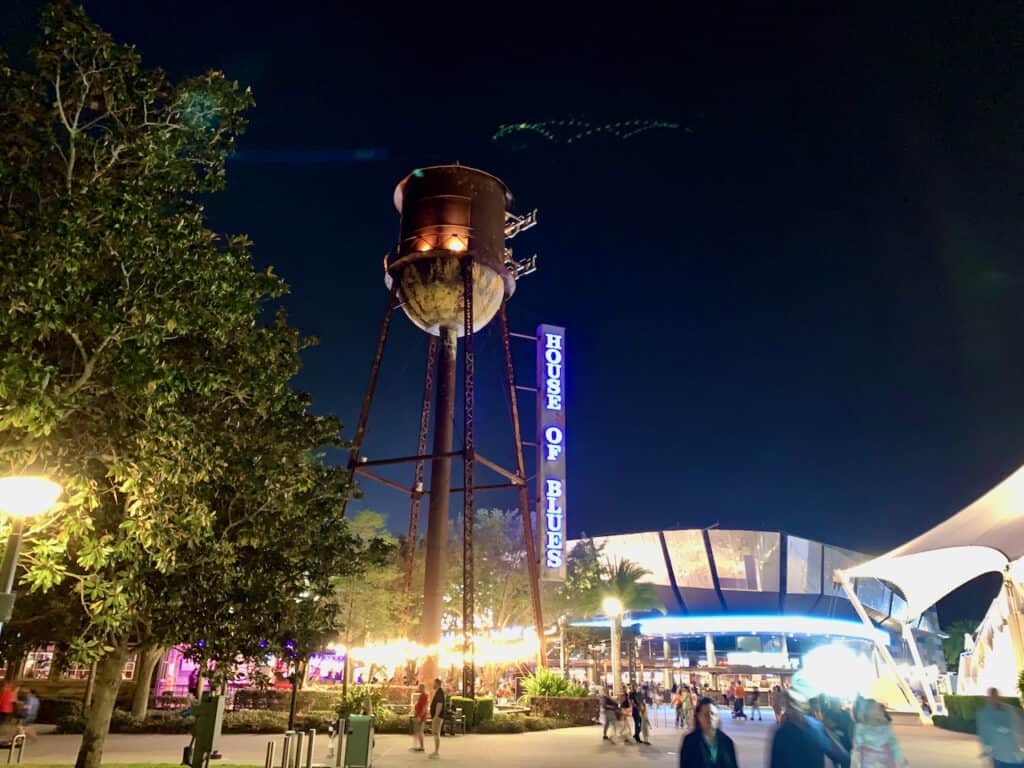 Disney stores these days have made shopping a breeze! Between the magic bands and Genie+ App, you don't have to waste time waiting in most checkout lines.
Beyond traditional Disney stores, you'll find that both locations have a unique variety of stores, but the two are completely opposite.
Disney Springs Shops & Stores
Disney Springs is a shopper's paradise, featuring everything from high-end brands to Disney-themed shops. With close to 100 stores, you could spend all day checking them out!
Here is just a sample of some of the more popular Disney Springs stores:
The Lego Store
World of Disney
The Art of Disney
Tren-D
Lululemon
Sephora
Star Wars Galactic Outpost
Star Wars Trading Post
Tommy Bahama
ZARA
Lilly Pulitzer
Kate Spade New York
Some noteworthy stores include the World of Disney and the Art of Disney. It also houses unique offerings like the Marvel Super Hero Headquarters and the Star Wars Galactic Outpost.
Disney Boardwalk Shops & Stores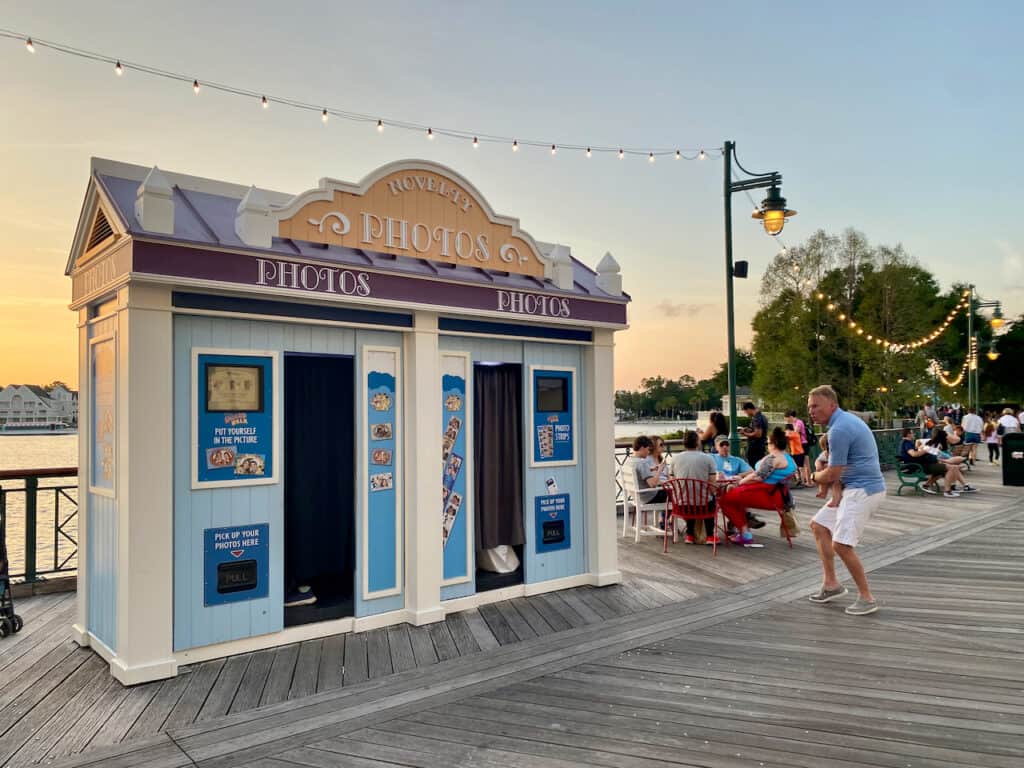 While Disney's Boardwalk does offer some shopping opportunities, they are limited compared to Disney Springs.
The Boardwalk features a few quaint shops:
Screen Door General Store
Wyland Galleries of Florida
Thimbles & Threads
Disney's Character Carnival
While Disney's Boardwalk stores and shops are more basic offerings, they are unique stores you wouldn't find in a typical strip mall. However, Disney Springs easily beats Disney's BoardWalk if you like to shop!
🥇 Verdict: Disney Springs

Disney Springs vs Disney Boardwalk Dining Options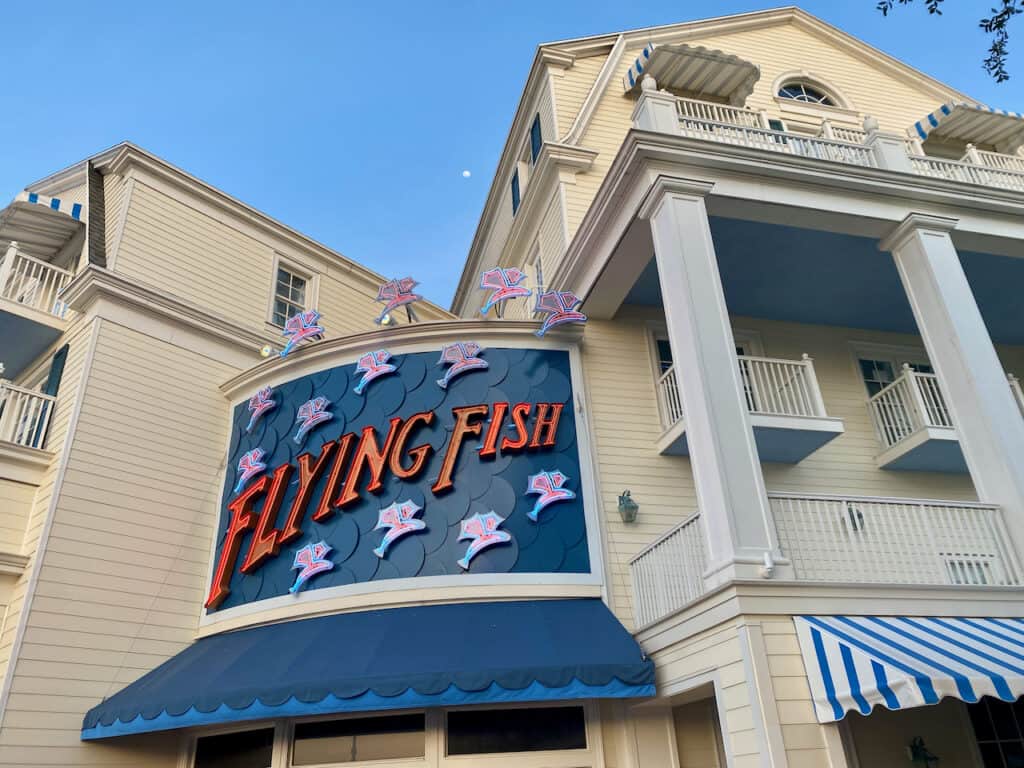 When it comes to dining, you won't have to look elsewhere at Disney Springs or Disney BoardWalk.
Disney Springs Restaurants & Dining
Disney Springs is a gastronomic haven with a diverse array of 68 dining options ranging from quick bites to fine dining.
Here's a short list of some of my top dining choices at Disney Springs:
The BOATHOUSE: This high-end restaurant features exquisite waterfront views, top-tier steaks, seafood, and a notable selection of wines. You can also take a waterfront cruise in a vintage Amphicar boat.
Morimoto Asia: Spearheaded by renowned Chef Morimoto (Iron Chef America), this place offers Pan-Asian delicacies served in an elegant, two-story venue. Morimoto Asia is best suited for a date night without the kids.
Chef Art Smith's Homecomin': Florida's culinary heritage takes center stage with farm-fresh dishes and famous moonshine cocktails. Some of my favorites include the Thigh High Biscuits and Art's Famous Fried Chicken.
Wine Bar George: A perfect spot for wine lovers, this establishment presents an extensive wine list paired with a delightful menu of small plates like their delicious Crispy Mac & Cheese Bites.
Blaze Fast-Fire'd Pizza: A go-to place for quick, artisanal pizzas that are custom-built and cooked to perfection in a blazing oven. It's also one of the most affordable meals prepared for you in Disney Springs.
Raglan Road Irish Pub: An upbeat pub showcasing authentic Irish cuisine, live music, and a lively atmosphere. While it is pricier than Blaze Fast-Fire'd PIzza, you can get some of my favorites like Shepherd's Pie, Bread Pudding, and Irish Soda Bread.
Paddlefish: Previously, this boathouse used to be called Fulton's Crab House. It has pretty reasonable prices; some of the more favored dishes are stuffed cod, scallops, and lobster corn dogs.
I highly recommend booking restaurant reservations in advance, especially if you're planning a special occasion.
Pro Tip: If the Disney App says reservations are unavailable at your desired Disney Springs restaurant, check on Open Table. They also have seats for some of the restaurants.
For a quick snack or dessert, you must try Gideon's Bakehouse. It's a local staple serving enormous-sized cookies and other special sweet treats. This store can get incredibly busy during peak times.
As an alternative, the Ghiradelli Soda Foundation and Chocolate Shop, and Vivoli il Gelato are also excellent choices for serving either chocolates, ice cream, or gelato.
Disney BoardWalk Restaurants & Dining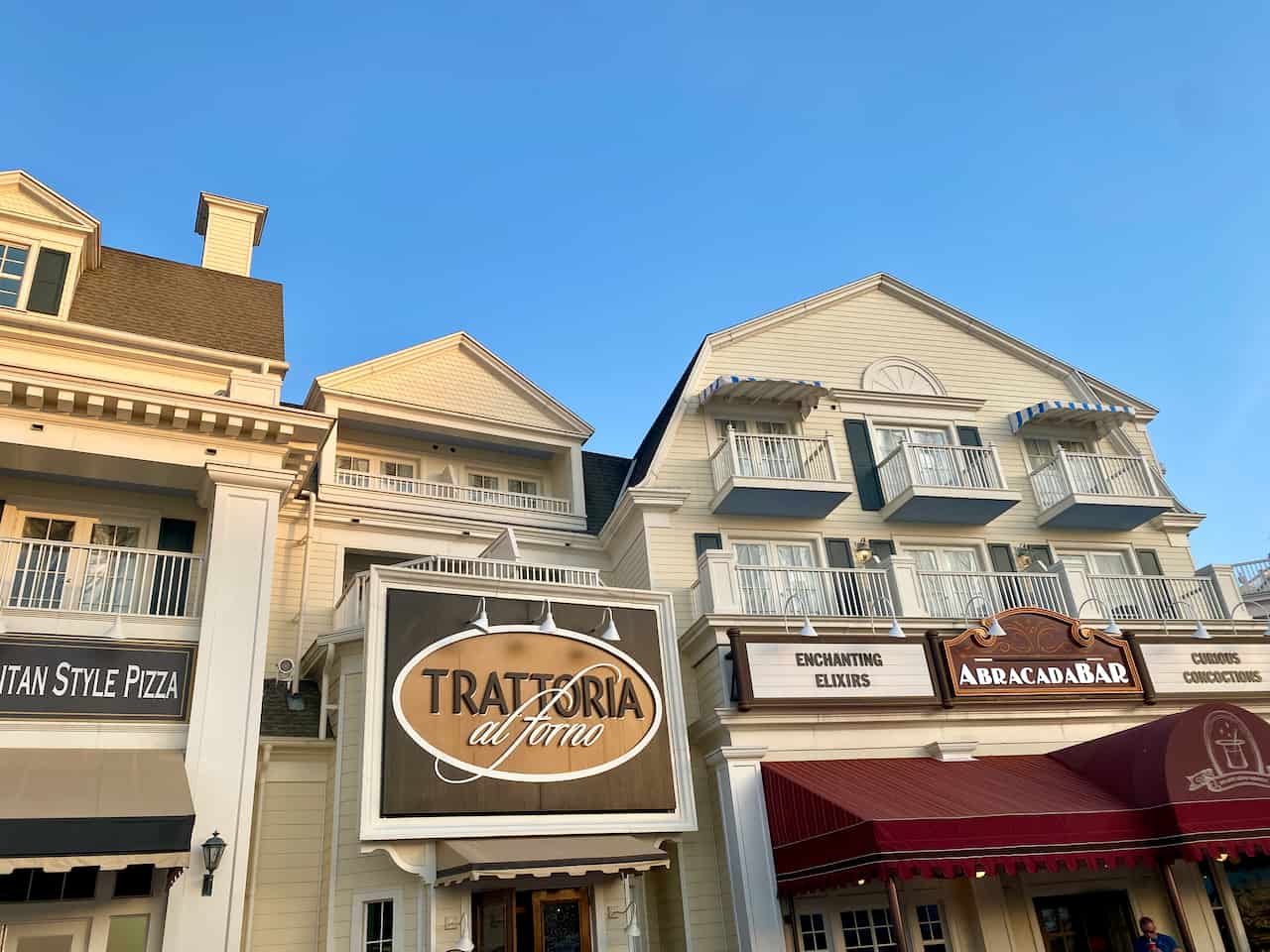 Along the waterfront promenade, you'll discover a range of eateries for all taste buds and ages.
While Disney's Boardwalk food choices may not be as numerous as Disney Springs, they still offer a range of options.
Here are some of the food options to consider:
Flying Fish: An upscale seafood restaurant known for its fresh ingredients and innovative dishes with an extensive wine list. The decor adds a touch of sophistication to your dining experience.
Trattoria al Forno: This Italian eatery offers a hearty selection of classic dishes. Their breakfast is particularly notable, featuring a character dining experience with yummy options, including avocado toast, frittatas, and pancakes.
Boardwalk Bakery: Perfect for a quick bite or a sweet treat, this bakery serves sandwiches, pastries, and desserts.
AbracadaBar: A cocktail lounge with a magical twist, serving appetizers in a charming magician's parlor setting. The Abra fries are one of the better options.
Big River Grille & Brewing Works: As a family-friendly brewpub in Disney World, it offers a unique selection of handcrafted beers and a classic menu of American pub fare. While the food is standard, getting a great assortment of beers that also rotate seasonally.
Whether you're seeking a gourmet meal, a casual snack, or a themed dining experience, Disney Boardwalk offers a blend of dining options that add to the magic of your Disney World visit.
Pro Tip: My personal favorite restaurant is actually not Disney's BoardWalk. I prefer the Yachtsman Steakhouse across the water in the Disney Yacht Club Resort for delicious steaks (pricey).
🥇 Verdict: Disney Springs Orlando

Where to Stay Near Disney Springs or Disney BoardWalk
Disney Springs itself does not offer accommodations. However, several Disney-owned and partner hotels, such as Disney's Saratoga Springs Resort & Spa and the Buena Vista Palace, are within walking distance.
Disney's BoardWalk, on the other hand, does have accommodations on the property. However, the Boardwalk Inn & Boardwalk Villas are being refurbished and may have limited availability.
However, my go-to hotel is the Disney Beach Club Resort. On the same property is Disney's Yacht Club Resort with comparable offerings.
The Disney Beach Club Resort is within easy walking distance of the Disney Boardwalk and has transportation to Disney Springs. You can also have the quickest location to EPCOT.
While both of these higher-end properties come with a premium price tag, you have the best of both worlds. You may want to consider other alternatives if budget is a significant factor in your decision.
💰 Pro Tip: Disney hotel prices are usually best in the summer months. If you have flexibility in your schedule, you can save a bundle!
🥇 Verdict: Disney BoardWalk

Disney Springs or Disney BoardWalk: Accessibility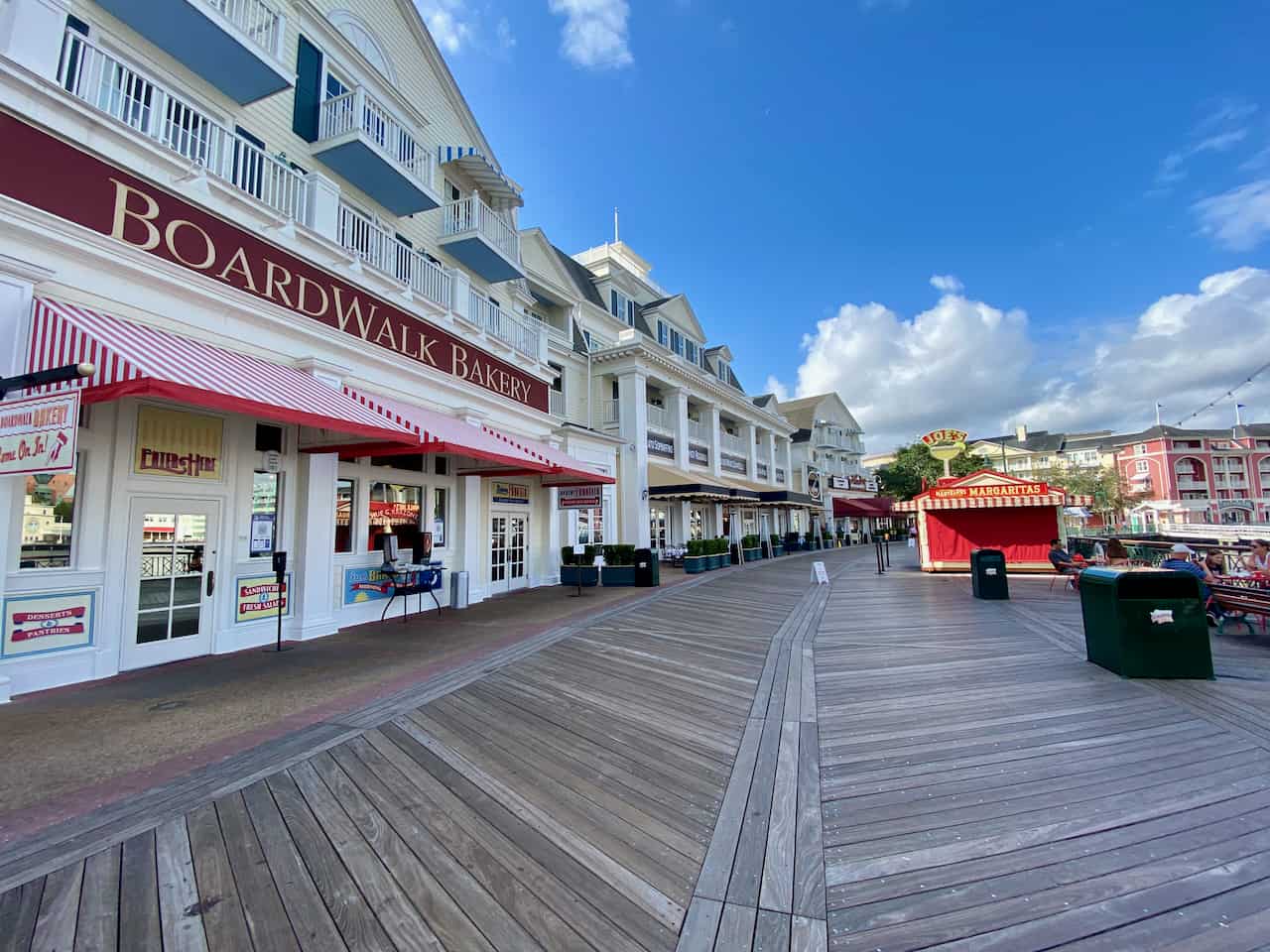 Regarding accessibility, Disney, in my opinion, sets the standard for what all companies should offer for ADA accommodations. From various types of transportation to ideal walking conditions, you can easily visit Disney Springs or Disney Boardwalk.
Disney Springs
Disney Springs is quite accessible, with ample parking and bus transportation from Disney World Resort hotels. It also has boat transportation from select Disney hotels.
Disney BoardWalk
Disney's BoardWalk is easily accessible to those staying at the Disney Yacht Club, Beach Club, Swan, or Dolphin Resorts. For guests staying at other Disney resorts or other locations, bus transportation or limited parking is available.
I find Disney's BoardWalk to be more accessible because I can easily walk there from EPCOT or take the boat from Hollywood Studios. Disney Springs requires a bit more planning but is comparably accessible depending on your location.
🥇 Verdict: Disney BoardWalk

Frequently Asked Questions
Can I walk from Yacht Club to Hollywood Studios?
Yes, you can walk from the Disney Yacht Club Resort. It is roughly a 20-minute walk. However, the easiest route is by boat. It makes one stop prior at the Walt Disney World Swan and Dolphin prior to dropping you off at the entrance of Hollywood Studios.
Can you walk from the Dolphin to EPCOT?
Yes, you can easily walk from the Dolphin to EPCOT from a bridge connecting to Disney's BoardWalk. You'll see signs for the Boardwalk, heading right out when facing Lake Crescent. You can also go left and it will take you around the lake walking by Disney Beach Club Resort on your way to EPCOT.
Is Disney BoardWalk worth it?
Yes, Disney's BoardWalk is a quaint recreation of a 20th-century Atlantic coastal village within the heart of Walt Disney World Resort outside of EPCOT (back entrance near France). It is also within a boat ride or walking distant of Hollywood Studios. The quarter-mile promenade is teeming with a variety of unique shops, dining options, and engaging nightlife.
Is Disney Springs the same as Disney BoardWalk?

No, Disney Springs and Disney BoardWalk Orlando are not the same Disney property. Disney Springs is a larger upscale outdoor shopping, dining, and entertainment complex inspired by Florida's waterfront towns. It has over 100 restaurants, shops, and entertainment venues on a sprawling 120-acres.
Disney BoardWalk, on the other hand, is a smaller, quarter-mile long wooden promenade styled after early 20th-century coastal town, with unique shops, dining options, and nightlife. While both Disney areas offer shopping, dining, and entertainment experiences, their theme style, size, and specific offerings differ.
How do you get to Disney's BoardWalk?
To reach Disney's BoardWalk you have several options:
Walk: EPCOT or nearby Disney Resorts like the Disney's Beach Club or Disney's Yacht Club Resort.
Friendship Boats: Connect EPCOT and Disney's Hollywood Studios to the BoardWalk.
Disney Buses: Serve all Disney resorts and can transport you to the BoardWalk.
Drive: Parking is limited with preference for hotel guests or those with a dinner reservation.
Disney Skyliner: You can take it to EPCOT or Hollywood Studios, then walk or ride a Friendship Boat to the BoardWalk.
Remember to check the operational hours and availability of these options during your visit.
Final Thoughts: Disney Springs vs Boardwalk
When it comes to deciding between Disney Boardwalk vs Disney Springs, my overall winner is Disney Springs.
Both Disney Springs and Disney Boardwalk provide unique experiences that are worthwhile. Disney Springs is the best option if you're looking for a vast array of shopping, dining, and entertainment choices.
Disney's Boardwalk, on the other hand, is perfect for those who prefer a quieter atmosphere and want to enjoy a charming vintage boardwalk experience with convenient accommodation nearby.
It all depends on your preferences and the experience you want to have during your Walt Disney World vacation.
Related Articles to Read Next