Looking for fun things to do in Ocala? You must take this Ocala Equestrian scenic horse farm drive to fully appreciate the beauty of Marion County.
Northwest of downtown Ocala is one of the most beautiful parts of Florida. Ocala is known for its lush green grass, rolling hills with live oak trees, and limestone rich soil helping grow strong horses.
It is no wonder that it is known for being the "Horse Capital of the World."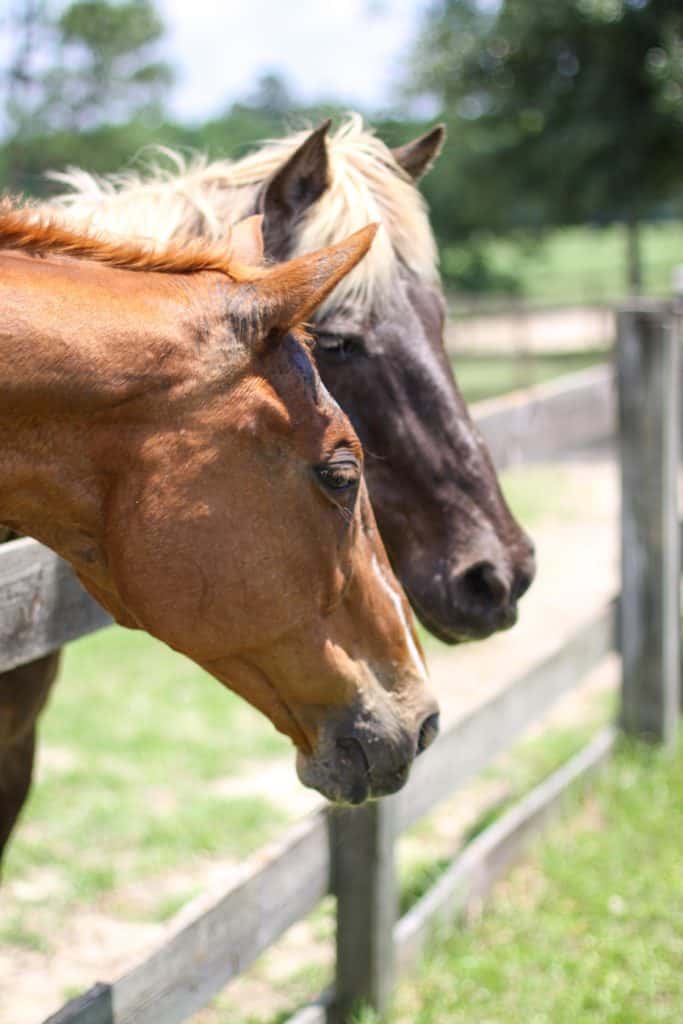 There are multiple ways to start on this scenic horse farm drive. But for my favorite drive, head west from I-75 on Highway 27 (Exit 354), and continue until 70th Avenue (also known as 225a). As you head in this direction within a couple of miles, you will begin to see pasture land and the rolling hills of Ocala.
World Equestrian Center Ocala
Before turning right and heading north on 225a, I recommend a slight detour and making a left to see the World Equestrian Center with its state-of-the-art equestrian center, shops, spa, dining, and more! The World Equestrian Center has so many fun things to do.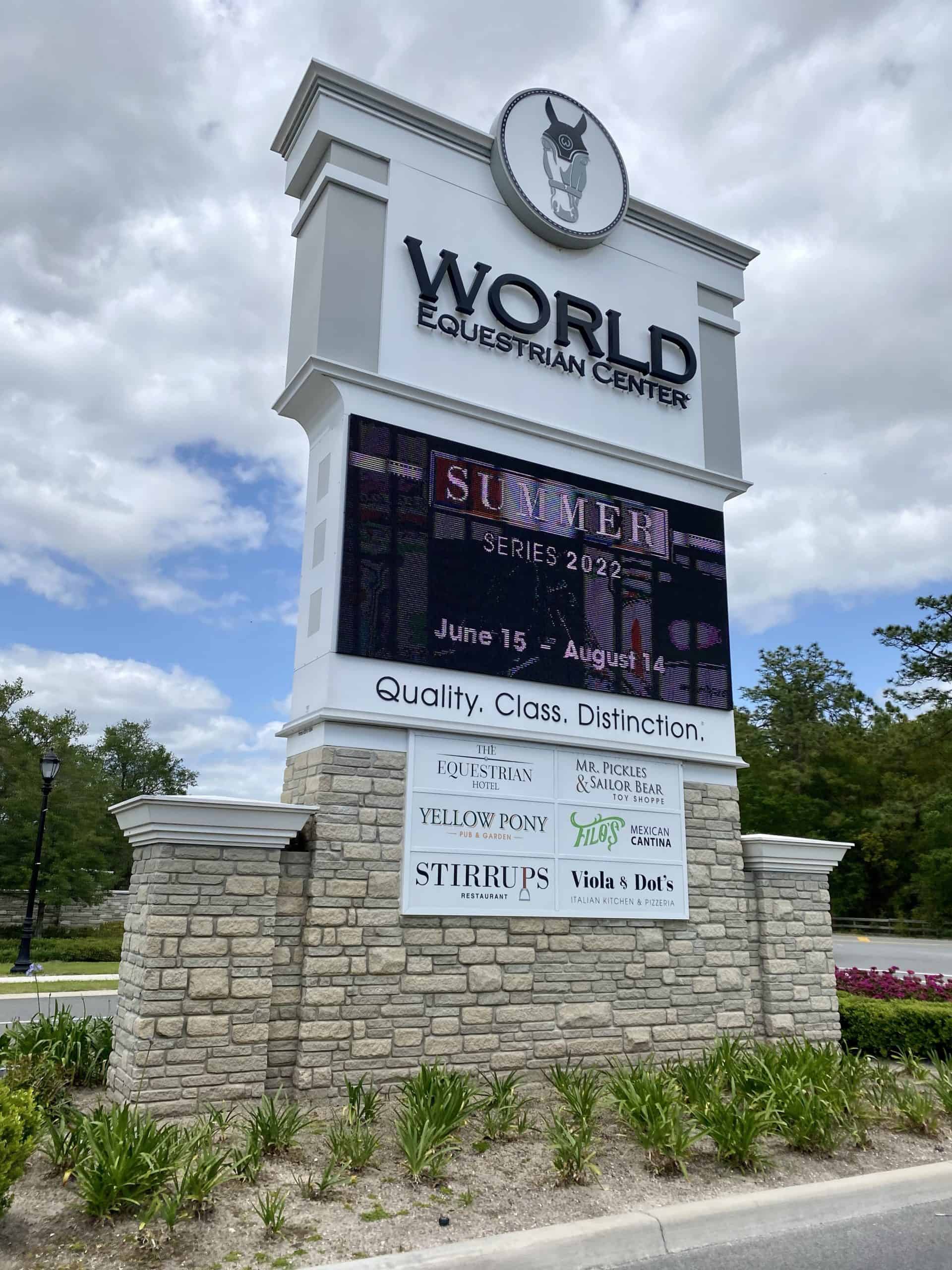 They also have an exceptional hotel called The Equestrian on the property. This is most convenient for equestrian riders who are competing at the World Equestrian Center.
If you have time for a leisurely meal, the Stirrups Restaurant is located in the World Equestrian Center. It is exquisitely decorated with crystal chandlers, gold-framed oil paintings, and yet it still has a comfortable appeal for everyday diners.
Stirrups World Equestrian Center restaurant is open for breakfast and dinner every day 6:30 am-11 am and 5 pm-9 pm. On weekends they are open for all meals, 6:30-1 pm and 5 pm-10 pm. See their website for full details.
World Equestrian Center restaurants also include:
Filo's Mexican Cantina,
Ralph's Burger & Sandwich Shop
Viola & Dot's, Italian Kitchen & Pizzeria
Yellow Pony Pub and Garden
Those of you with kids may want to check out, Miss Tilly's Lollipops! See the World Equestrian Center dining menu for a full restaurant list description and hours.
The World Equestrian Center is definitely a highlight if you have not visited it yet. I highly recommend attending when they have a horse show, equestrian competition, or horse sale occurring on the property. Here is the World Equestrian Center's upcoming schedule of events.

Ocala Equestrian Scenic Drive to Millionaire's Row
If your schedule allows, I prefer the slightly longer route which is to stay on Hwy 27 until you reach Hwy 225 and head north. This little detour drives you a bit further west by Golden Ocala, Ocala National Golf Club, and some beautiful horse farms.
Read Next: 22 Fun Things to Do in Ocala Florida + Top Must Know Picks
Ocala Golf Courses
Ocala National at Golden Hills Golf Club (previously Golden Hills Country Club) is open to the public being a semi-private club. Both courses are settled into the beautiful scenery, surrounded by stunning horse farms. I have played Ocala National at Golden Hills for many years, and it's one of the best public golf courses in Ocala.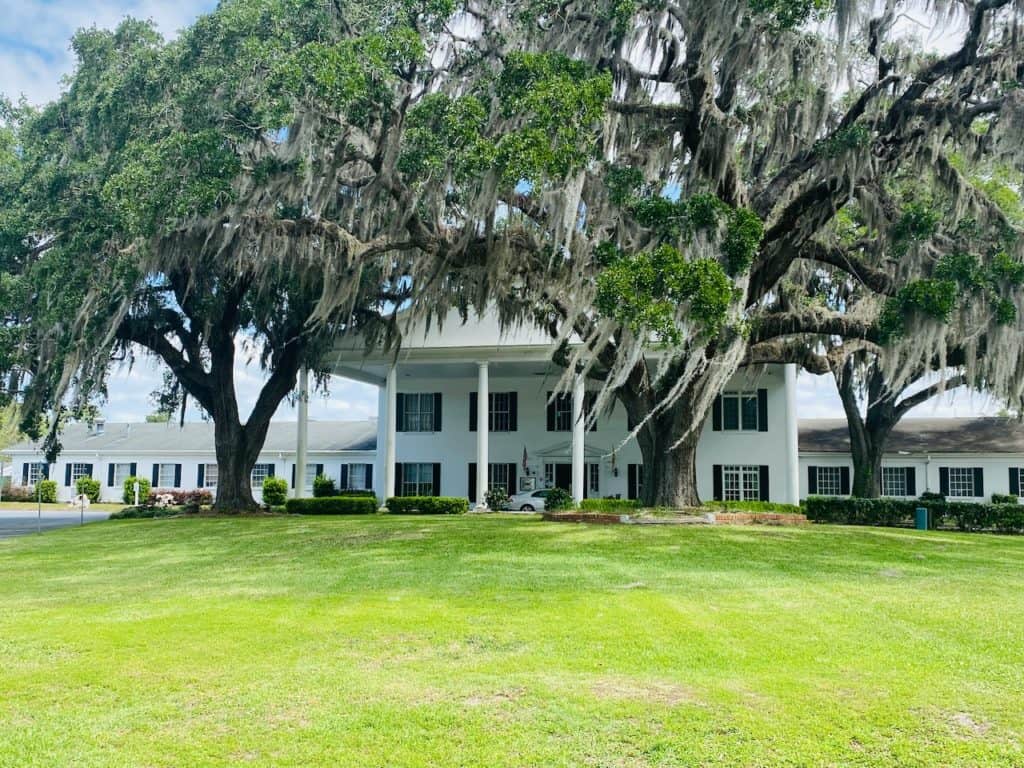 After passing these locations on Highway 27, turn right (heading north) onto Hwy 225 (not to be confused with Hwy 225a). This little detour is just a fun little road to showcase more of what the horse farms in Ocala have to offer. Make a right on the next major road, which is Highway 326.
Bridlewood Farm
On this road, you will pass by one of the most recognizable horse farms in Ocala, Bridlewood Farm. Bridlewood Farm was previously owned by Arthur and Martha Appleton who started it in 1976.
Most people have heard of the art museum off State Road 40 in Ocala called the Appleton Museum. Bridlewood Farm has over 2,200 beautiful acres and is known for its Thoroughbred racing, breeding, and sales.
Millionaire's Row – Scenic Horse Farm Drive
Next, on your journey make a left onto Highway 225a to head north (Gilbert's Ace Hardware is located on the corner). As mentioned in the title, Hwy 225a is known as Millionaire's Row. Once you take this Ocala equestrian scenic drive you'll know why it is called this.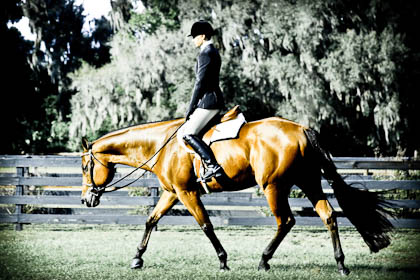 Millionaire's Row is a coveted location that has rolling hills and just horses for miles and miles. You will drive by some of the most prestigious hunters, jumpers, and dressage farms as they prepare for equestrian shows such as HITS.
Just off 225a and 100th Street are gold and silver Olympic medalists, David and Karen O'Connor with their farm, O'Connor Equestrian.
There are also numerous other Equestrian farms located off 225a including Quarter Horse farms.
Remember the World Equestrian Center we spoke about earlier?
Larry and Mary Roberts who created the World Equestrian Center live off 225a at Roberts Quarter Horses. Located at the corner of 225a and NW 110th Street Rd (runs into NW 118th Street Rd). It is hard to miss with its grand entrance, meticulously manicured landscaping, elegant barns, and sculptures sitting on over 1,250 acres.
The Roberts family is known for breeding some of the best western pleasure horses in the American Quarter Horse Association (AQHA) industry.

Ocala Equestrian Scenic Drive Continues…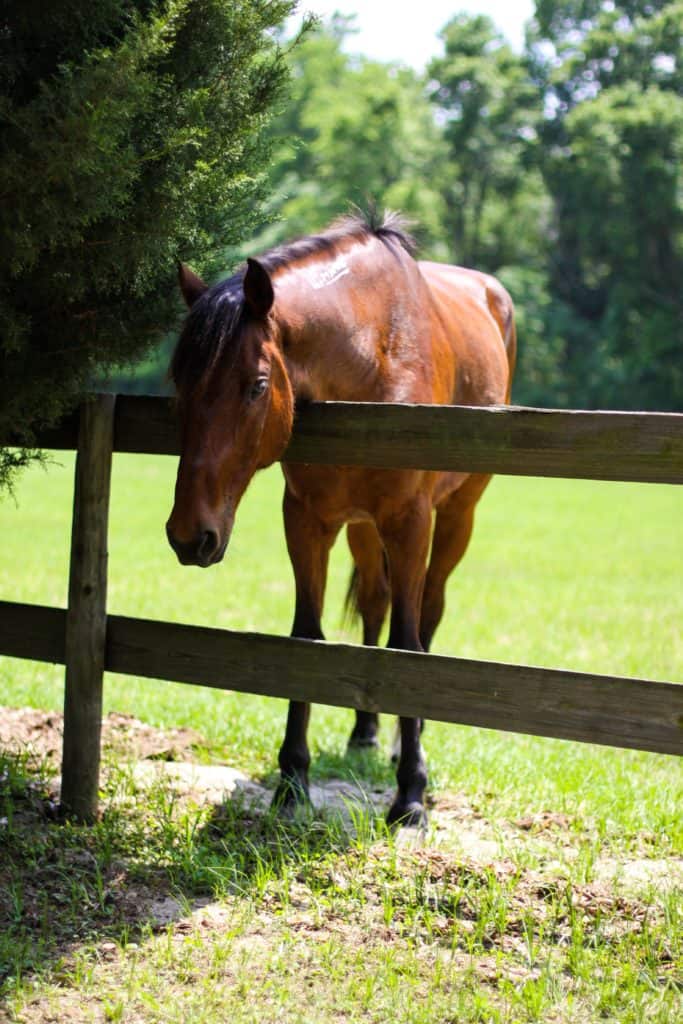 The miles of horse farms continue long past Millionaire's Row in Ocala. Just off 225a on Highway 329 is the old residence of the beautiful bay-colored Quarter Horse Stallion, Rugged Lark. He is now buried there at Bo-Bett Farm and a statue in his honor.
Quarter Horse fans know Rugged Lark for his human-like qualities to sit at the dinner table, as well as his multiple world champions to his record. I collected Breyer horses of Rugged Lark when I was young, along with other memorabilia.
Carol Harris, owned Bo-Bett Farm for many years and has since passed away. For those of you interested in driving by this farm, it is located at 7255 W Hwy 329, Reddick, FL 32686.
While you are up this direction, see the charming downtown of Micanopy if you haven't been before! For a more leisurely drive than I-75, continue on Highway 329 and follow the signs for the historic center.
It is an enchanting old town you won't want to miss! Not only will you pass by horse farms on the way there, but you will also get to see cows and other animals.

Other Equestrian Scenic Drives
Another great short drive very close to the World Equestrian Center is Live Oak Stud, Kinsman Farm, and several other beautiful properties.
Kinsman Farm is a gorgeous sprawling 750+ acre farm that was owned by New York Yankee George Steinbrenner. It currently remains in the family, overseen by Mr. Steinbrenner's daughter.
Live Oak Stud is another spectacular horse farm and a staple in the racing horse industry.
I hope you enjoyed this Ocala equestrian scenic drive in Ocala. If you are looking to tour horse farms, Farm Tours of Ocala provides a hands-on tour experience.
Read Next: 15 Best Hotels in Ocala to Stay at Right Now

Related Florida Travel Articles
Looking for more things to do in Florida? Check out my Florida page, or see these links below.