Looking for the best fun things to do in Frankenmuth? This charming Bavarian-themed village is one of Michigan's most loved small towns.
Frankenmuth is home to some of Michigan's best festivals and cultural attractions. Nicknamed "Michigan's Little Bavaria" you will truly feel like you're in Europe without leaving the US!
The lovely Heritage Park is the heartbeat of Frankenmuth, offering beautiful green areas within close proximity to shops, restaurants, and entertainment.
Frankenmuth is situated about 90 miles north of Detroit in the Great Lakes Bay Region. It is approximately 80 miles northeast of the city of Lansing, Michigan. Parking is FREE to make exploring easy and convenient.
Best hotels in Frankenmuth MI
There are excellent options when considering where to stay when in Frankenmuth, and each with their charms. Some hotels offer suites able to accommodate large groups. Our favorite hotel is the Bavarian Inn Lodge.
This magnificent hotel rests on the edge of the picturesque Cass River. With 7 acres of family fun, including indoor pools with water slides, mini-golf, restaurants, and more! There is something for everyone at the Bavarian Inn Lodge.
Click Here for Hotel Pricing on Booking.com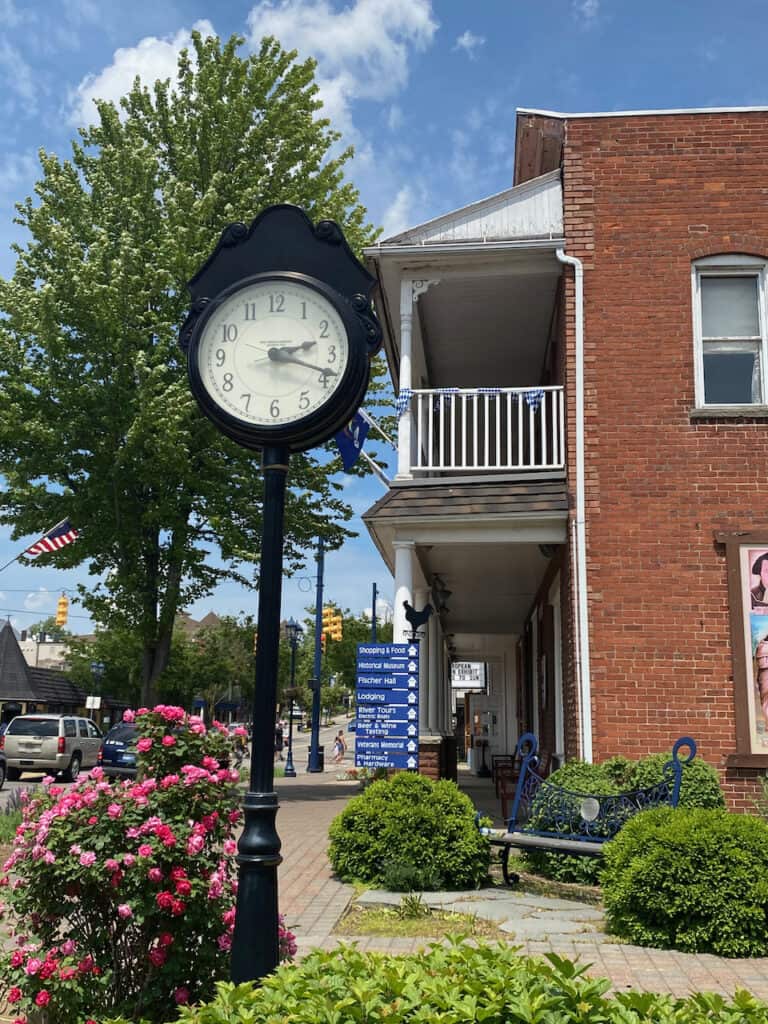 ---
Bronner's Christmas Wonderland
Bronner's Christmas Wonderland is "The Worlds Largest Christmas Store." It is known for being a year-around destination for Christmas products. Bronner's truly has endless aisles of all things Christmas! Thank goodness for easy to read signage since we almost got lost in there. Bronner's is expansive sitting on a total of 26 acres!
Silent Night Chapel
Before leaving Bronner's Christmas Wonderland you'll want to see Silent Night Chapel on the southernmost tip. It is a replica of the Austrian chapel where the Christmas carol was first performed long ago.
---
Grandpa Tiny's Farm
Founded in 1938 by William 'Tiny' Zehnder, Grandpa Tiny's Farm has been a working farm ever since with animals, flowers, and more! The whole family is able to enjoy this historic farm that operates across the street from Bronner's Christmas Wonderland.
From craft shows to farm-to-table dinners, there are fun things to do each season.
Santa's Reindeer Farm has become a family tradition where families can walk the farm, visit Santa and even get to pet reindeer.
Read Next: 20 Best Small Towns in Michigan You Will Absolutely Love
---
Stroll the Frankenmuth River Place Shops
Frankenmuth Michigan River Place Shops is a shoppers dream! You can stroll for hours at this unique Bavarian-themed shopping mall. There are over 40 shops and most of them are locally owned businesses. They do have a few nationally recognized retailers like Tervis and Yankee Candle. Here are a few of our favorites to add to your shopping experience.
Sticky Things
One of the best places to check out in Frankenmuth River Place Shops is Sticky Things. It has honey, oils, syrup, and an assortment of delicious teas. Products are available to sample. The staff have excellent customer service and are knowledgeable on their quality products.
Ultimate Mirror Maze
Take a break from shopping at the Ultimate Mirror Maze! This walk-through maze has thousands of mirrors with plenty of halls to explore. Have a good chuckle at getting lost and then making your way back out again!
Cherry Republic
This is a favorite place to shop and has several locations in Michigan. Some of their most-loved tasty treats include soda, salsa, and wine. Plus, they have everything you can imagine for cherry lovers. You can sample items like chocolate, jams, and more!
Cherry Republic has a total of 6 locations in Michigan: Frankenmuth, Holland, Charlevoix, Ann Arbor, Glen Arbor, and Traverse City.
Enchanted Forest
The Enchanted Forest Gift Shop is a cute little store with a variety of different trinkets that focus on ferries, gnomes, as well as holiday decor. There are also plenty of festive items for holiday gift shopping.
Frankenmuth River Place Shops General Information
---
Frankenmuth Historical Museum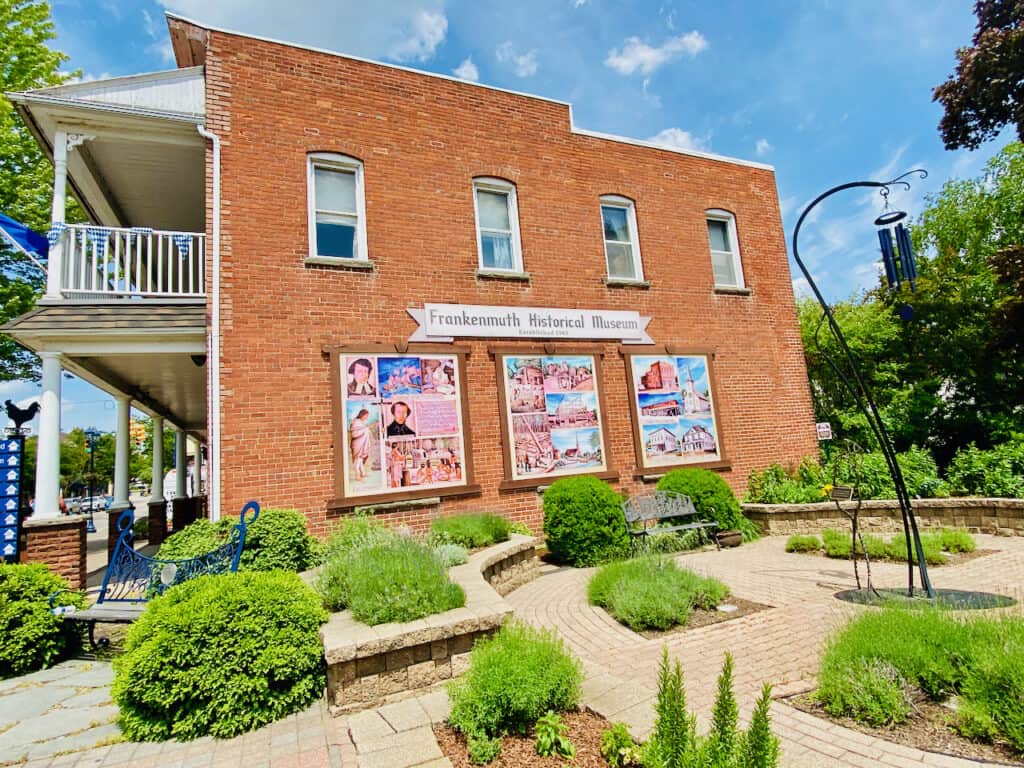 Frankenmuth Historical Museum aims to preserve and celebrate the town's unique history. It includes galleries containing a range of hands-on exhibitions, displays, audio and video presentation, and artifacts. They have gift shop to visit too.
Hours: Sunday – Friday 12pm – 5pm; Saturday 10am – 7pm;
Address: 815 Main Street, Frankenmuth, MI 47734
Phone: (895) 852-9711
Website: Frankenmuth Historical Museum
---
St. Julian Winery & Distillery Tasting Room
St. Julian Winery is a family owned and operated winery for over 100 years. Here you will find a very affordable tasting room with friendly service!
St. Julian has a collection of award-winning wines, distilled spirits, and ciders. If you miss visiting them in Frankenmuth, there are 5 other locations in Michigan including the main winery in Paw Paw.
Address: 127 S Main St, Frankenmuth, MI 48734
Phone: (989) 652-3281
---
Michigan's Largest Covered Wooden Bridge
While it may look like a bridge from the 19th century, this wooden bridge was actually built in 1980. Bavarian Inn's Holz Brücke Covered Bridge connects visitors to the Bavarian Inn Lodge from downtown.
At night it is lit up by twinkle lights, which makes it a favorite place to take an evening stroll by the Cass River. This beautiful bridge is a Frankenmuth, Michigan landmark.
If you're intrigued by unique bridges, hop on over to Midland (about 40 minutes away) to check out the Tridge, a cool three-legged bridge. Midland is another cherished small town in Michigan.
---
Zak & Mac's Chocolate Haus
This attractive little shop has delightful handmade chocolates. A few favorites include the chocolate truffles, toffees, and fudge. If the smell of delightful chocolate doesn't lure you in, just know it's on Main Street and easy to find!
---
Spend Time in Nature at Heritage Park
On the topic of strolls, Frankenmuth's Heritage Park is an ideal spot for walking especially after all the delicious Bavarian food! The park is well maintained and in good condition. This is an ideal place for afternoon or evening strolls to watch the Bavarian Belle Riverboat go by.
Or if you are up for more adventure this is a great place for water sports especially kayaking or canoes. The park offers a launch site for easy access to the water.
Heritage Park is a town gathering place with many festivals and summer events that take place here including Oktoberfest.
---
Frankenmuth Cheese Haus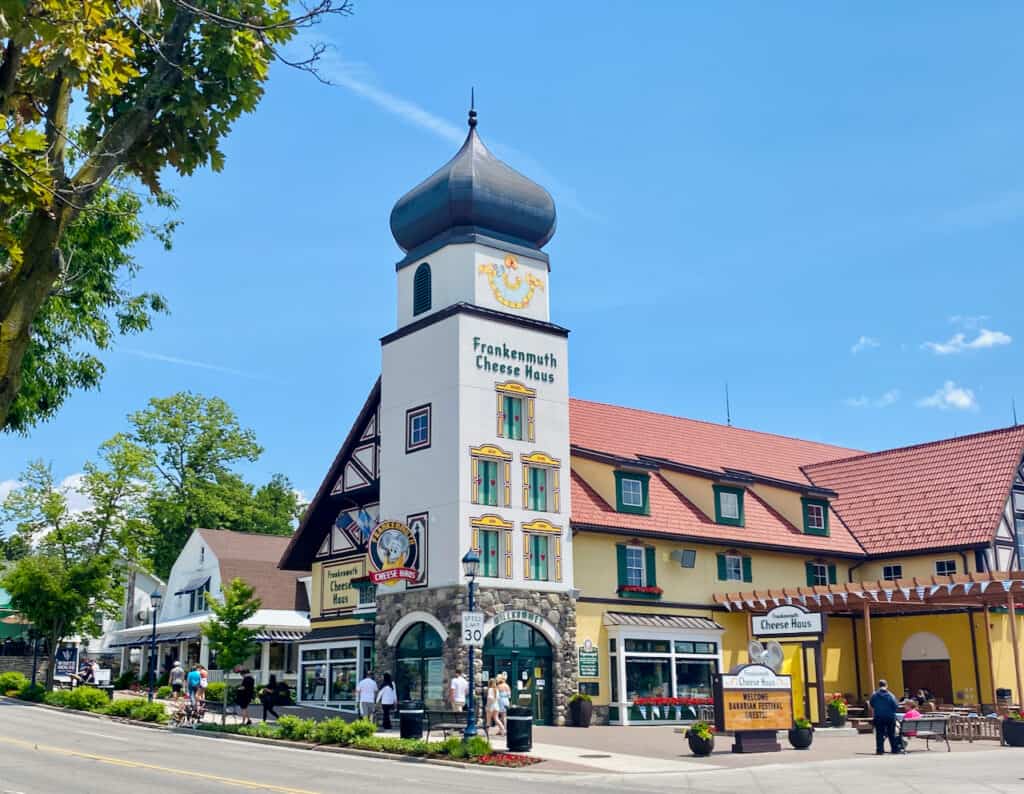 Located on Main Street, Frankenmuth Cheese Haus is a gorgeous building and clock tower on Main Street. It has been a town fixture for over 50 years. They specialize in imported and domestic cheese. Some of their delicious homemade cheese spreads include options like Garlic, Jalapeño, Bacon, Smokey Jalapeño. They even have Chocolate Cheese!
---
Bavarian Belle Riverboat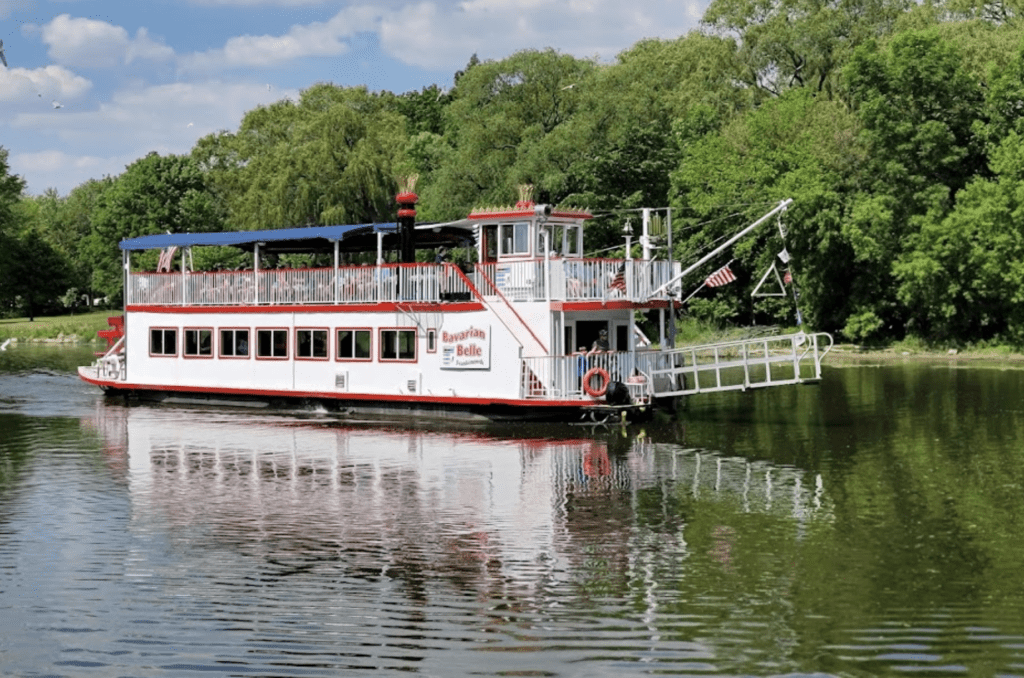 The Bavarian Belle Riverboat is a traditional, family-run riverboat offering historic tours on the beautiful Cass River. This restored paddle wheel riverboat features an open stairway, a canopied upper deck, and fully enclosed lower deck with modern restroom facilities. It is ADA accessible on the lower level.
Guests can take part in a 1-hour historical excursion around Frankenmuth. The Bavarian Belle Riverboat is a fun place to celebrate special events including birthdays and parties.
Tickets are paid by cash or check only (no credit cards)
Address: 925 S Main St D3, Frankenmuth, MI 48734
Phone: (866) 808-2628
Website: Bavarian Belle Riverboat
---
Frankenmuth FunShips
Have the perfect outing on Frankenmuth Funships! On this trip, you will get key tips about the area and see wildlife on the river. Sit back and relax for an hour on a boat with mouth-watering handmade chocolate and delicious wine.
Keep in mind, there is no restroom facilities on the boat. Frankenmuth FunShips is located next to the Frankenmuth Brewery on Main Street.
---
Castle Shops at the Bavarian Inn Restaurant
Frankenmuth's Bavarian Inn Restaurant is situated across the road from the Zehnder's Restaurant. Serving customers since 1888, it specializes in chicken dinners and German cuisine. They offer a Bavarian Inn Perks Club for frequent diners which includes a FREE chicken dinner for your birthday.
Castle shops in the Bavarian Inn Restaurant offer an assortment of special items within a fairy-tale setting. Winding cobblestone streets lead customers to specialty stores such as the Doll & Toy Shop, Royal Gift Shop, and Castle Shop Bakery.
Address: 713 S. Main Street, Frankenmuth, Michigan 48734
Phone: (989) 480-5012
Website: Bavarian Inn Restaurant
---
Taste a local beer at Frankenmuth Brewery
The Frankenmuth Brewery has been open for over 150 years! Did you know it is Michigan's oldest Microbrewery? The brewery has been perfecting the craft of great beer since 1862 and offers at least 15 options on tap to try year round.
Here you can sample some of their brews, as well as German and American cuisine. Relax and take in the views of the calming Cass River.
Address: 425 S. Main Street, Frankenmuth, Michigan 48734
Phone: (989) 262-8300
---
Michigan Military Heroes Museum
Michigan's Military & Space Heroes museum was founded by the Military Veterans of the American Civil War. It aims at highlighting wartime events and to educate the public. It is the only museum in the United States with more than 850 individual exhibits dedicated to Military & Space Heroes.
Address: 1250 Weiss St, Frankenmuth, Michigan 48734
Phone: (989) 652-8005
Hours: Open daily from 10am – 5pm
---
Zehnder's of Frankenmuth + More Top Things to Do!
Zehnder's of Frankenmuth is a powerhouse of fun and tasty things to do! They are widely known for their world famous chicken dinners at Zehnder's restaurants.
Beyond chicken, there is also Zehnder's Splash Village, Zehnder's Restaurant, Zehnder's Marketplace, and The Fortress Golf Course.
Zehnder's Splash Village and Waterpark
Zehnder's Splash Village is one of the favorite kids things to do in Frankenmuth. Ranked in the "Top 30" for indoor waterparks by US News & World Report, Zehnder's will keep your family entertained for hours! Not only is there an indoor waterpark, there is a splash outdoor waterpark, pool and cabanas in this 50,000 square foot aquatic center.
Pro tip: One of the perks of staying at Zehnder's Village is that you are welcome to arrive as early as 12pm and depart as late as 4pm to enjoy the waterpark at your convenience.
The Fortress Golf Course
The Fortress Golf Course is located in downtown Frankenmuth. Created in 1992 by Dick Nugent, this 18-hole and 72 par course is a nice place to spend several hours. It is well-maintained with manicured fairways. Rates are reasonably priced and they offer senior and kids discounts.
Celebrate Winter at the Zehnder's Snowfest
For over 30 years Zehnder's Snowfest has hosted one of the top ice sculpting festivals in North America. Here you will see massive ice sculptures, family entertainment in the warming tent, a fireworks display, petting zoo and children's activities. There is also a competitive baking contest! Check out the upcoming Snowfest schedule here.
Read Next: 23 Best Baby Travel Essentials for a Relaxing Road Trip
---
Ride or Pedal Frankenmuth in Style
Horse Drawn Carriage by Fantasy Carriage Company
One of the fun ways to explore town is by horse-drawn carriage. This is a unique way to celebrate a special day or entertain the kids. During the Christmas season, this is a lovely way to see the twinkle lights and hear the holiday music.
PedAle Trolley
Looking for a fun group activity? PedAle Trolleys will make it a memorable experience in Frankenmuth. This 15 passenger pedal-powered trolley bike stops at town favorite shops, bars, and other attractions.
---
Frankenmuth Festivals
Frankenmuth has more festivals than days in a month! You truly have a great list of options all year.
The Frankenmuth Bavarian Festival
Michigan's largest gathering of authentic German heritage is the Frankenmuth Bavarian Festival. It is considered one of the "Top 5 Festivals in the State of Michigan" by AAA's Michigan Living Magazine. Established in 1959, visitors travel far and wide to partake in Bavarian music and dances, food and beer, parades, and to celebrate the newly crowned Bavarian Princess!
Frankenmuth Auto Fest
The annual Frankenmuth Auto Fest occurs the weekend after Labor Day. This 3-day event is a local favorite with over 2,000 cars to see in Heritage Park next to the Cass River. Auto Fest charges a minimal entry fee, but proceeds all go to charity. This is a fun, family-friendly event for anyone that loves cars!
They also host a Big Block Party which is FREE for everyone to attend starting at 5pm. Frankenmuth's Main Street is closed for street traffic (Genesee Street to Jefferson Street) and flooded with classic cars plus more fun!
Check out the Frankenmuth Auto Fest website for full event details.
World Expo of Beer
Calling all beer lovers! The World Expo of Beer (WEB) is Michigan's largest beer sampling festival. This charitable event is held annually on the 3rd weekend in May in Frankenmuth. With over 350 beers from around the world, you won't have enough time to see or drink it all!
Frankenmuth Oktoberfest
For over 30 years, the Frankenmuth Oktoberfest has been celebrating the authentic sights and sounds of the Munich Oktoberfest in September.
Check out Frankenmuth's website for the full calendar of events with the specific dates, times, and ticket information.
---
Fly Through the Air in Frankenmuth Aerial Park
Frankenmuth Aerial Park is an elevated outdoor experience with climbing, zip line courses, suspension bridges, and fun for all levels of ability.
Keep in mind this is for ages 7 and up. Safety equipment such as harnesses or helmets are supplied. Sessions last 2-hours and generally allows for the completion of 2-4 trails.
---
Prost Wine Bar & Charcuterie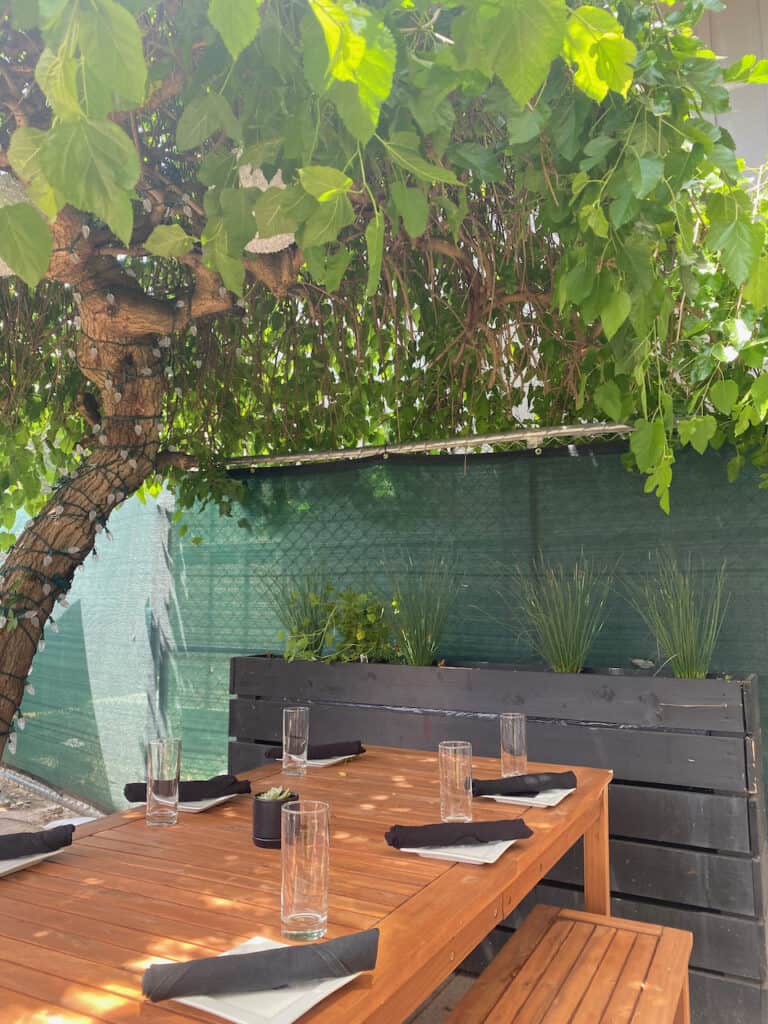 For lighter fare and a bustling atmosphere, check out Prost Wine Bar & Charcuterie on Main Street. It has outdoor and indoor dining with servers dressed in traditional Bavarian clothing.
Prost Wine Bar is one of the busier local places to eat, but they do accept reservations via Yelp.
We decided on their grilled cheese and charcuterie boards. Admittedly, I took a bite of grilled cheese before the photo was taken (I tend to do that)! We felt the charcuterie boards were far better and displayed to perfection.
Address: 576 1/2, S Main St, Frankenmuth, MI 48734
Phone: (989) 262-8690
Website: Prost Frankenmuth
---
Frequently Asked Questions
Is Frankenmuth worth visiting?
Frankenmuth is famous for incredible shopping that you won't find in most towns. Not only can you visit the outstanding Frankenmuth River Place Shops and Bronner's Christmas Wonderland.
How popular is Frankenmuth?
The quaint city of Frankenmuth has approximately 5,000 inhabitants. Impressively, it welcomes more than 3 million travelers who want to see Michigan's Little Bavaria.
What is there to do in Frankenmuth, Michigan?
Frankenmuth provides many activities both during the festive season and after the holidays. Here are our absolute favorite and best things to do in Frankenmuth!
---
Did You Find This Post Helpful? Share It!
If so, I would love to hear about your visit to Frankenmuth, Michigan! You can follow me on Instagram, and tag your images to @erinstraveltips and hashtag #erinstraveltips. I look forward to seeing you there!
---
Check Out Other Travel Articles You'll Love