If you're looking for a fun, safe, and clean play place for your kids, look no further than Munchkin Town!
In this article, I'm detailing my personal experience at this lovely indoor playground Let's take a deeper look at Munchkin Town.
Munchkin Town Location
Munchkin Town is an indoor playground under new ownership since 2021. The playground is designed for children aged 0-6 and their families to enjoy. This climate-controlled environment is perfect for Florida weather, especially during the summer heat.
Munchkin Town is situated in an old shopping strip with plenty of parking at your disposal. Located right off US-19, it is conveniently located by the highway so you can easily get here from I-275. For those of you familiar with Sky Zone Trampoline Park, it is just north of it in Clearwater.
The playground features a variety of play structures, a soft play area, a café, and more!
Location & General Information
Address: 14100 US-19 Suite 130, Clearwater, FL 33764
Phone: (727) 386-4909
Website: Munchkin Town
🛝 Pro Tip: Make sure to pack socks for everyone going in the play area. They are required! I also packed a snack so we could spend more time without having to return home.
Daily Admission Pricing
The pricing is $9.95 for children 6 months and up. Adults are $4.95 per person. Infants under 6 months are FREE. While it does accommodate children up to age 6 in my opinion, it's best suited for toddlers up to age 5.
At first, I was surprised they charged for parents, but after I visited I understood. The gated area where toddlers play can become busy, this keeps the traffic just to kids and a parent or guardian to supervise them.
The rate also is a daily admission fee, which means you aren't required to leave after an hour. So, if you have an energetic child (like I do), you get more time than most play places.
You can also purchase a play pack (6 visits) and save up to $4 per visit. Memberships are available as well.
On your first visit, you are required to sign a waiver. The form is rather cumbersome to fill out on their computer screen. I would recommend filling it out online prior to your visit.
Munchkin Town Open Play Time
Monday: 9:30 am – 4:30 pm
Tuesday: 10:30 am – 6:00 pm
Wednesday: 9:30 am – 4:30 pm
Thursday: 10:30 am – 6:00 pm
Friday: 9:30 am – 4:30 pm
Saturday: 10:00 am – 12:00 pm
🛝 Pro Tip: Book ahead online and reserve your playtime if you are visiting during peak times. Weekends especially can fill up.
Music Classes & Special Events
Music classes are held on Thursday mornings at 9:30 am by reservation only. Other special events are held throughout the year for the holidays.
Subscribe to their newsletter or check the Munchkin Town website for upcoming events.
The Play Place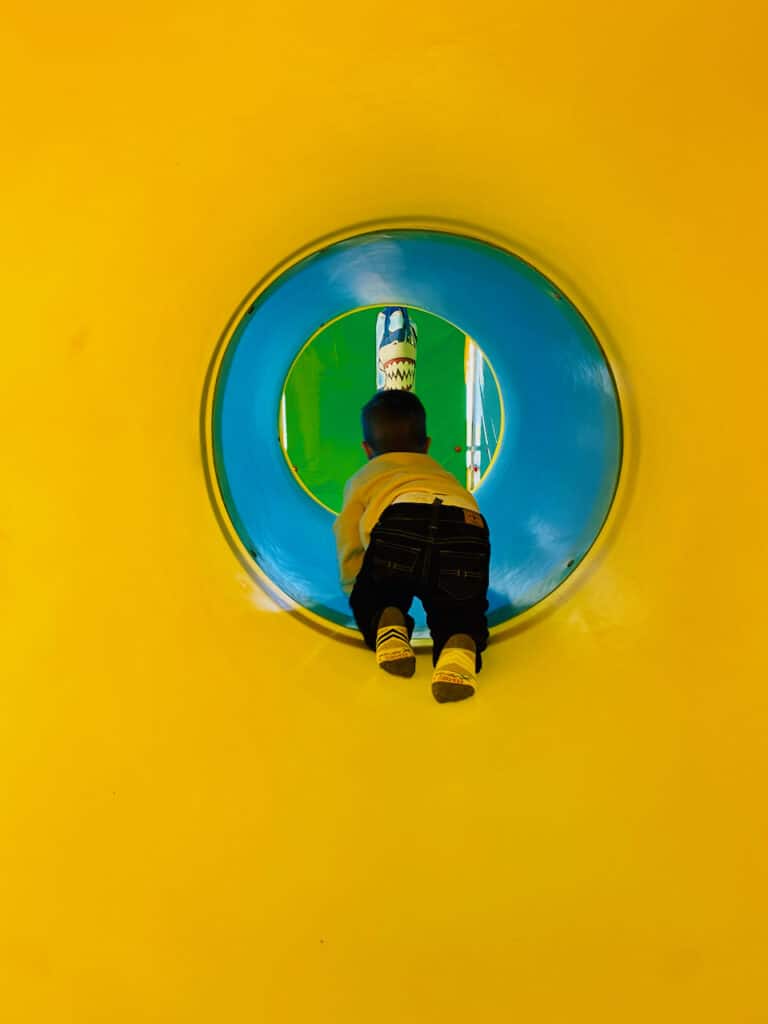 Munchkin Town's play structures are designed to encourage imaginative play. The two-story play slide is the centerpiece of the playground. It has a slide, tunnel, and opportunities to climb.
The bounce house located next to the two-story slide is super fun for children that love to jump. It's got a bridge in the center where they can climb and softly land on the other side.
Perhaps my son's favorite was the cashier and grocery store, and it beeps as the kids ring up the food. Afterward, they can take the items to the little house next door. There is a play stovetop, fridge, ice cream cart, and more!
Near the cafe is a reading nook with books, toys, and musical instruments. With the variety of play areas, there is plenty of things to do.
Read Next: The 9 Highest Rated Tours in St Petersburg for Families
The Soft Play Area
The soft play area is perfect for younger children (0 to 2) who are not yet ready to tackle the playground structures. It has foam blocks, toys, and bean bag chairs for lounging.
The Cafe
The café at Munchkin Town is the perfect place for parents to relax while their children play. It is accessible from inside and outside the fenced play area.
The menu features coffee, tea, snacks, and light refreshments. The tables outside the gated area are ideal workstations.
Several families had one of the parents working on a laptop while the other parent was in the open play area. This is great for those that work remotely since they have FREE wifi.
Read Next: The 27 Fun & Best Kids Things to Do in Tampa Bay in 2022
Kids Birthday Parties
Munchkin Town's party room can accommodate up to 25 children (60 total with parents included). It can be rented for birthday parties or other special occasions. Parties cannot occur during open play and are by appointment only.
In Clearwater, there are many fantastic options when it comes to birthdays for kids. From Munchkin Town, Sky Zone Trampoline Park, to Dolphin Boat Tours, and so much more!
Final Thoughts
Munchkin Town is an indoor playground in Clearwater designed specifically for young children and their families.
I thoroughly enjoyed my time there with my family. There is plenty to keep little ones entertained in a safe setting.
Read Next: The Ultimate Guide to Great Explorations St Pete
Related Florida Family Travel Articles