Debating the charms of Lake George vs Lake Placid for your next vacation?
Both of these two towns in the Adirondacks have beautiful views and a wartime history but offer a very different vacation experience from each other.
Whether you're visiting for hiking, skiing, swimming, or just relaxing all day, I'll help you find the spot for you!
Keep reading to discover the best places to stay, explore the hiking trails, find great swimming spots, and learn all about the best things to do in Lake George and Lake Placid.
Lake Placid vs Lake George Quick Summary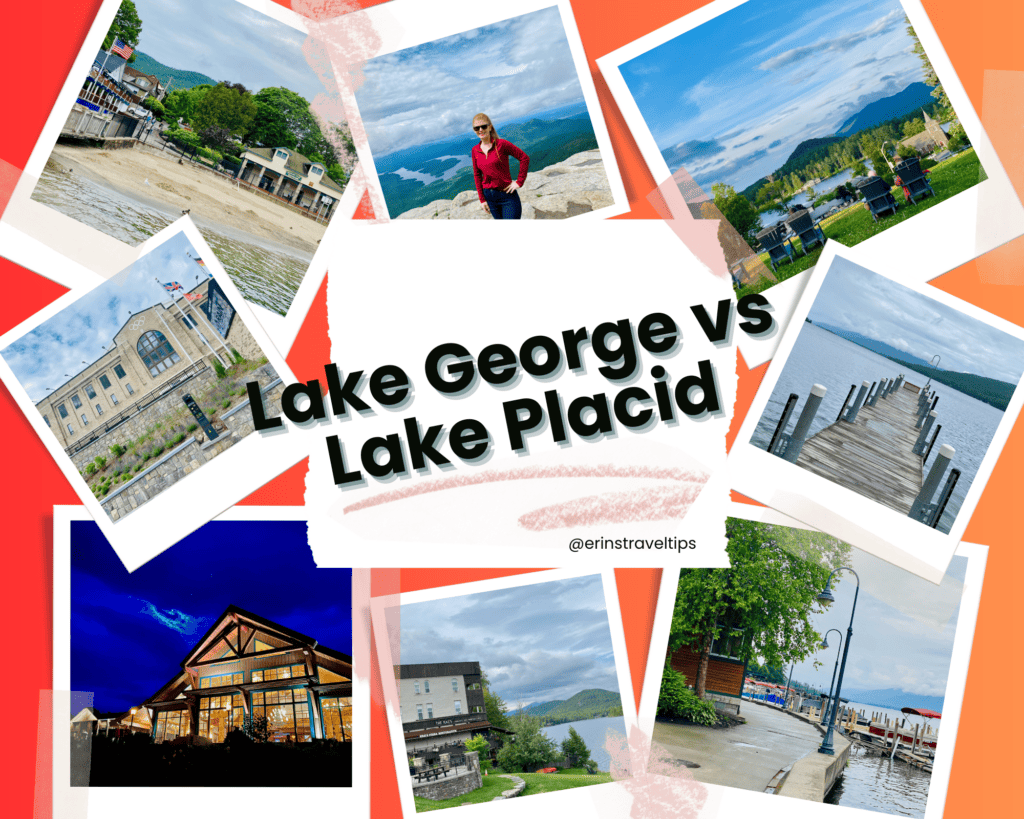 Lake Placid
Lake George
Lively, vacation town vibe
More residential
Hotels and inns
Vacation rentals and hotels
Lots of hiking trails of varying difficulty
A moderate amount of hiking trails of varying difficulty
Kayaking, rafting, scenic drives, skiing, Olympic sites
Mini-golf, lake cruises, theme parks, ziplines, museums
Few beaches in close proximity but they're good
Several beaches in close proximity
Kid-friendly
Very kid-friendly
Slightly more expensive
Slightly more affordable
Some nightlife — mostly bars
Little nightlife — mostly bars
Distance to Albany:
140 Miles
Distance to Albany:
60 Miles
Lake Placid to Lake George:
80 Miles
Lake George to Lake Placid:
73 Miles
Lake Placid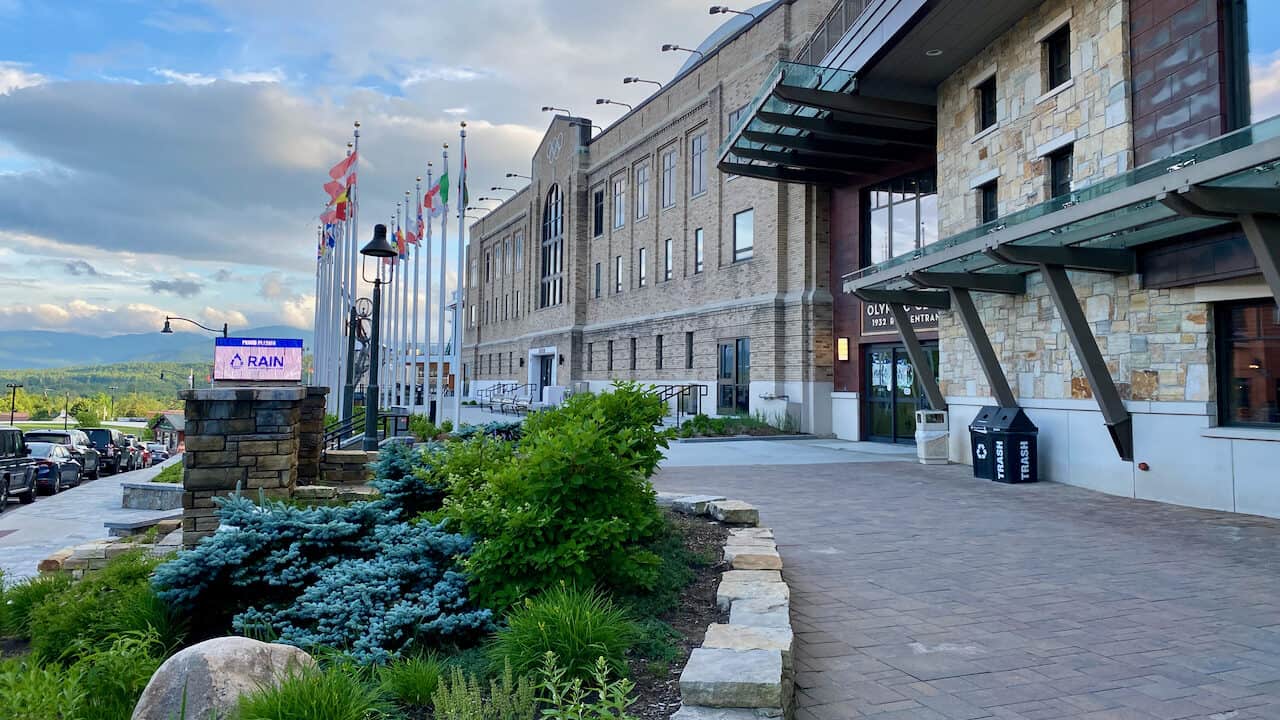 Nestled in the High Peaks, Lake Placid's main claim to fame is having hosted two Winter Olympics in 1932 and 1980. It remains an iconic winter destination for skiers and snowboarders, but it's also great for hiking, swimming, and paddling in the summer. It's a true year-round vacation destination.
The village of Lake Placid is on the banks of the small Mirror Lake; the actual Lake Placid is just north. The village is small but lively, with most of the action concentrated on Main Street, with a cluster of eateries, shops, and hotels.
Lake Placid to Lake George is roughly 80 miles. You could take a day trip from one to the other but know that these two locations are similar yet very different.
Lake George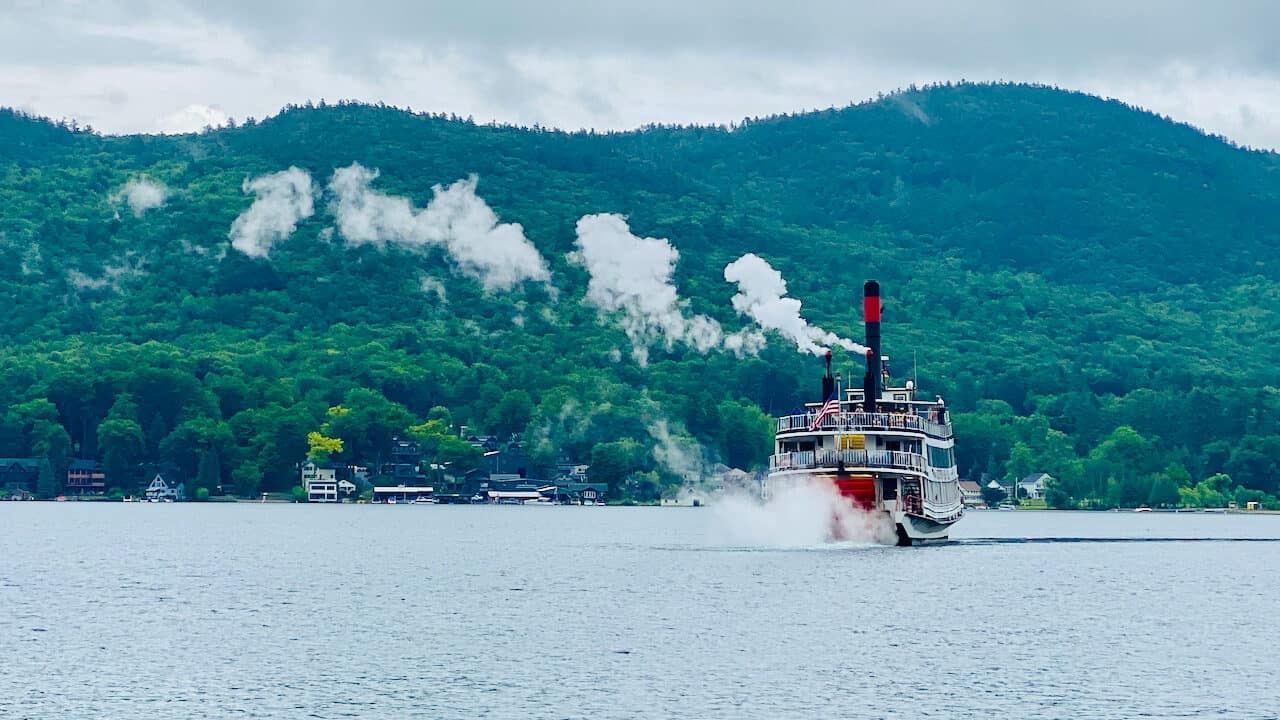 Formerly a battlefield in the Seven Years' War, Lake George is now known for being a family-friendly getaway in upstate New York. It is approximately 37 miles from Saratoga Springs and about 3.5-hour drive from New York City.
The best time to visit Lake George is in the summer. You'll never tire of things to do in Lake George, from hiking, mini golf, theme parks, museums, and a historical fort! It's much quieter in the winter.
The village of Lake George is located on the southern shore of its namesake lake, the 32-mile-long Lake George. Lake George Village is quite popular with tourists but is still largely residential.

Where to Stay in Lake Placid vs Lake George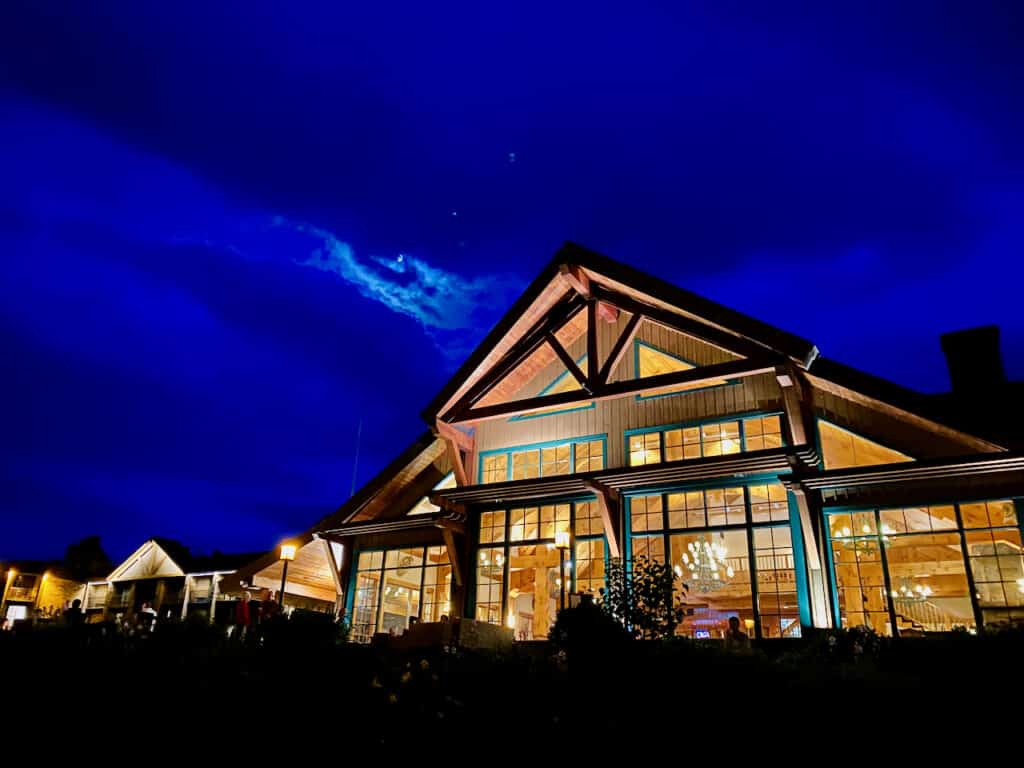 Best Lake Placid Hotels or Vacation Rentals
The Crowne Plaza is located on Mirror Lake and has a private beach. Golf lovers planning a trip to Lake Placid will love Crowne Plaza, as it has a total of 45 holes of championship golf. There are also several tennis courts on-site.
I chose to stay at the Crowne Plaza because it had the most amenities and things to do near Lake Placid. A cute walking path down the hill provides easy access to Lake Placid bars and restaurants.
Golden Arrow Lakeside Resort sits on Mirror Lake and has a private beach. This one earns points on the entertainment side, having its own nightclub and a lounge. The on-site Generations Restaurant serves farm-to-table American fare.
If you're looking for waterfront views of Mirror Lake, this is your best option. I honestly was more impressed with Golden Arrow Lakeside Resort after visiting it in person. It is the perfect location if you plan to spend time in the town of Lake Placid!
Whiteface Lodge offers extremely luxurious service at an unsurprisingly expensive price tag. The suites here each have a kitchen and a spa bathroom.
After spending time at Whiteface Lodge, I can see the draw. The food was excellent, and the grounds were impeccably maintained for family-friendly activities. However, it does sit outside of town, and it's not directly on the water (shuttle provided to private beach).
Best Lake George Hotels or Vacation Rentals
Hampton Inn & Suites is one of the more affordable hotels in the Lake George area. It's not directly on the lake and is a short drive from Lake George Village. It's very comfortable and peaceful, though, and many suites have great mountain views.
Holiday Inn Resort is more on the expensive side but it's also not on the lake or in the village. What it has over Hampton Inn & Suites are more spacious rooms, lots of recreational activities (basketball, putting green, playground, etc.), and an on-site restaurant.
Since it's more of a residential area, you can find lots of vacation rentals in Lake George on VRBO. One example is Adirondack Nest, a rustic 3-bedroom cottage with a spacious porch and deck, within walking distance of Million Dollar Beach.

Lake Placid vs Lake George for Hiking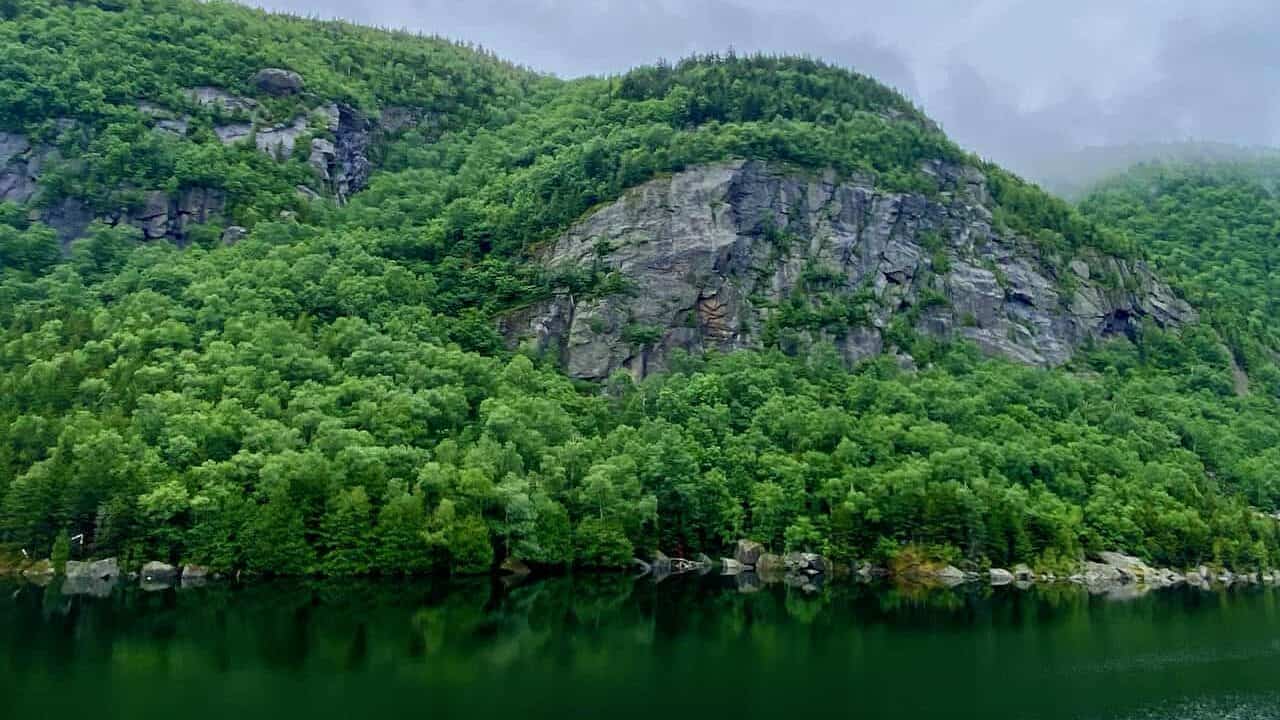 Verdict: Lake Placid
The Adirondack Mountains offer lots of awesome places to hike, from easy trails to ones for expert hikers.
The Lake Placid area has more trails than Lake George and a wider range of choices in terms of hike length and difficulty. However, if you're a discerning hiker, look into the specific trails in each area to find out which of the two better suits your tastes.
Best Hiking Trails in Lake Placid
High Falls Gorge is a beautiful trail with a gorge and four waterfalls. The whole loop is just one mile long, and it's very easy to traverse — the easiest in the Lake Placid area. It's on the way to Whiteface Mountain, so stop by for a quick hike on a trip there and see the gorge. The cost seemed a bit high, but may be worth it to you if you enjoy scenic routes.
Best Moderate Hike: Cobble Hill
Cobble Hill is a more moderate hike. It's steeper and has a section that involves using a rope to get up a rocky incline. The roughly 3-mile hike up will reward you with stunning views of Mirror Lake.
Best Hard Hike: Mount Marcy
Mount Marcy is the highest peak in New York, with a height of 5,343. The shortest trail to the summit starts at Adirondack Loj, but even this one is very challenging. It's just as rewarding, though, offering sweeping views of the vast Adirondack region.
Best Hiking Trails in Lake George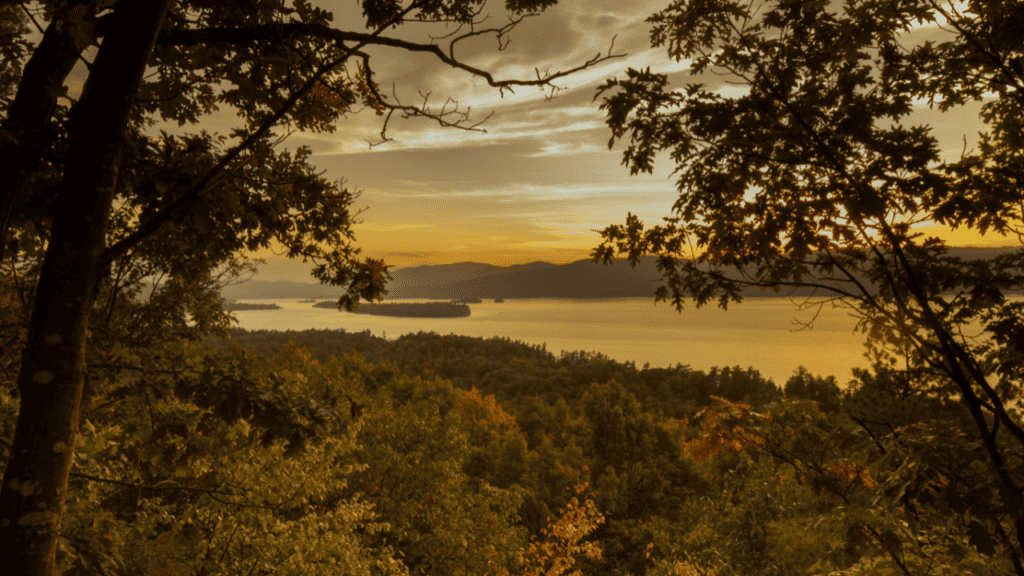 Amy's Park is in the nearby town of Bolton Landing and has 500 acres for you to explore, including lots of hiking trails. Most are quite easy, especially the 1.7-mile red trail. There is also a pond here where you can canoe or kayak.
The Lake George Trail on Sleeping Beauty Mountain is a bit long (a roughly 6-mile round trip) and rocky but is easy enough for older kids. The area is popular for fishing, camping, and birding, so consider bringing your camping gear.
Though it's only about a 3-mile round-trip, the Prospect Mountain trail is very steep and difficult at times. The summit will, of course, give you awesome views, but you'll also see remnants what was once the world's longest cable railroad.

Lake George vs Lake Placid for Swimming
As a Floridian, I'm definitely used to gorgeous clear water beaches! However, both of these lake towns have their own beautiful waters to enjoy for swimming.
🏆 Verdict: Lake George
Lake George offers lots of great beaches for swimming, just on the one lake. At Lake Placid, your immediate choices are fewer, but it pays off to go a bit further out from Mirror Lake.
Best Places to Swim in Lake George
Lake George is a huge lake with several beaches where you can lounge and swim in the pristine waters.
The largest and most popular one is Million Dollar Beach. It has lifeguards, showers, picnic tables, grills, and a volleyball court. Most people's second choice is Shepard Park Beach, which is centrally located in Lake George Village near all the bars and restaurants.
A great little beach park that avoids the traffic in town is Ushers Park. It has great amenities, including lifeguards, a picnic area, two playgrounds, and basketball and tennis courts. The is down the hill and only open when lifeguards are on duty. Don't pack a lot of items, it can be a hike back to the parking lot!
Best Places to Swim in Lake Placid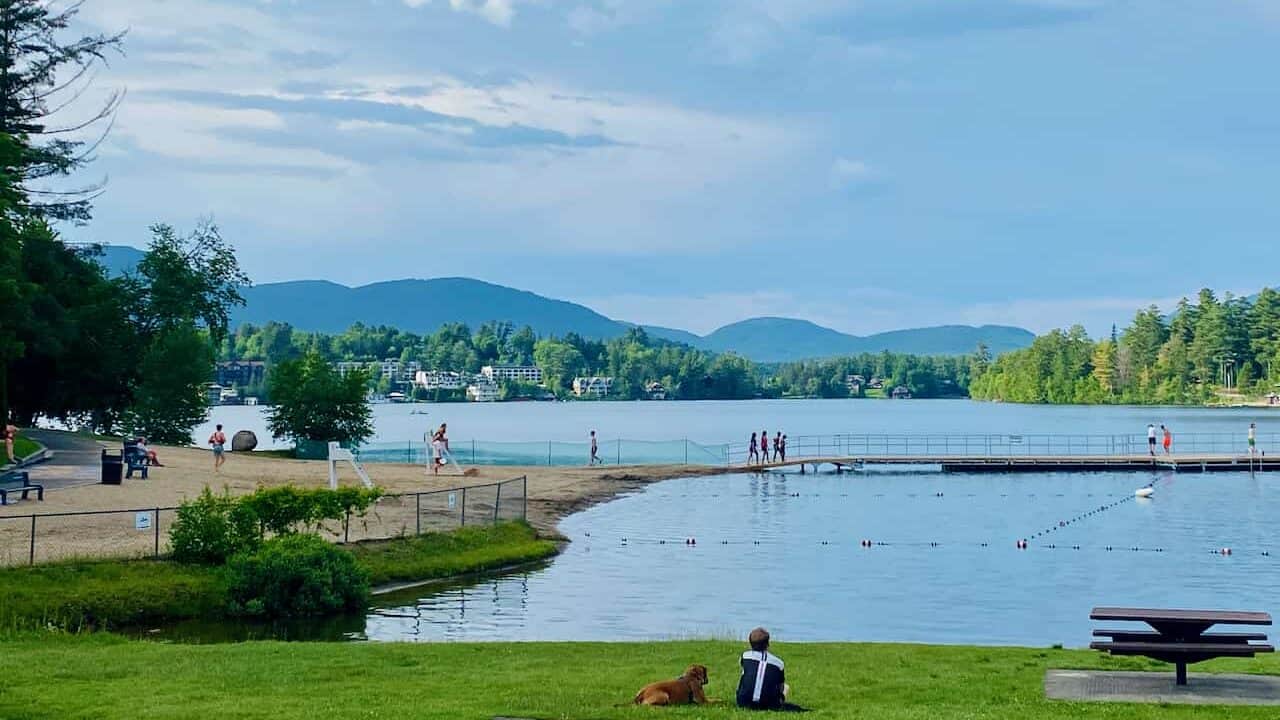 When you stay in Lake Placid, you have two lakes in close proximity. The village of Lake Placid is on the shores of Mirror Lake, while the actual Lake Placid is further north.
Mirror Lake is smaller, with no motorized vessels allowed (you can use a kayak or canoe here).
Lake Placid Public Beach is a sandy beach on the southern end of Mirror Lake. It's a well-maintained beach with restrooms, a changing area, a playground, tennis courts, a pier, and a boat launch. My family loved this beach because it was walkable from our hotel, Crowne Plaza or the Golden Arrow.
The best remote place to swim in Lake Placid is in Echo Bay at the northern end. It's a gorgeous and secluded spot surrounded by mountains. It's only accessible by boat, though.
Another choice is to go to Upper and Lower Cascade Lake along Route 73, near Keene. These lakes are also surrounded by mountains, and you can take a short hike to a nearby waterfall on Cascade Mountain. It's ideal for paddling or fishing.

More Summer Things to Do in Lake Placid & Lake George
🏆 Verdict: Lake Placid
Lake Placid
Day Trip to Whiteface Veterans Memorial Highway
This is the best scenic drive in the area, offering spectacular views of hundreds of miles of Adirondack Mountains. The summit, Whiteface Mountain's peak, is the fifth-highest point in New York!
Whiteface Veterans Memorial Highway was my favorite day trip near Lake Placid. While it costs approximately $40 to take the toll road up the mountain, you'll be rewarded with incredible views. There's a castle, gift shop, hiking trails, viewing areas, and more things to do!
Go Canoeing or Kayaking on Mirror Lake
Motorized boats aren't allowed on Mirror Lake, but you won't be wanting one, either. The peaceful lake is best enjoyed on a kayak, canoe, or paddle board.
Enjoy a Summer Concert at Mirror Lake
Songs at Mirror Lake (SAML) is one of my favorite things to do in the summer in Lake Placid. All concerts are free, and are held on Tuesdays from 7 to 9 pm at Mid's Park in downtown Lake Placid.
The shows vary with musical from largely regional artists. Make sure to come early so you can get a good seat on the lawn, or pull up with your boat!
Join an Excursion at the Lake Champlain Maritime Museum
This maritime museum is a short drive from Lake Placid to Vergennes, Vermont. In addition to exhibitions, Lake Champlain Maritime Museum offers many excursions, including an ROV shipwreck excursion.
Go Rafting with Adirondac Rafting Company
The lakes are great, but you should also experience whitewater rafting through the Upper Hudson River Gorge from Lake Placid. It's exhilarating and family-friendly!
Six Flags The Great Escape
Six Flags The Great Escape & Hurricane Harbor is a top-tier family attraction located approximately 6 miles from Lake George.
Lake George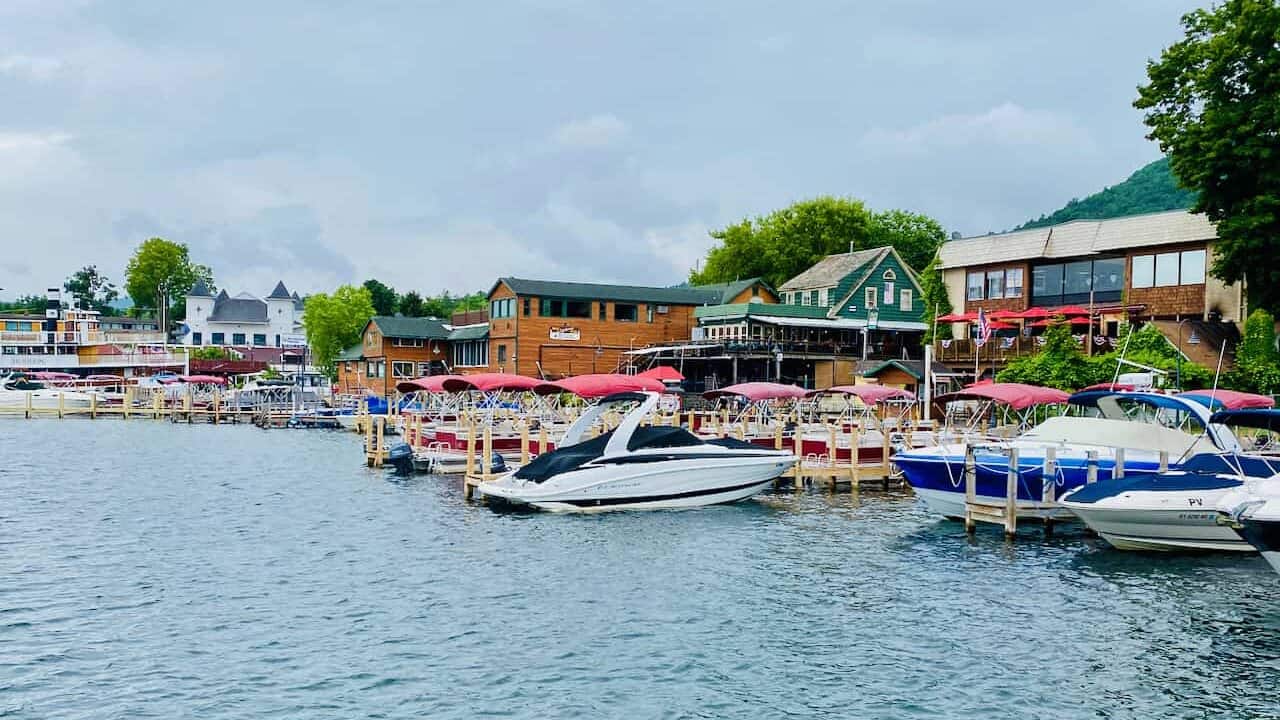 Explore the World of Mini Golf
Lake George has an insane amount of mini golf courses so, naturally, you've got to at least try it out! Many locations are themed, such as Pirate's Cove Adventure Golf.
Take a Boat Tour of Lake George
There are tons of ways to tour the pristine Lake George, from joining a steamboat cruise to renting a kayak or pontoon boat and exploring the lake on your own.
Bring the Kids to Lake George Expedition Park
Equal parts educational and entertaining, the Lake George Expedition Park is ideal for families with young children. The main attraction is Dino Roar Valley, filled with life-size dinosaurs. There are plenty of hands-on activities for kids here, including a fossil dig site. Another section is Magic Forest, with several amusement rides.
While the park is a bit outdated, it's ideal if you're visiting for an extended period and looking for other Lake George activities.
Zip Line at the Adirondack Extreme Adventure Course
Thrill seekers will enjoy a visit to the Adirondack Extreme Adventure Course, where you can try a range of zip line courses through the Adirondack wilderness. It's great for all ages, with a dedicated kids' course.

Lake George vs Lake Placid in Winter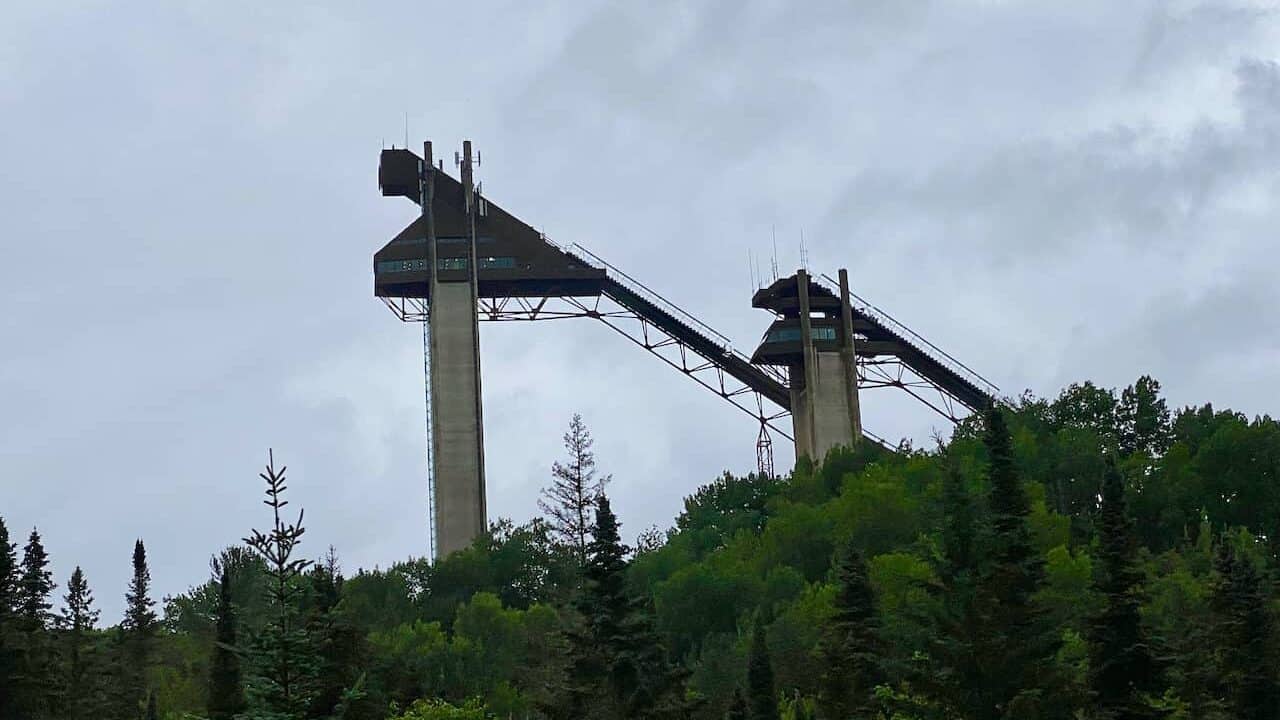 Lake Placid
When it comes to Lake Placid vs Lake George, both are gorgeous settings in about any weather. However, each has some unique things to do, so it depends on your interest level. Here are some of my top choices.
Explore the Lake Placid Olympic Sites
Lake Placid hosted two Winter Olympics in 1932 and 1980. You can ice skate at the Olympic Skating Oval, then ride a gondola and zip line at the Olympic Jumping Center. You can learn about the two Winter Olympics games themselves at the Olympic Center and Museum.
Enjoy the Winter Wonderland of Whiteface Mountain Ski Resort
Whiteface Mountain was also a site of the Winter Olympics. You can enjoy skiing, snowboarding, and a gondola ride at the mountain's beautiful ski resort during the winter.
Learn about Abolitionist History at John Brown Farm State Historic Site
History buffs can visit to learn about the history of Lake Placid, the nearby town of North Elba, and abolitionist John Brown here at his former home and gravesite.
Lake George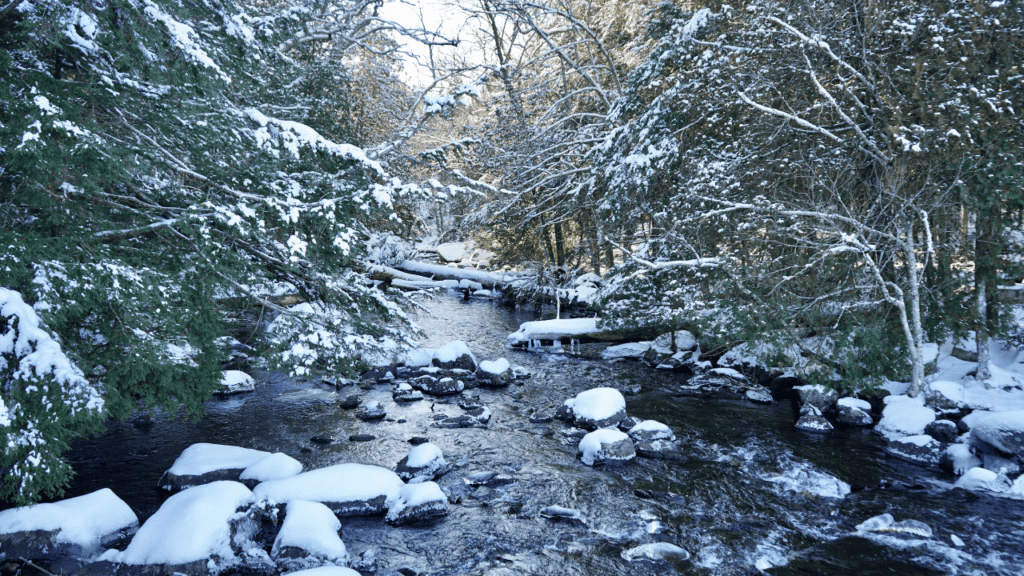 Visit the Fort William Henry Museum
The Fort William Henry Museum is modeled after the real British fort that had been destroyed during the French and Indian War. Kids can "enlist" as soldiers for a themed tour, and ghost hunters can participate in a nighttime ghost tour.
Learn about the Region's History at Adirondack Experience
See how life throughout the Adirondacks has evolved throughout the years, with exhibitions and carefully-curated reconstructions from various eras of the region. You can also learn about the region's geographical history at the Adirondack Experience.
Sample Local Wines at Adirondack Winery
Some wineries in the area close for the winter, but the Adirondack Winery (Lake George Tasting Room) remains open. Stop by the tasting room to sample a wide variety of wines, from barrel-aged chardonnay to fruit-infused wine cocktails.
🏇🏽 Read Next: 30+ Fun Things to Do in Saratoga Springs New York

Restaurants in Lake Placid vs Lake George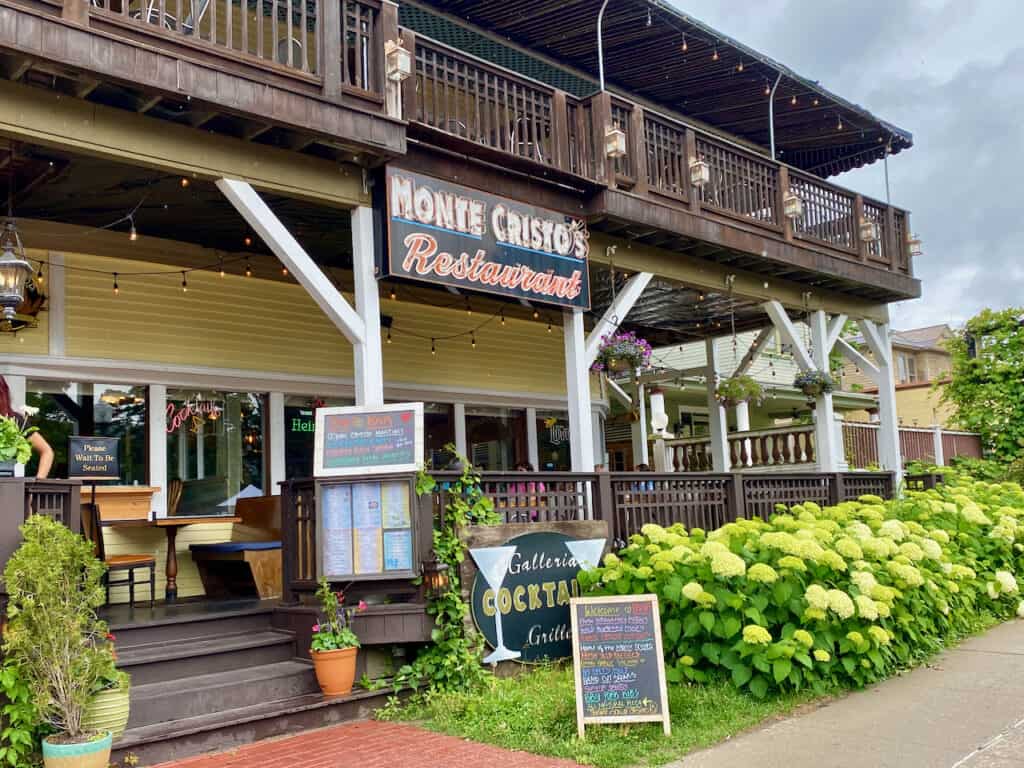 I'll be honest and say that I had a variety of Lake Placid or Lake George restaurants, good and bad. While I admit, one experience shouldn't make or break a restaurant. So, I'll share my top restaurants in both locations.
Best Restaurants in Lake Placid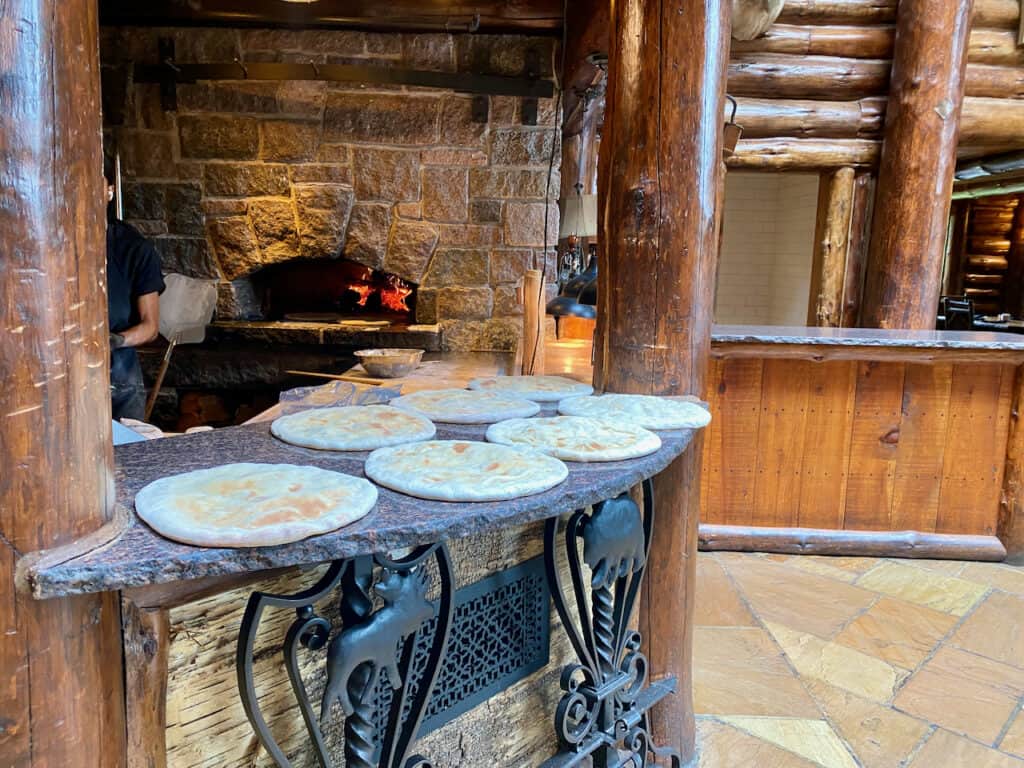 Farmhouse Cafe is a cozy and affordable spot for a classic American breakfast or brunch, with lots of vegan options.
Caffe Rustica serves classic Mediterranean and Italian cuisine and is known for their wood-fired pizzas.
The View at Mirror Lake Inn is the fanciest spot in town for a fine dining experience. This AAA Four-Diamond restaurant has a seasonal, farm-to-table menu.
Peak 47 is one of my personal favorites for an upscale burger or stone-fired pizza in their casual eatery. It is located in Whiteface Lodge near Lake Placid.
Best Restaurants in Lake George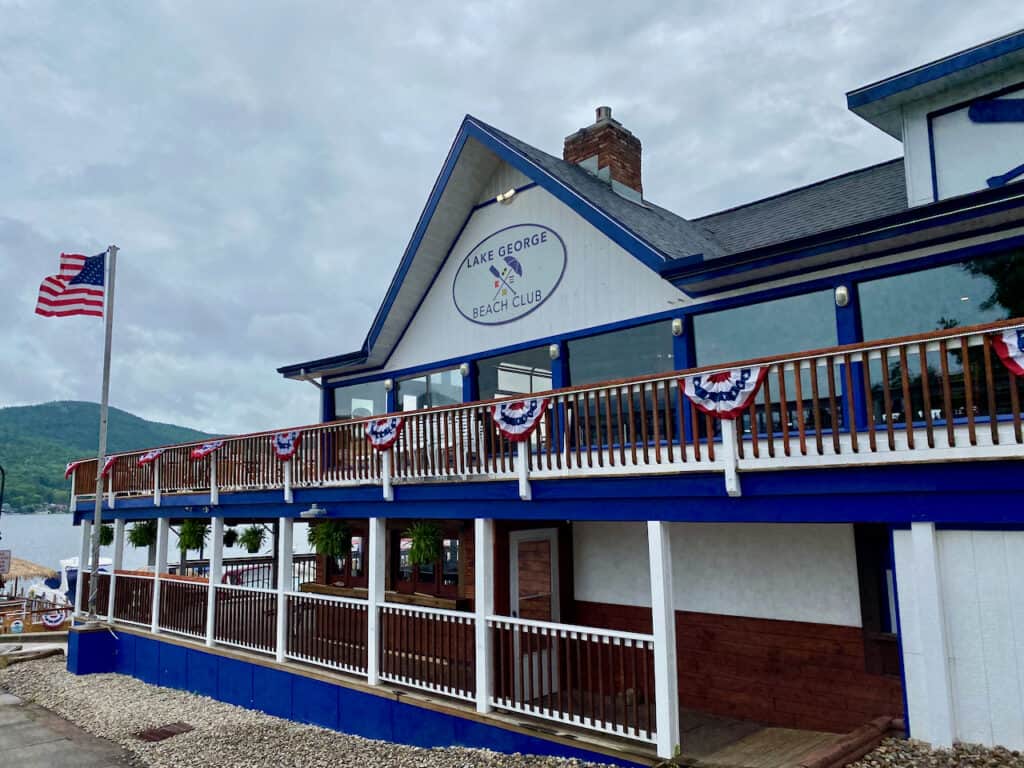 Barnsider Smokehouse BBQ serves down-home barbeque and steakhouse fare, including a long list of homemade burgers. It sits just outside of downtown Lake George and is family-friendly.
Lake George Beach Club has waterfront seating where you can enjoy the lake view as you dine on classic American dishes. I think it has one of the best views of Lake George overlooking Lake George. It is next to the Lake George Village Mall.
Shepards at Erlowest is a Four-Diamond establishment offering a fine dining experience and an international menu. It is an ideal place for couples or adults. I recommend booking a table in advance on OpenTable. You'll love the view!

Best Time to Visit Lake Placid or Lake George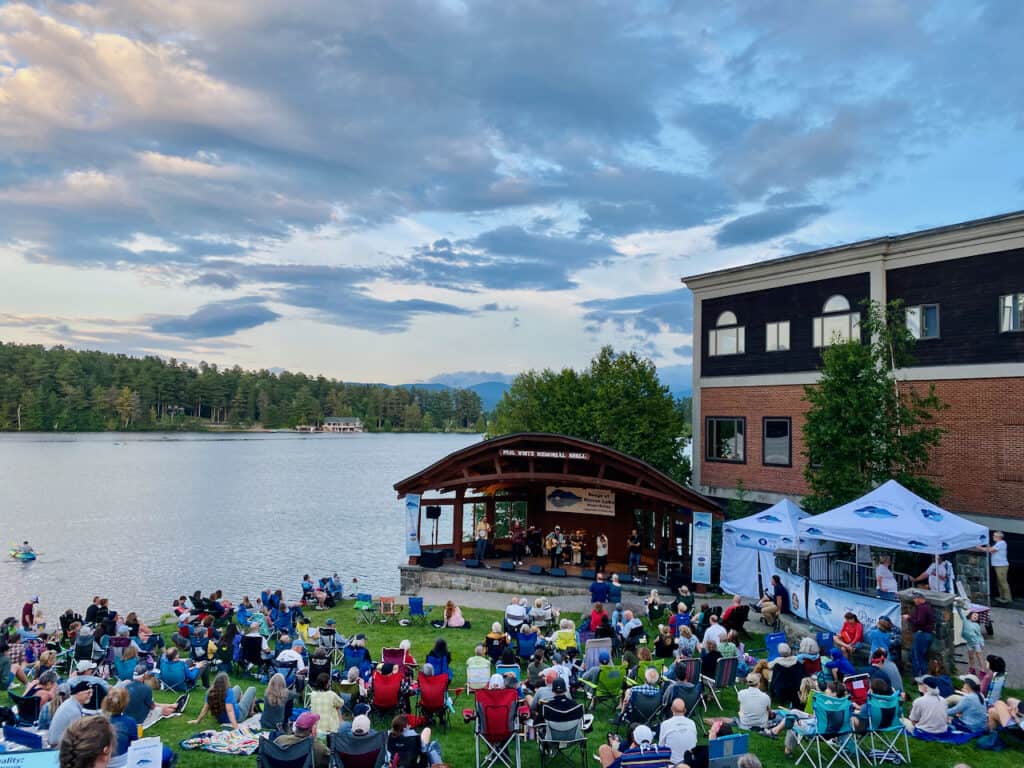 Unless you're mainly visiting for skiing and other winter sports, Lake Placid and Lake George are best enjoyed during spring, summer, and fall
Summer is the busiest period but for good reason; school is out, the weather is ideal, and all the best sites are open (and for longer hours). The average high temperature during summer is around 78 °F (26 °C).
The shoulder months of April, May, September, and October are better bets if you want to enjoy the full breadth of the Adirondacks with fewer crowds, but the weather will be quite a bit cooler.
Temperatures range from 34–71 °F (1–20 °C) during these months. However, I recently visited in early June, and while prices were a bit more expensive, it was still very easy to get into restaurants.
In the winter, the temperatures in the Adirondacks can reach single digits, with an average low temperature in January of 9 °F (-13 °C).

Is Lake George or Lake Placid Better?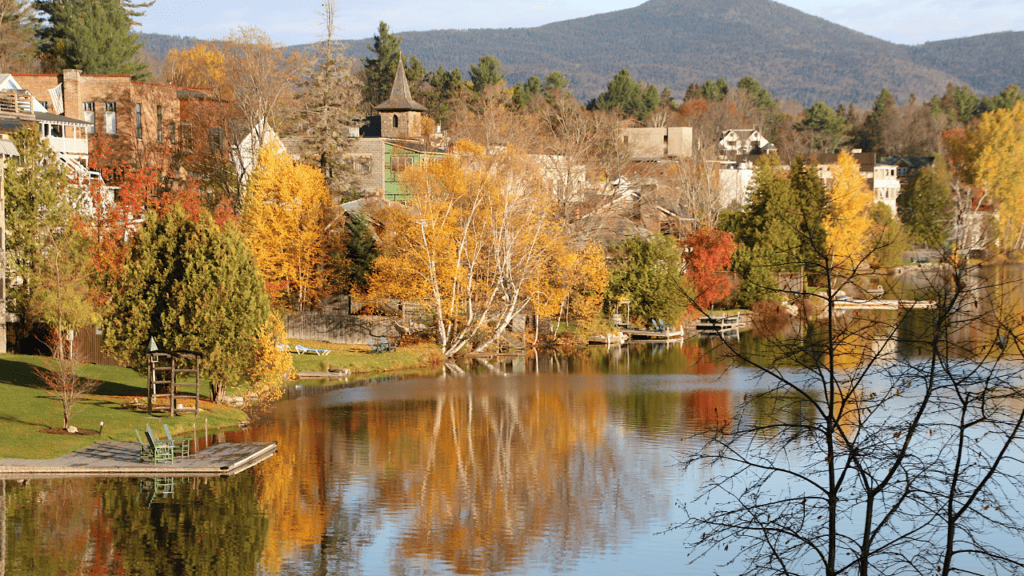 🏆 Final Verdict: Lake Placid
When it comes to making a decision on Lake George vs Lake Placid, it truly depends on your interests. For me, it's definitely Lake Placid, which offers a wider variety of unique things to do during a vacation.
Lake Placid is an even clearer winner for those who are into winter sports, thanks to the skiing and snowboarding opportunities.
Lake George is amazing, too, and I'd say it definitely has the better lake, which means more boat tours and boat rentals. It's more family-friendly and has lots of things to do in the summer, but it can't hold a candle to Lake Placid in the winter. The more residential vibe of Lake George is ideal if you're looking at vacation rentals.

Final Thoughts on Lake George vs Lake Placid
At the end of the day, neither Lake George nor Lake Placid is objectively better than the other — it's about what you're looking for in a vacation destination.
If you love boating or you'll be traveling with kids, head to Lake George. If you're a skier or are interested in the Lake Placid Olympic Museum, start planning your trip there. There are a multitude of ways to compare the two and so many reasons to choose either one.
What do you think, Lake George vs Lake Placid, which sounds more like the ideal Adirondacks vacation spot to you?
Pin This Lake George Lake Placid Article
Interesting Travel Articles to Read Next