Looking to spend a few days in Bar Harbor Maine? Colleen Gilbert shares her thorough Bar Harbor Itinerary, on all the best things to do!
Maine is a state that has always intrigued me. As a romantic, my vision of Maine was of majestic lighthouses, lobsters, craggy cliffs and gorgeous sailing ships. Well, after many years I finally had my wish come true, I visited the epitome of my dreams, the town of Bar Harbor on the island of Mount Desert in Hancock County, Maine.
Bar Harbor is one of several small towns on the island of Mount Desert, it being the largest and most picturesque. Besides gaping at its beauty there are plenty of other things to do there and in the surrounding area. Since we were there as a large family I will mention an assortment of items we did both good and bad.
Where to Stay in Bar Harbor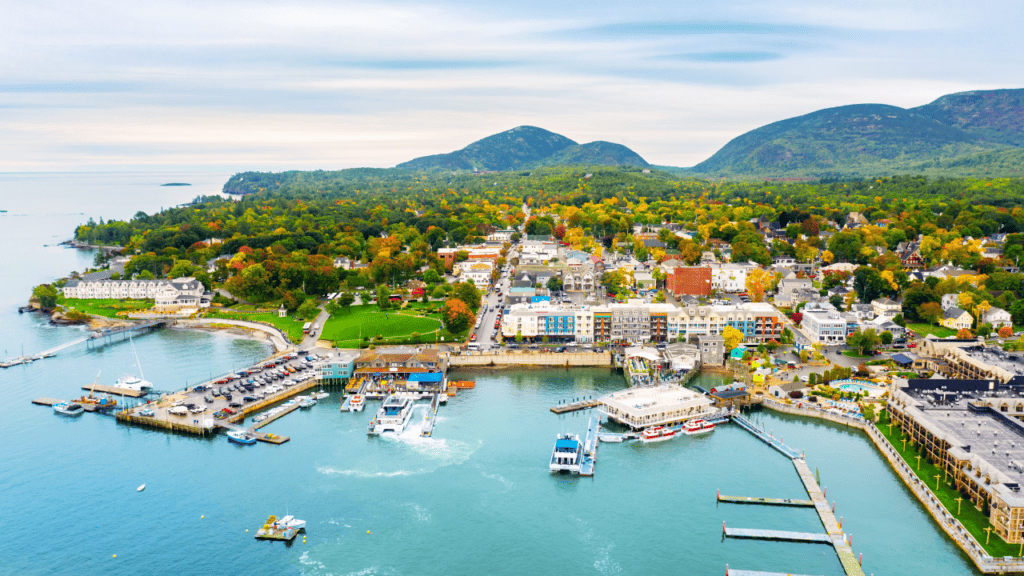 I started researching my trip six months in advance. Checking the many hotels in the area I opted for using the VRBO travel site and since my husband was with me we decided on a small apartment within walking distance to downtown.
My son and his family were also joining us on this journey and they were fortunate enough to find a rental home through VRBO close to where we were staying. We were happy with both of the rentals as it was an easy process all around and we both were given options for refunds if we canceled. Not too bad since it seems nothing is refundable in this day and age.
If you prefer a hotel in Bar Harbor, here are a few that you may want to consider. Prices are very much seasonal with summer being peak season.

Day 1 – Acadia National Park Itinerary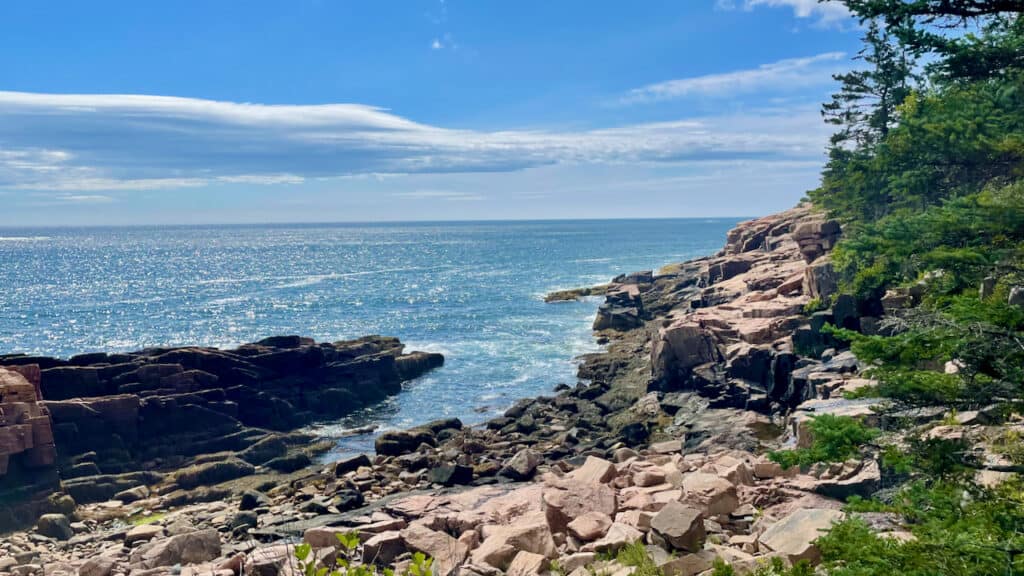 We began our first day of the trip by visiting the crown jewel of the area, Acadia National Park. Acadia comprises 50,000 acres of some of the most breathtaking coastal views in Maine. Being so close to Bar Harbor it's easy to enjoy the outdoors with gorgeous views and hiking trails.
Jordon Pond
Acadia National Park has such natural beauty with its mountains, deep forests, ponds and rugged shorelines. If nature is your thing this park pretty well covers all your bases. My son and his family enjoyed many of the Acadia National Park hiking trails including the Jordan Pond Trail which has hiking trails for everyone; from very easy to extremely difficult.
Carriage Roads
The carriage roads in Acadia National Park are an alternative way to enjoy the park. The carriage roads are free of any motor vehicle with the exception of limited snowmobiling. This way of seeing the park is excellent for cycling, hiking, or cross-country skiing.
According to the National Park Service the carriage roads started to be built in 1913 with a gift from John D. Rockefeller, Jr. Rockefeller, an avid horseman, wanted decent roads that he could travel by horseback into the park. The roads were completed in the 1940's now reaching 57 miles in distance.
Echo Lake Beach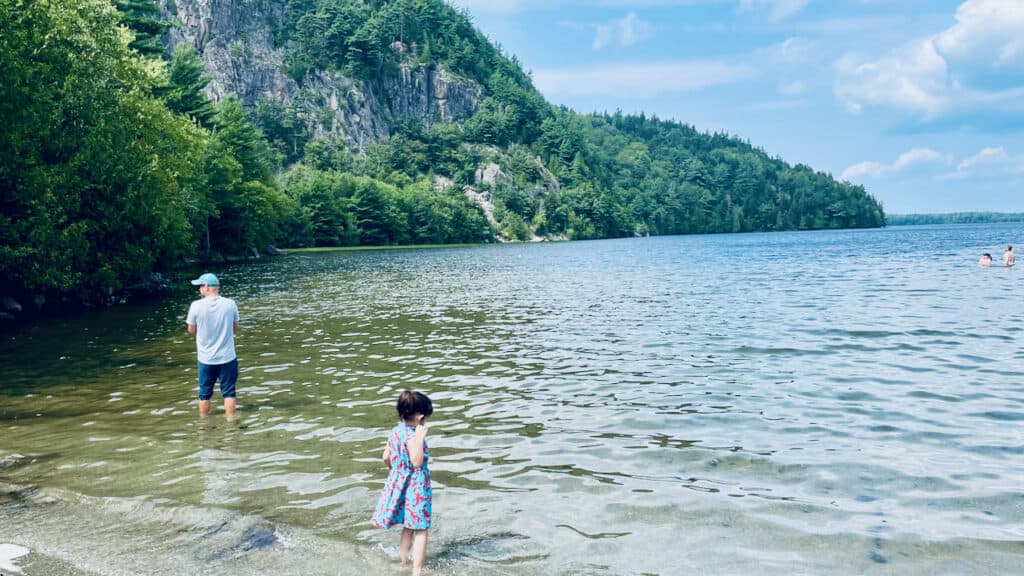 Echo Lake Beach is another park favorite. It is a secluded freshwater lake with cool mountain waters. Although I was not as adventurous as my 4 year old granddaughter I did tip my toes in the water. There is plenty of beach area for building sand castles or just lying back enjoying the view. As a bonus the beach area includes changing areas and restrooms.
Cadillac Mountain Sunrise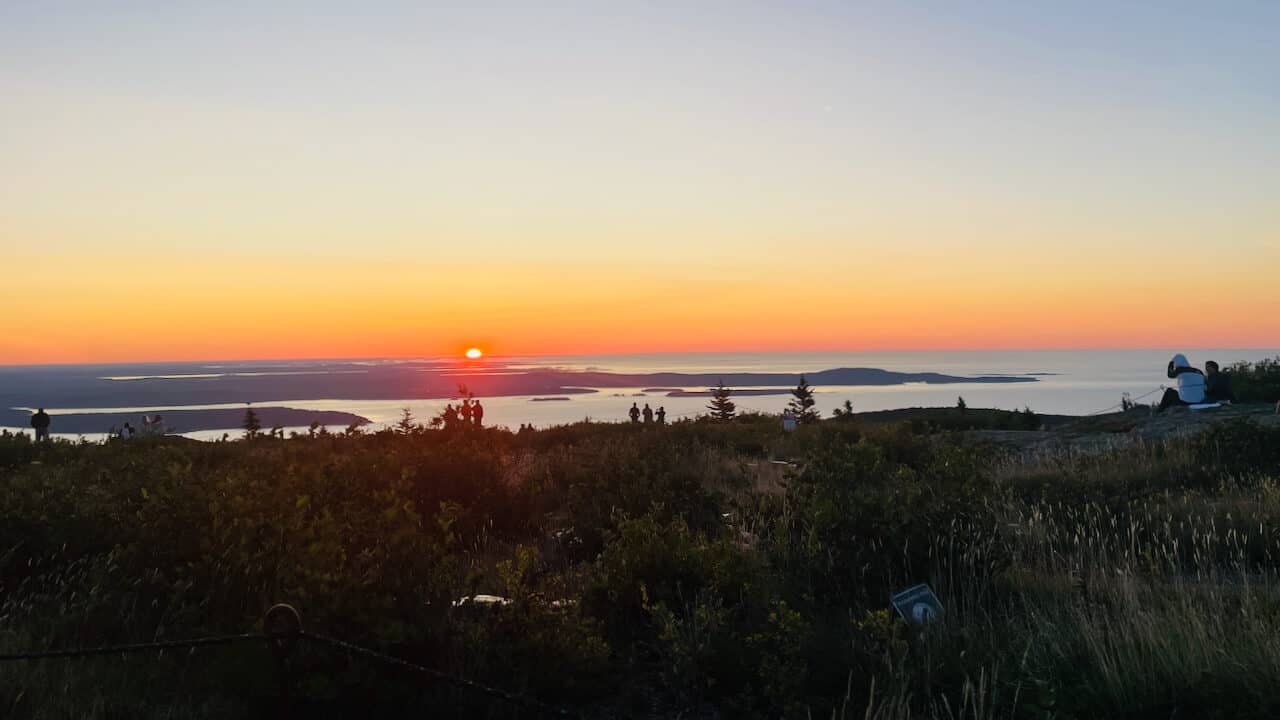 Another park perk that you shouldn't miss is the Cadillac Mountain sunrise. Now you may wonder what is so great about a sunrise, well, seeing the sunrise at the top of Cadillac Mountain is something not to be missed. Cadillac Mountain in Acadia National Park is the highest point on the eastern seaboard of the U.S, that in itself should be enough, but wait you need to see the sunrise.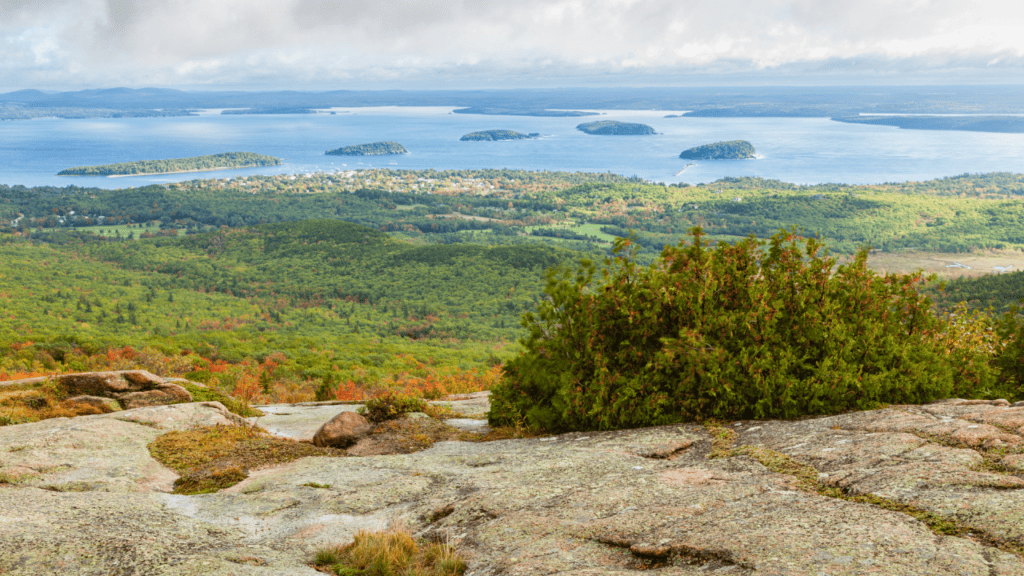 According to locals, six months of the year this mountain spot will let you view the sunrise before any place else in the U.S. Not only will you see the sunrise you will be treated to panoramic vistas of the Schoodic Peninsula and the Atlantic Ocean. Unfortunately, there is a slight catch which is good; there is a limitation of visitors allowed up the mountain for this event. Reservations need to be made in advance through the park's website.
🚗 Tip: Visiting Acadia National Park in the Bar Harbor area is a must for everyone. The cost for a week's pass to the park is $35.00 and I would highly recommend purchasing it online and printing it out before your visit-saves a ton of time. Also, your sunrise trip costs an additional $4.00 when you make your reservation. In my opinion, it's money well spent on both accounts.
Acadia National Park Tours
Where to Eat in Arcadia National Park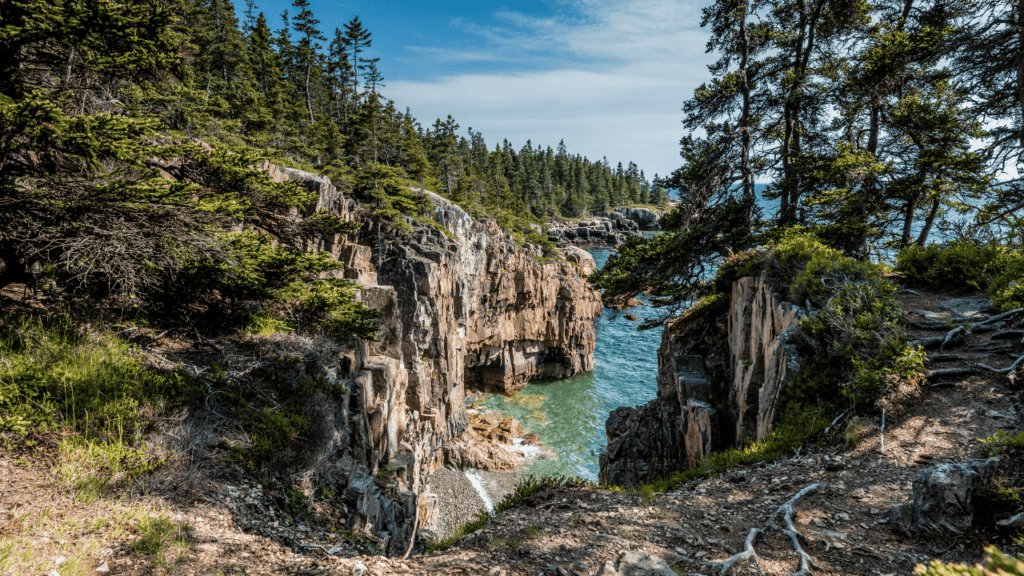 When it comes to finding places to eat in Arcadia National Park the options are rather limited.
There is a highly rated restaurant, Jordan Pond House which is located inside of the park. Unfortunately, we were unable to try it out as parking was very limited. My son circled for 30 minutes and finally gave up, maybe next time. Thankfully, there are plenty of restaurants in Bar Harbor that cater to picnickers by selling box lunches which could be another option.
Bass Harbor Head Light Station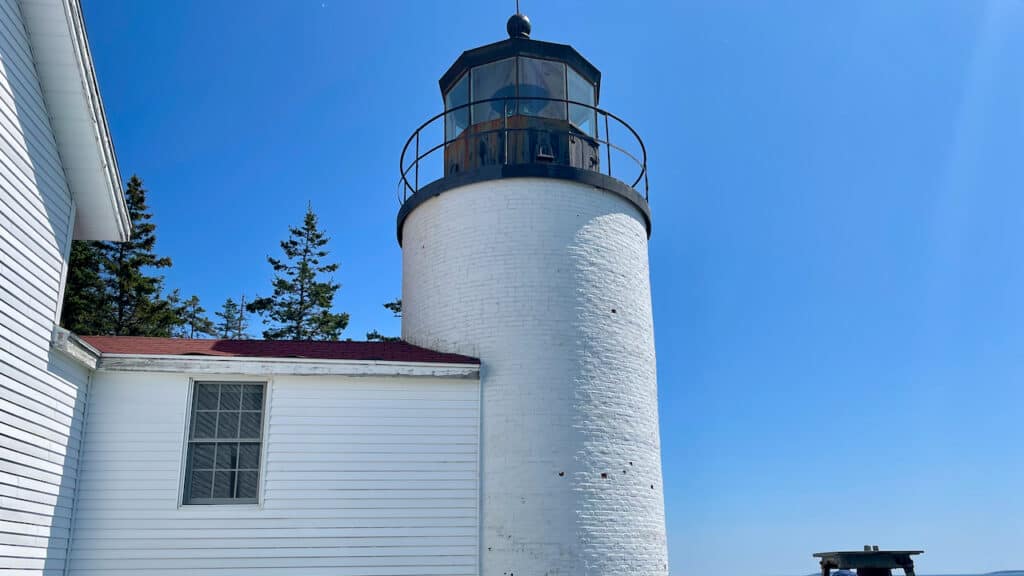 Next up was my desire to see a real lighthouse up close. Researching the area we discovered one fairly close. The Bass Harbor Head Light Station as it is called is in Tremont, Maine another small community on Mount Desert Island.
The lighthouse on Bass Harbor was built in 1858 and stands on a cliff 56 ft. above high water. This historical beauty is built of brick with a stone foundation. In 1876 a tower and fog bell were added and a light keeper's house was built in 1900. The lighthouse is accessible by car, then walking down a trail to the building.
Unfortunately, you cannot go inside but seeing the lighthouse up close with its spectacular views was enough. If you decide to visit, take care while walking down to the lighthouse as there are no safety rails or walkways when you get to the bottom. Also the climb back up may be a challenge as it is rather steep.
Archie's Lobster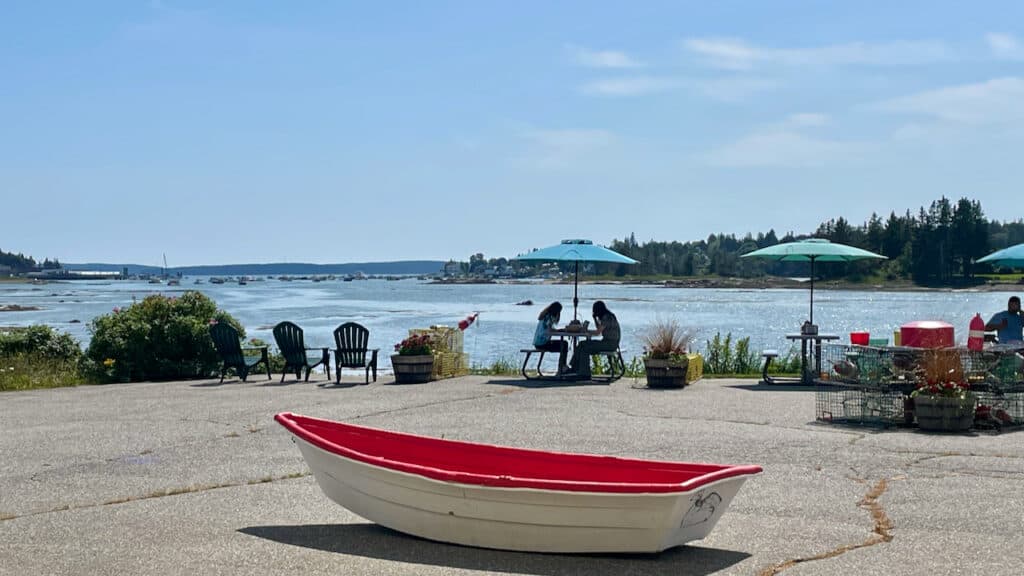 After our adventuresome climb to the lighthouse, food was in order. My son who enjoys scouting out new places for us to try found a delightful restaurant called Archie's Lobster. Archie's indeed was a special place.
Located on Bass Harbor, Archie's Lobster it is an outside eatery consisting of a bunch of picnic tables with gorgeous water views. After ordering inside you can wander around the outdoor area or play games such as corn hole.
When the food arrived we thoroughly enjoyed our fresh seafood dishes: Lobster Grilled Cheese, Lobster Quesadilla, and Chowder. Afterwards my grandchildren loved running around the large outdoor area made especially for that purpose.

Day 2 – Bar Harbor Itinerary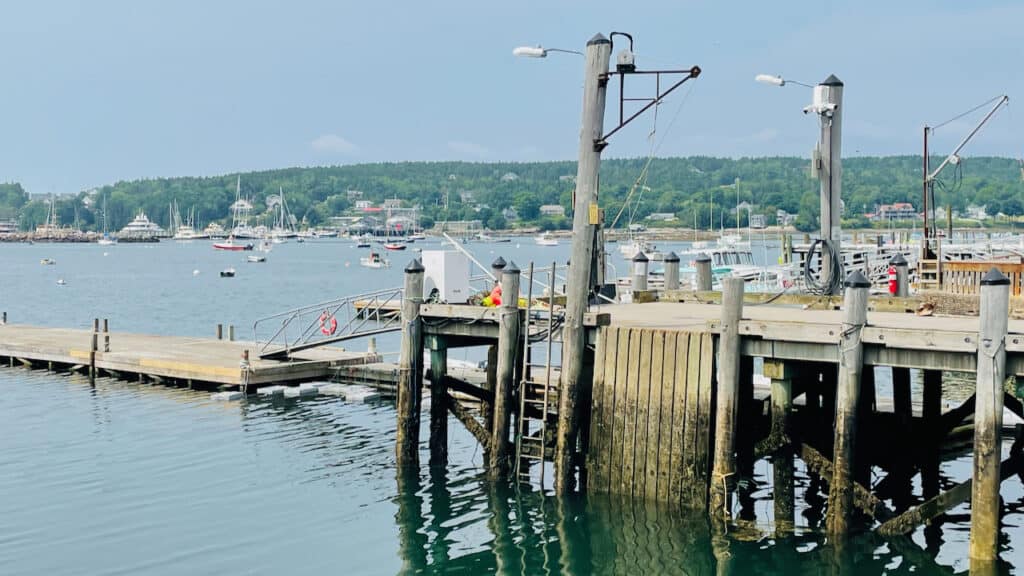 Beal's Lobster Pier in Southwest Harbor
The next day we were on track for visiting the town of Southwest Harbor which is about 30 minutes from Bar Harbor.
We chose this quiet little hamlet for its most well-known restaurant, Beal's Lobster Pier. Beal's has been in business since 1932 as a working fish and lobster pier; in 1969 they ventured into the restaurant trade which became an overwhelming success.
It has been owned the entire time by the same family. After arriving you check the overhead chalk board for the menu and then order at the counter.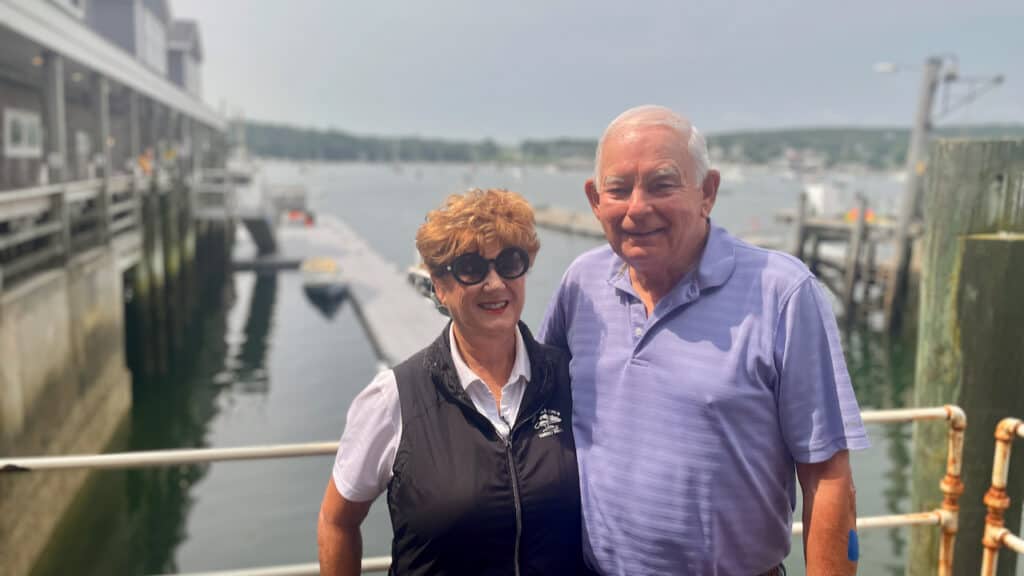 One of their specialties is the lobster roll. Beal's lobster rolls come in several variations; I chose the traditional one which was fresh lobster on a hot dog style bun dripping with warm butter.
Absolutely the best lobster roll I have ever eaten, which says quite a lot for me. Everyone raved about their entrees, but the piece de resistance was their homemade blueberry pie. My husband has quite the sweet tooth so this pie stuffed with blueberries nearly finished him off. According to him, it was the best blueberry pie ever as the berries were so fresh and delicious.
As Beal's is a working pier do not miss the opportunity to observe the lobster boats coming in regularly with their fresh catches.
Golf at Kebo Valley Club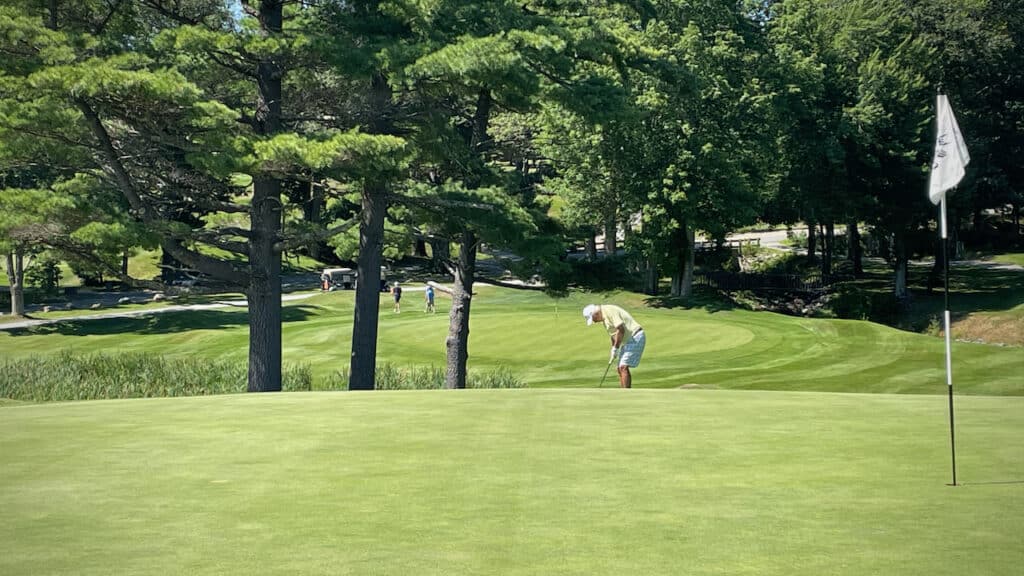 Taking a break from the family, my husband and I decided to play golf. The Bar Harbor area is not exactly a hot bed of golf courses but we fortunately found one of the best in Maine not far from us.
The Kebo Valley Golf Club is Maine's oldest golf course having been built in 1888 and is the 8th oldest golf club in the country. We were able to get a tee time without any trouble. The green fees for guests in August were $139.00 (if you mention in the pro shop when you sign in the age of the club you may get a discount.)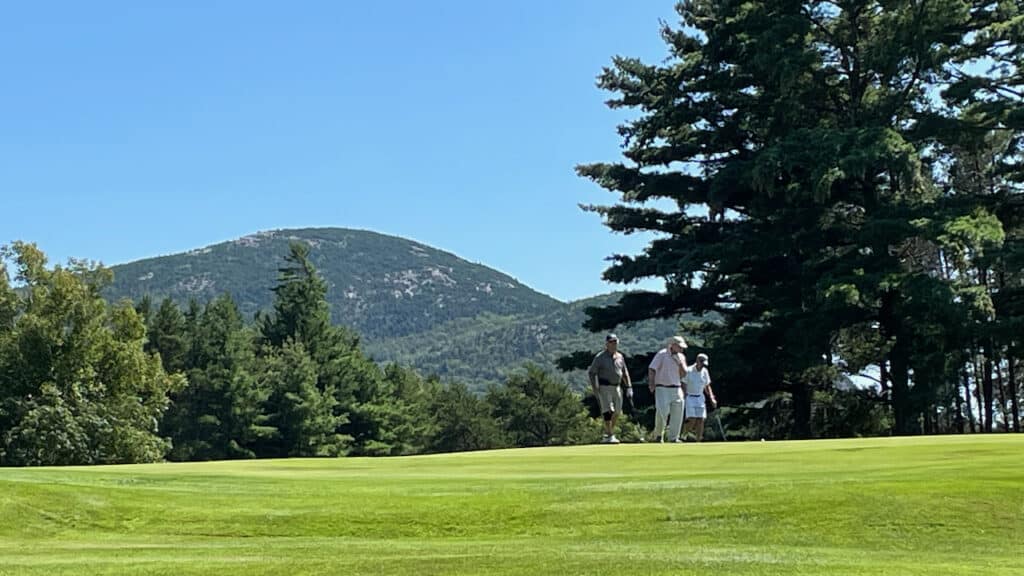 Now if you are a golfer you are in for a delight as this course is truly magnificent. All 18 holes are spectacular and well maintained; many with views of Cadillac Mountain in the background.
Assorted celebrities such as President Howard Taft, Scott Simpson, Billy Casper, and Walter Hagen have enjoyed the true beauty and challenge of the Kebo Valley Club. Afterward my husband and I sat on the club's open veranda enjoying a cocktail and commiserating about the very challenging 17th hole. What a wonderful end to a beautiful day!

Day 3 – Bar Harbor Itinerary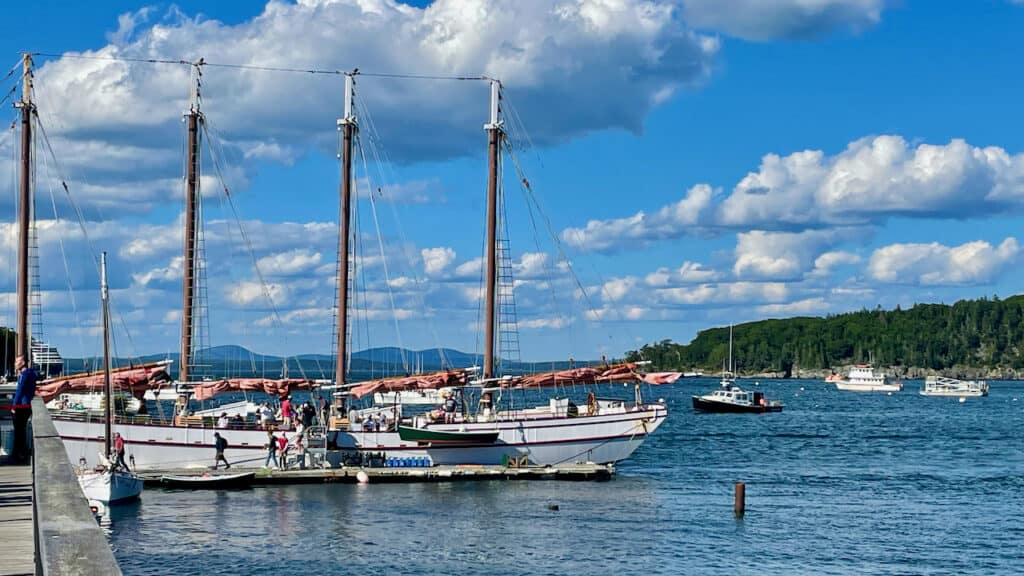 Take a Boat Tour: Windjammer Cruise
The next day my son had a treat for us in store, at least this is what he told us. He had bought tickets for us all to go on a windjammer cruise. Our schooner as they call it (I think of it as a huge wooden boat with 6 sails) left Bar Harbor for a 2 hour cruise around Frenchman's Bay.
The weather was perfect-sunny with a light wind. The company, DownEast Windjammer knew its business as they were fully staffed and took excellent care of us. Our tour provided us with views of lobster boats hauling in their catches, views of Acadia Park, and several porpoises (I call them dolphins as I live in Florida and they looked the same to me.)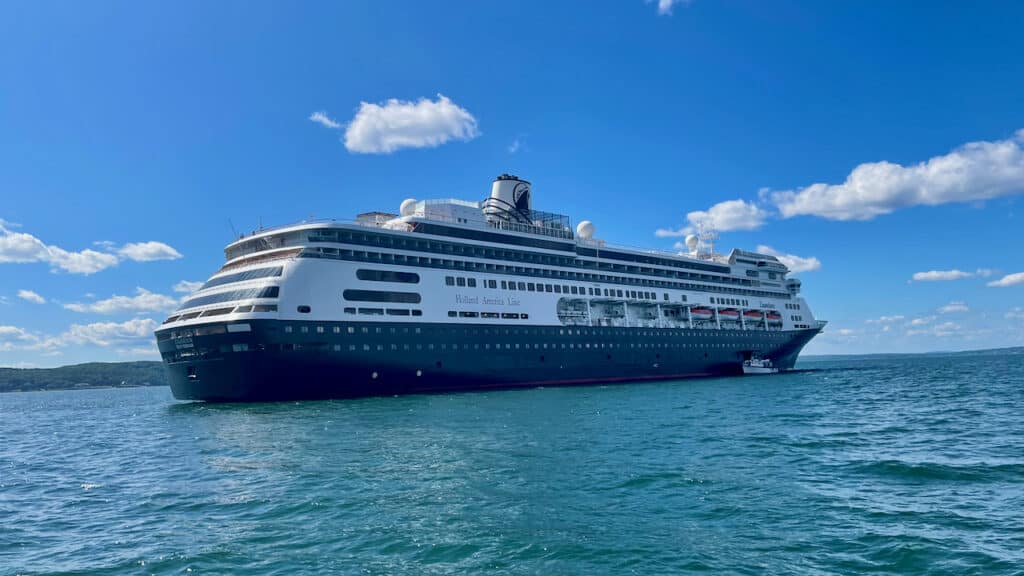 The crew also entertained us with live folk music. Connie our vocalist was in true form as she played many of our favorite songs. If you wish for something to drink, beverages are available both alcoholic and non for a fee. No alcohol is allowed to be brought on board. Overall, the trip was a big hit with the exception of my 1 ½ year old grandson trying to break free from his parents and run off.
Tip: Although children are allowed on board, if they are toddlers or very active, think twice about bringing them as there is nowhere for them to run and play. The cost of the 2 hour cruise for adults was $48 and $45 for seniors.
Bar Harbor Historical Society – La Rochelle Mansion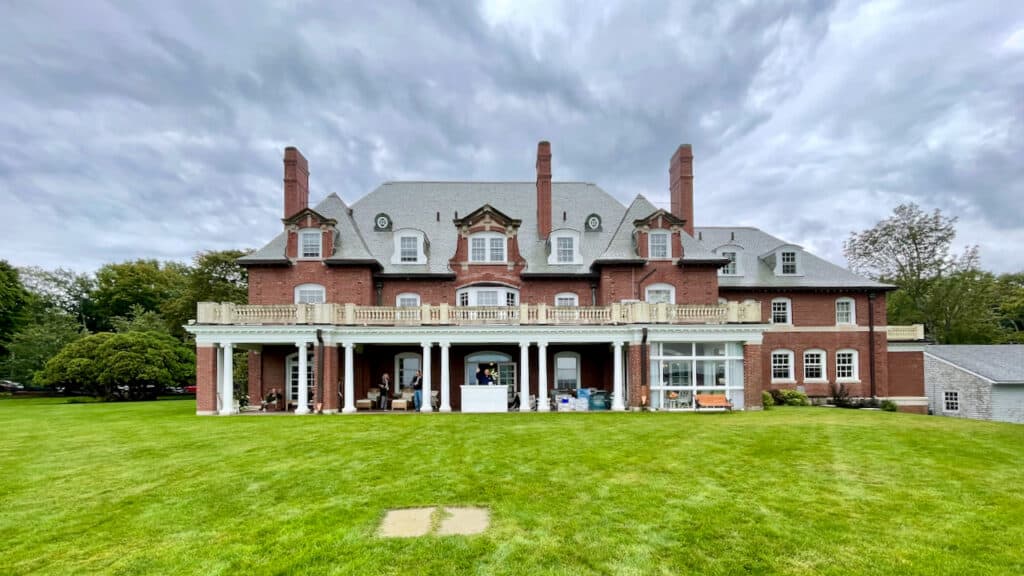 As we are museum people we had to check out a couple of Bar Harbor's favorites. Due to a time crunch we could only choose two. We decided on the Bar Harbor Historical Society which is located in the La Rochelle Mansion.
Here is a quick rundown of the history of La Rochelle. In 1903, financier George Sullivan Bowdoin built an all brick 13,000 square feet home in Bar Harbor overlooking the bay. This magnificent estate has been meticulously maintained and proudly displays the glamour and wealth of the gilded age.
The Bar Harbor Historical Society purchased the 41 bedroom home in 2019 to help preserve its heritage and to move its headquarters to the home. Visitors may roam freely throughout the home, even being allowed to play the old piano and organ in one of the rooms. Many of the rooms are furnished with period furniture and other assorted relics from the gilded age. I was able to "travel back in time" as my son calls it; while visualizing myself in another era. Such wonderful fun!
La Rochelle is open only part of the year from May 26th-October 29th from 10:00 am-2:00, Monday thru Saturday. If you love exploring old homes add this one to your itinerary.
Abbe Museum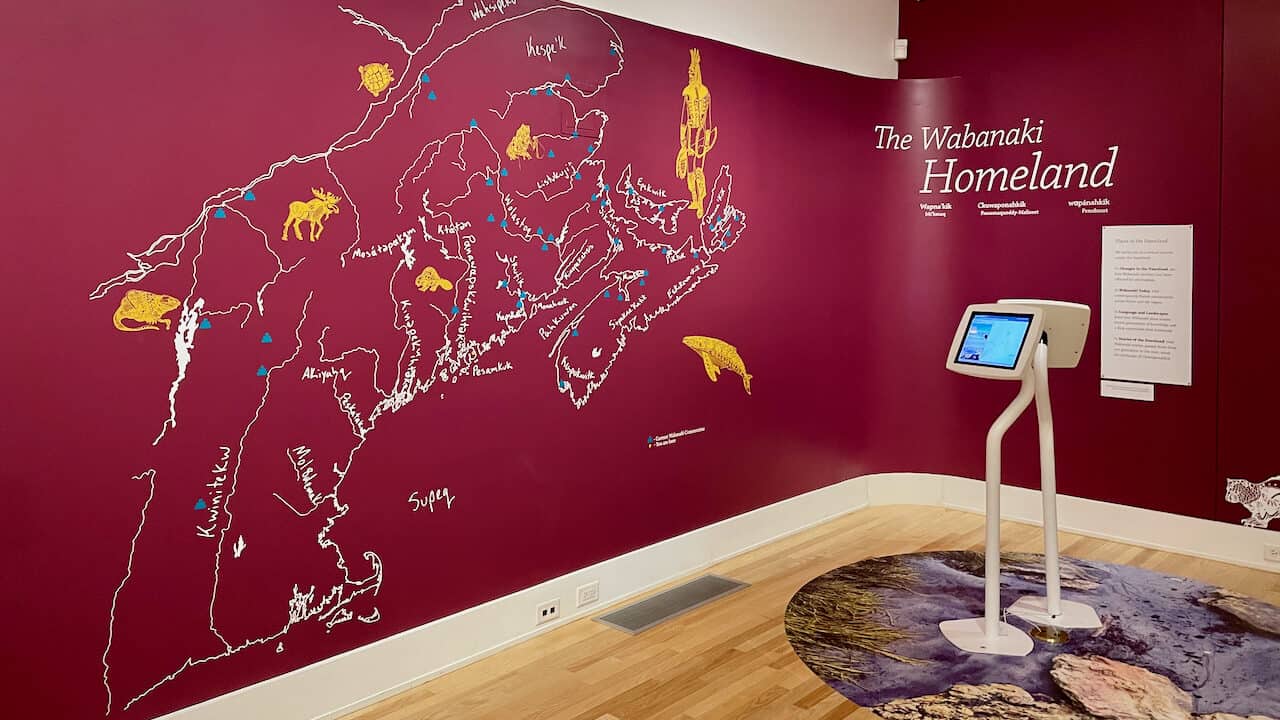 The second museum we chose was the Abbe which is located on 26 Mount Desert St. near the downtown area. There is a second location in the Acadia National Park which I believe is the smaller of the two.
The Abbe Museum was founded in 1926 by New York physician, Dr. Robert Abbe. Abbe was a great collector of Indian artifacts found in the Frenchman Bay area. As his collection grew, he obtained financial help from local supporters such as John D. Rockefeller, Jr.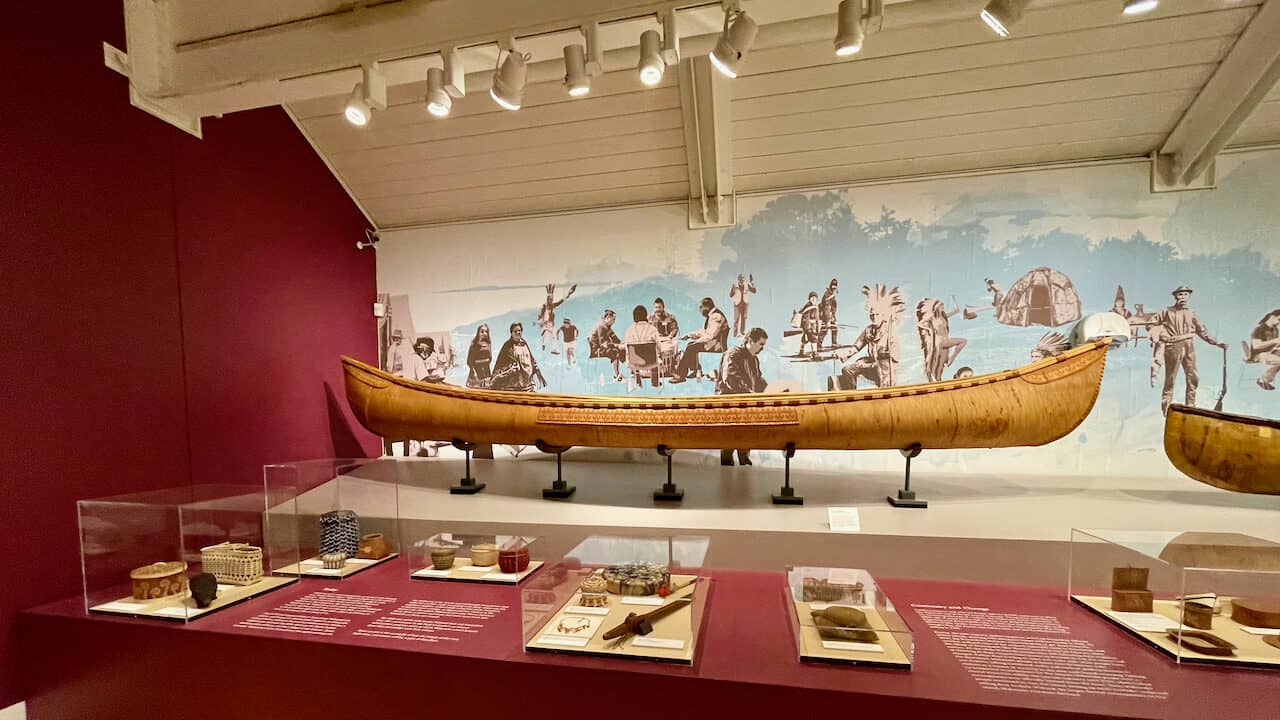 The museum now is dedicated to the culture of the Wabanaki. The Wabanaki I learned was a name given to the group of indigenous tribes who lived in Maine, New England, and parts of Canada. These tribes are the Abenaki, Micmac, Passamaquoddy, and the Penobscot.
The Abbe is so well done that it is now affiliated with the Smithsonian, the only museum in Maine with that distinction. Through the Abbe Museum's collections you are able to learn about the 12,000 years of Native American culture in the Northeast.
The Abbe Museum hours are seasonal. It's open from May 1st to October 31st. Hours 10 am- 5 pm, Monday thru Friday.

Day 4 & 5 – Bar Harbor Itinerary
The final two days of my Bar Harbor trip were spent leisurely exploring and spending time with family. Here are a few parks to consider checking out:
Agamont Park
The beautiful public park offers stunning views of the John B. Ells Pier and nearby islands. It has wide open green space ideal for picnics and watching boats on Frenchman Bay. It's also a popular spot especially on the Fourth of July to watch fireworkds.
Bar Harbor Shore Path
This is another beautiful public park with no entry fees. When you're in town, this is one of the best places to see the sunrise or sunset. Bar Harbor Shore Path is also dog-friendly.
Bar Island Land Bridge
While I didn't get time to visit Bar Island, this is a nice hike from downtown Bar Harbor, but you must time the tides to visit. You'll need to leave approximately 1.5 hours before and after low tide to make the crossing. Keep in mind, if you get stranded on the island there is a water taxi that you can call to come pick you up. The path on the island is described as being very wide with beautiful overlooks.

Best Bar Harbor Restaurants
The restaurants in Bar Harbor was as you may suspect is based upon the lobster. I can safely say that every restaurant including breakfast places all had some form of a lobster dish on its menu. This entirely worked for me as I love lobster and could most likely eat it at every meal. Listed below are the best restaurants in Bar Harbor that we tried and would repeat.
Breakfast
Café This Way: Serving delicious blueberry pancakes, corn beef hash and eggs benedict in an attractive artsy cottage.
Jeannie's Great Maine Breakfast: Great indoor and outdoor dining location serving traditional breakfast favorites. There is also an extensive menu for vegan and gluten free options.
Lunch
Side Street Café: Serves fresh seafood including lobster mac and cheese, lobster roll, and don't miss the blueberry pie!
Thirsty Whale Tavern: Casual pub grub restaurant serving fresh seafood like fish and chips.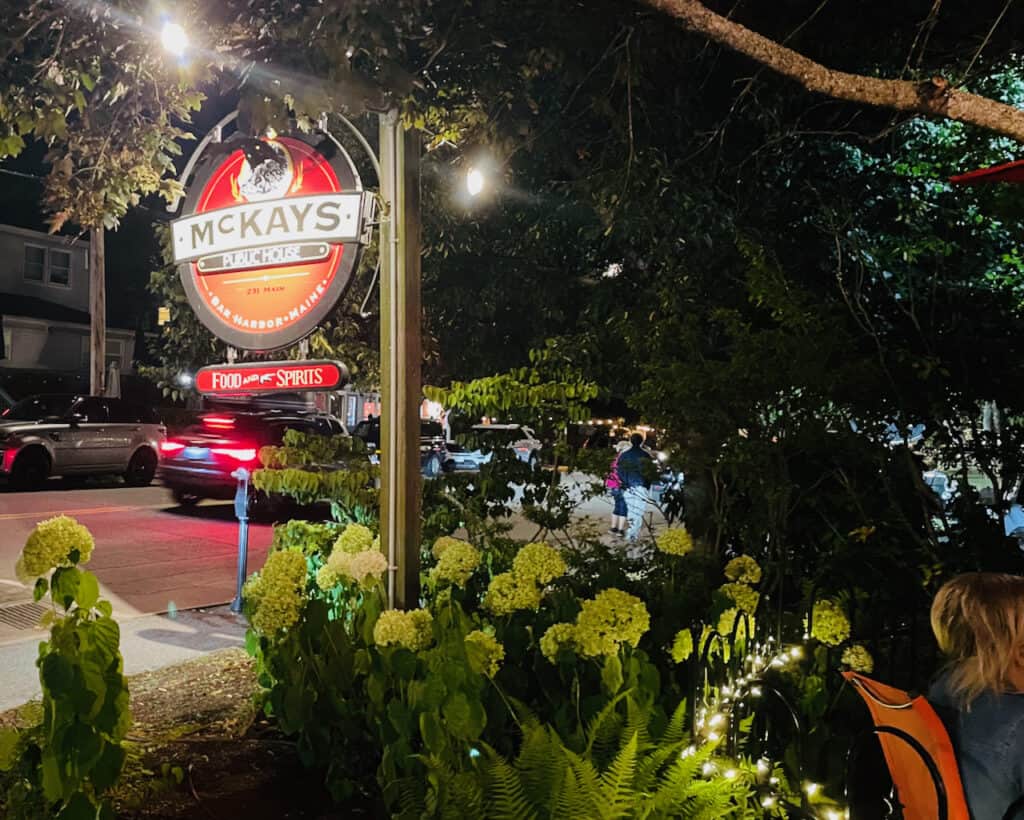 Dinner
McKay's Public House: Great outdoor seating, and has delicious entrees like seafood risotto, mussels, short ribs, and sticky toffee pudding for dessert.
Havana: Known for their fresh seafood paella, halibut, moqueca, and extensive wine list.
There were many other Bar Harbor restaurants we wanted to explore but chose instead to cook our own lobster dinner for our final evening. I would also highly recommend Parsons Lobsters for the absolute freshest seafood and may I say, the most delicious lobsters in Bar Harbor! Our homemade lobster fest was a huge success, a fitting end to a very memorable trip.

Final Thoughts on Bar Harbor Itinerary
So, there you have it; my Bar Harbor Itinerary, sharing all I've learned from hours of research and a week well spent there! Whether you're tracing the footsteps of history at local museums, embarking on hiking trails, or indulging in the fresh catch of the day, Bar Harbor offers a well-rounded vacation.
Frequently Asked Questions
Is Bar Harbor worth visiting?
Bar Harbor, Maine, distinctly stands out as having a unique allure due to its close proximity to Acadia National Park with breathtaking views and plenty of outdoor activities. The town of Bar Harbor has a kind of nostalgic New England charm with delicious fresh seafood restaurants and delightful places to stay.