Looking for the best things to do in Fayetteville WV? You have come to the right place to learn about one of the coolest small towns in West Virginia!
Fayetteville is one of the top 20 destinations in USA Today's Best Small Town for Adventures. There is a variety of unique outdoor activities, historic sites, and delicious restaurants available around Fayetteville. It is understandable why this charming village made the cut!
Frequently Asked Questions
What is Fayetteville WV known for?
Fayetteville is known for having the largest arch bridge in the United States. The National Park Service created the New River Gorge National River in 1978. The gorge is protected by more than 700,000 acres which passes through Fayetteville.
What mountains are in Fayetteville WV?
Beauty Mountain is an inland mountain range with cliffs and boulders on the shores and in the northwestern Fayette County of western Virginia. Rock climbing has spread worldwide.
When is the best weather to visit Fayetteville WV?
If you're looking for the most ideal weather conditions, visit Fayetteville during the months of June, July, and August. These months will assure no road closures due to snow storms. You will also be able to explore the outdoors more easily in this climate. The hottest month of the year is July where temperatures range from highs around 82°F (27.8°C) to lows around 61.8°F (16.6°C) at night.
Best Places to Stay in Fayetteville
Best Things to Do in Fayetteville WV
Visit the Spectacular New River Gorge Bridge
The New River Gorge Bridge is the top most visited site in the Fayetteville area. It truly cannot be missed! From peaceful hikes like the Glade Creek Trail to picturesque overlooks, the New River Gorge National Park is truly one of a kind.
If you are looking for a quick visit to see the bridge, the Canyon Rim Boardwalk gives you easy access within steps of the New River Gorge Bridge Visitor Center parking lot. You simply follow the boardwalk and you will be rewarded with sweeping views within minutes. The first viewing area is ADA accessible with a ramp. You have the option to continue the journey down 178 steps to the lower overlook.
For thrill seekers, you won't want to miss the Bridge Walk Tour! Here you are on a guided tour from the 25 foot catwalk beneath the Bridge. Don't worry they provided safety equipment so you don't have to fear falling below. Plan for 2-3 hours on this guided bridge walk tour since it moves at a leisurely pace with plenty of opportunity for amazing photos.
---
Sandstone Falls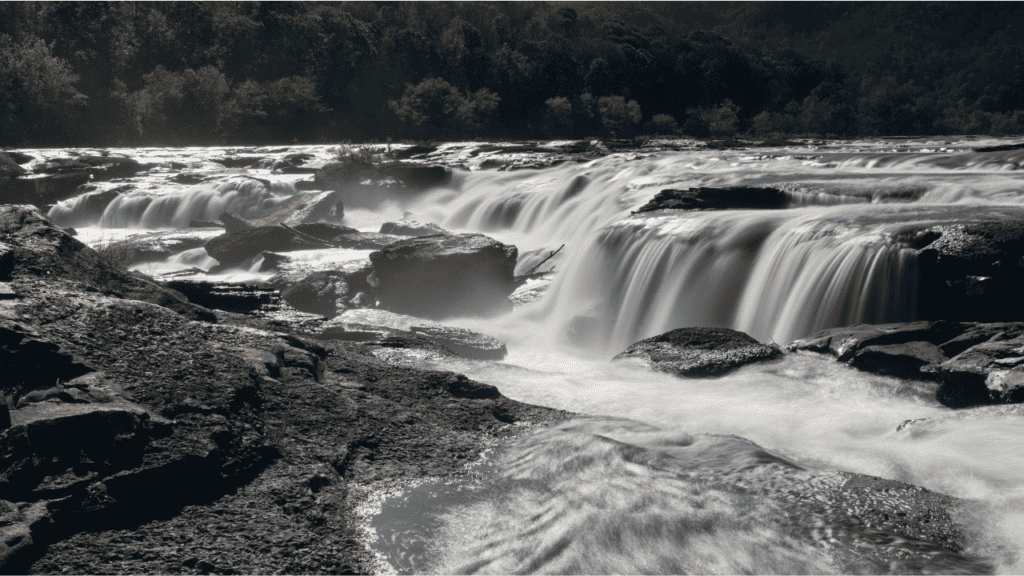 While in the New Ridge Gorge National Park, you'll want to check out the Sandstone Falls. I'm like a kid at a theme park when it comes beautiful viewpoints.
You can hike to the falls on the Sandstone Falls Trail. The whole area is unique, but the falls are the real treasure. I'd suggest this place to anyone, even if you're not into nature.
🥾 Pro Tip: The bathrooms are not good. If you can wait, use the ones near Brooks Falls which usually are cleaner.
---
Whitewater Rafting with Cantrell Ultimate Rafting
Fayetteville is famous for whitewater rafting which can be enjoyed by novice and veteran alike. Cantrell Ultimate Rafting is one of several companies in the region, but they are specifically based out of Fayetteville. They also offer camping and lodging to make this a full experience!
Address: 49 Cantrell Drive, Fayetteville WV 25840
Phone: (304) 877-8235
---
Kaymoor Miners Trail
If you love history and don't mind a strenuous hike, you will be rewarded with a unique viewing opportunity at Kaymoor Miners Trail. Here you will find remains of a couple of coal mining buildings that include the processing plant, coke ovens, and also a town site near the river.
Kaymoor Miners Trail is best visited during moderate temperatures and good weather since it is 821 steps (approximately 3-miles). It can be very slippery when wet outside. The walk back up can be tedious and best to pace yourself.
---
Brooklyn Ruins
In addition to Kaymoor, there are other nearby towns including Brooklyn Ruins just off the Cunard River access areas. The location is very convenient so it does not require you to walk long to reach them. Brooklyn was an early mining town from the 1890s. There is still some brick foundation and coal tipple left in the remains.
The ruin also includes an employer's store and remnants of housing buildings in the old district. The New River Mining Company operated from the beginning of the 20th century until the end of its permanent operation.
---
Ride at Horse at the Equestrian Adventures
With Equestrian Adventures it's possible to see New River Gorge National Park on horseback! This is one of the top fun things to do in Fayetteville WV. They also have access to over 3,000 acres of trails.
Address: 38 Cunard Rd, Fayetteville, WV 25840
Phone: (304) 574-0484
---
Escape-A-Torium Escape Rooms
Escape-A-Torium Escape Rooms test your abilities working together with friends, work colleagues, or family members.
Here's how it works:
Address: 151 Court St in Fayetteville, West Virginia 25510
Phone: (304) 574-0137
---
Brunch at the Cathedral Cafe
This cool former church was converted into an artsy vibe eatery and coffee shop in Fayetteville. Here you will find a relaxed and fun atmosphere and good food with live music. They also have a delicious variety of homemade desserts.
Address: 134 S Court St, Fayetteville, WV 25840
Phone: (304) 574-0202
---
Long Point Trail
Just one short drive away from downtown Fayetteville sits the Long Point Trail – an important hiking path in the national park. Known for the spectacular views of the bridge, this hike is a popular attraction and best to go early to avoid the crowds.
If you're only going to do one hike, this is a strong candidate. The other favorite hike being the Endless Wall Trail.
Long Point Trail is considered easy to moderate 3-miles of terrain. The viewpoint is the perfect place to rest and have a snack while you snap a few photos.
---
Endless Wall Trail
Endless Wall Trail is considered by many to be the most beautiful hike in the New River Gorge National Park.
This is an easy to moderate hike, and approximately 2-miles long. You will find most of the trail to be relatively flat.
Park in the Fern Creek parking area to avoid a long walk to the beginning of the trailhead.
If you love to hike, this should be at the top of your things to do in Fayetteville WV!
---
Fayetteville West Virginia Shops and Boutiques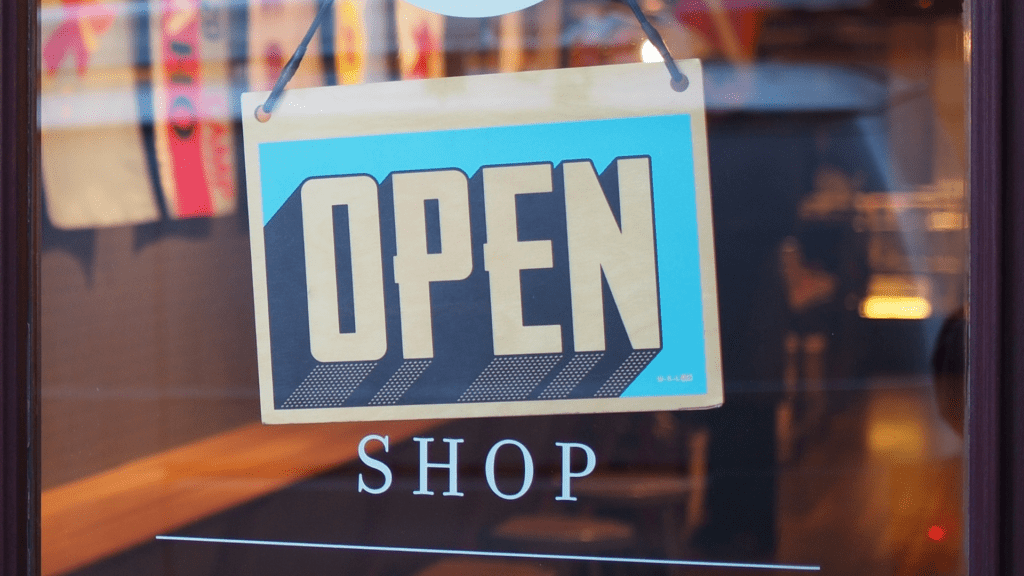 One of the absolute best things to do in Fayetteville WV is to go shopping! Located within walking distance you'll have a number of unique local shops and boutiques to enjoy during your visit.
Several of these businesses operate as individuals, which means you generally can meet the owner. The owner of a one-person business can sometimes deviate from the scheduled time so it's worth taking a quick look at the shop's Facebook page before going out of your way.
New River Antique Mall
New River Antique Mall located is a multi-dealer mall full of antiques and collectibles. Don't be surprised if you come away with a hidden gem!
Address: 100 High St, Fayetteville, WV 25840
Phone: (304) 574-4680
Dove's Village
A little further south, you will find Dove's Village. For over 45 years, Dove's Home Furnishings and Variety has brought the best of rustic, vintage, and farmhouse decor to Fayetteville, WV. Their products have been handpicked to provide only unique pieces for their customers.
Address: 519 Hinkle Rd, Fayetteville, WV 25840
Phone: (304) 574-1088
Ben Franklin
Serving customers since 1955, not much has changed at this favorite town store. Here you will find about anything you would need, along with West Virginia inspired decor and crafts. Prices are reasonable and it's a fun place to visit.
Address: 115 W Maple Ave, Fayetteville, WV 25840, USA
Phone: (304) 574-0700
Great Googly Moogly
This unique boutique offers an impressive range of rocks, fossils, gemstones, and crystals. This is a fun place to take kids and see the variety of stones.
Address: 107 Keller Ave, Fayetteville, WV 25840
Studio B
Studio B offers an array of local art, wine and cheeses, gifts and more! They have selected the most unique handcrafted in Southern West Virginia.
Address: 309 Keller Ave, Fayetteville, WV 25840
Phone: (304) 900-5173
---
Get a Pizza at Pies & Pints
One of my favorite Fayetteville WV things to do is to eat! After a day out in nature, you'll appreciate the local cuisine (especially comfort food)!
Pies & Pints is a fun pizzeria chain offering an array of craft beer, specialty pizzas, salads and sandwiches. This is a local favorite especially in Southern West Virginia.
Address: 219 W Maple Ave, Fayetteville, WV 25840
Phone: (304) 574-2200
---
Historic Fayette Theatre
It has a distinctive location as the only Depression movie theater in the state still in operation. In 1937, the town built the theatre to delight residents. Throughout the year, the Fayette Theatre presents live performances, open to the public. While it is not considered upscale, it is a fun place to take in a local performance.
Address: 115 South Court Street, Fayetteville, WV 25840
Ticket Information: (304) 574-4655
---
Bridge Brew Works
While in Fayetteville, stop by Bridge Brew Works for some tasty locally brewed craft beer. They have an attractive outdoor patio complete with a fire pit and corn-hole games.
Bridge Brew Works offers some of the best Belgian beer in Southern West Virginia. If you like light and refreshing Kolsch-style beer, you won't want to miss this location.
It's a great place to go after completing the bridge walk tour!
Address: 335 Nick Rahall Green Way, Fayetteville, WV 25840
Phone: (304) 574-4600
---
The Freefolk Brewery
One of the best things to do in Fayetteville WV is to visit The Freefolk Brewery.
Jeff Edwards and Jamie Lester founded the brewery to create a stylish craft beer that honors West Virginia's unique cultural heritage. The Freefolk Brewery offers a wide assortment and quality of delicious brews that suit every taste.
They even make great margaritas and pub grub here! Sit back and enjoy the laid back vibe, live music, and take in the fun atmosphere.
For those looking for more of an educational experience, they offer brewery tours and tastings.
Address: 1690 Court Street in Fayetteville, Virginia 25841
(304) 574-6094
---
Rent a Mountain Bike at Arrowhead Bike Farm
Arrowhead Bike Farm offers mountain biking rentals and camping facilities. It is an excellent location for adventurers who want to explore the New River Gorge.
The Arrowhead Trail System is approximately 15 miles of gorgeous single-track land built for mountain biking. Long Point Trail (we mentioned earlier) is their easiest nearby route and the perfect place to start.
Arrowhead Bike Farm tours are available to connect to Fayetteville or even as far as Hawks Nest State Park or Thurmond.
Address: 8263 Gatewood Road, Fayetteville, WV 25840
Phone: (304)900-5501
---
Day Trip to Charleston WV
With Charleston, West Virginia being less than 1.5 hours away from Fayetteville, it makes sense to make a day trip here.
One of the best things to do in Charleston is to visit the West Virginia State Capitol Building. You will be impressed by its ornate grandeur! You can literally see the gold gleaming from the dome miles in the distance.
Some of the other best things to do in Charleston WV include visiting the Governor's Mansion, seeing the sights on Capitol Street and Capitol Market, and enjoying a live performance in Haddad Riverfront Park.
Final Thoughts on Things to Do Fayetteville WV
When you're looking for fun things to do near Fayetteville WV, you'll won't be disappointed.
Fayetteville, WV, is a place close to my heart. It's packed with fun things to do, whether you're into nature or looking for a bit of adventure. You can explore the beautiful New River Gorge, hike to the falls, or soak up the local vibe during events like Railroad Days.
Sure, it's more rural but that's one of the things I love most about it. Whether you're from around here or just visiting – Fayetteville is a place you'll want to explore.
Like This Post? Please Pin It!
---
Travel Destinations to Read About Next