Looking for a fun Dublin weekend trip? In this article, I share my favorite 2 days in Dublin…
There's a magical allure about Ireland's charismatic capital that you can't help but fall head over heels for.
As someone who has traveled to Ireland since a child, I must say Dublin is the perfect weekend getaway destination.
If you haven't been to Emerald Isle before, I highly recommend spending at least 7-days in Ireland to see its breathtaking landscapes and captivating historical sites to truly immerse yourself in its spirited local life.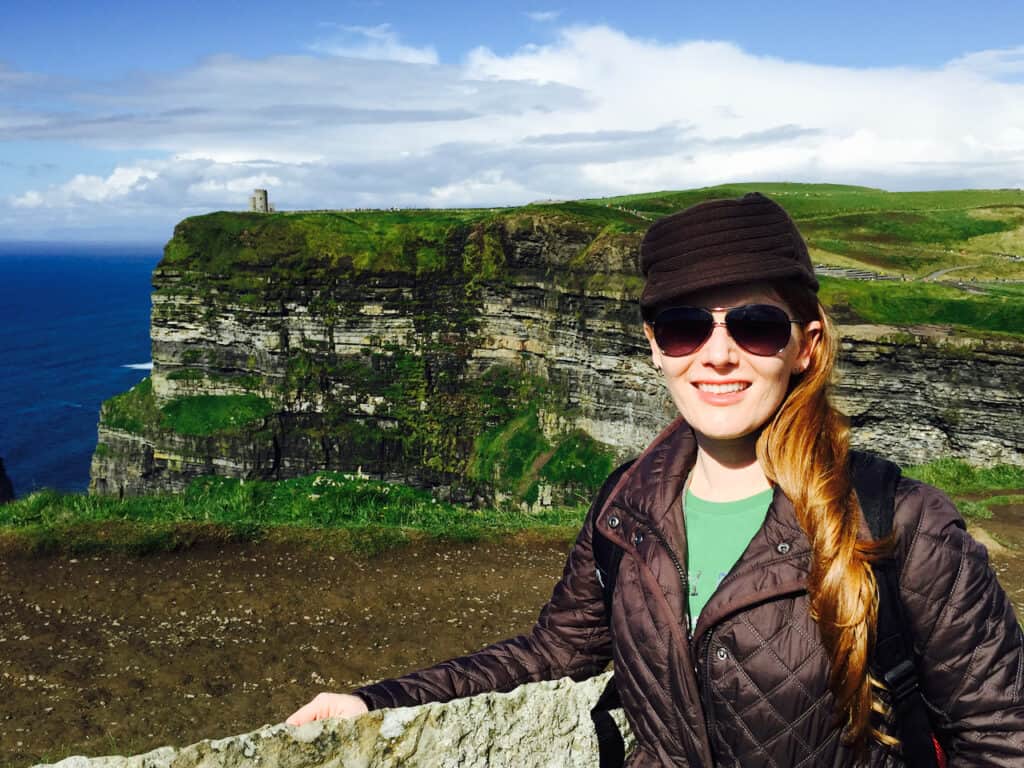 From the dramatic Cliffs of Moher to the iconic Ring of Kerry, and charming cities like Cork and Galway, there's so much more to Ireland than just its capital.
A week in this enchanting land gives you a chance to not only explore Dublin's charms but also to delve deeper into Ireland's rural beauty, legendary folklore, and the unrivaled hospitality of its people.
However, since I only had 2 days in Dublin on this trip, I'm sharing my favorite places to visit on a short Dublin weekend getaway.
Day 1 – Dublin Weekend Trip Begins at Trinity College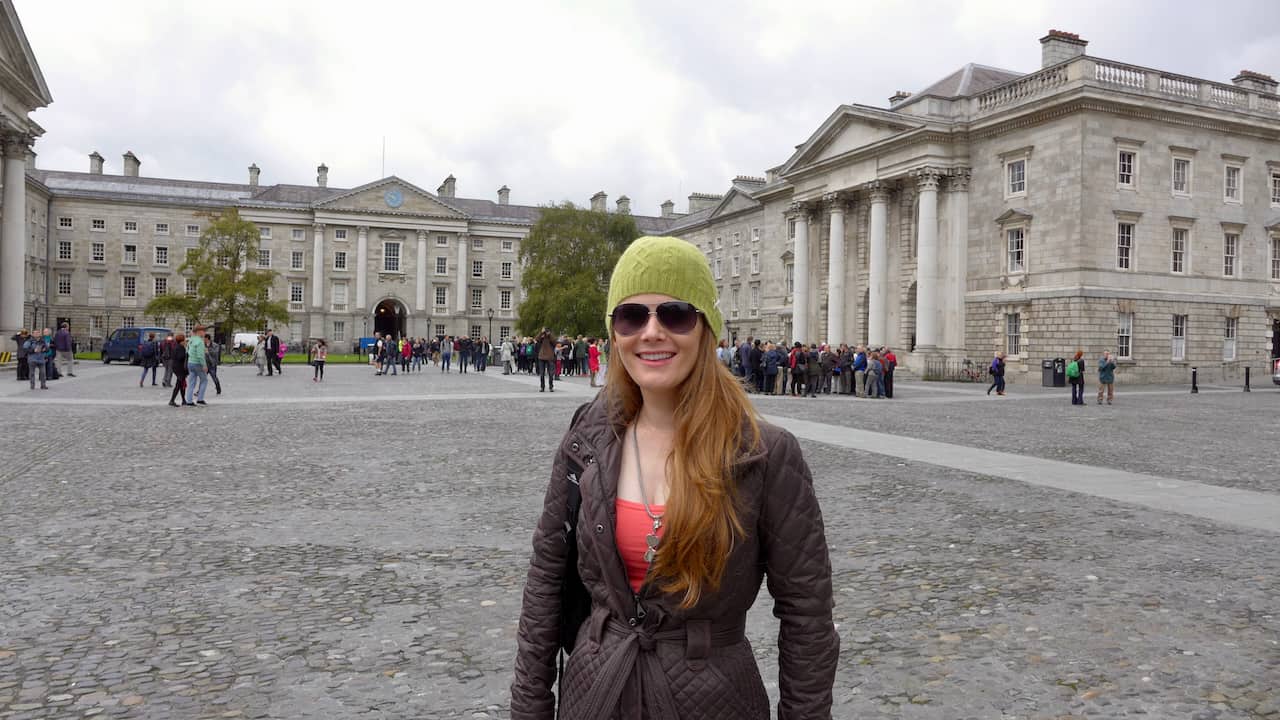 When you're in Dublin for a short visit, I highly recommend making the most of your day by starting early. Some of the best sights are ideally seen before crowds and traffic fully emerge for the day.
As a Floridian, I always tend to be cold in colder climates! So, as you can see, I'm wearing my winter hat in September. Over the years, I've learned to travel with easy-to-pack clothing layers, so I can quickly adapt to any temperature.
Trinity College
I started my day at Trinity College, Ireland's oldest university. You can grab a coffee (or Irish Breakfast Tea) and stroll through campus. Trinity College was founded in 1592 to resemble the colleges of Oxford and Cambridge.
Trinity College is one of my favorite campuses to visit worldwide. I dreamed of attending college here years ago when I first visited as a child. It is a picturesque and walkable location to most of the city of Dublin.
Book of Kells
We next explored the Library's Reading Room, where the Book of Kells is housed at Trinity College. Written around 800 AD, the Book of Kells is a beautiful Latin manuscript of the Four Gospels written by Irish monks.
While I love looking at the manuscript, I definitely enjoy walking through this magnificent library the most. The architectural detail is beyond any library I've ever seen in the world.
Dublin Castle
From Trinity College, take a short walk to Dublin Castle, located in the city's historic section. In continuous operation since 1204, the castle has hosted every presidential inauguration and other prestigious government events.  
Next door is the Chester Beatty Library, which houses ancient Western, Islamic, and East Asian texts. Open 10 am-5 pm, but I recommend verifying the hours on their website. Admission is FREE. It was a fun visit, but we kept it relatively short as we had a full day ahead!
If you're on a limited-time schedule, I would say skip Dublin Castle. I've been to my share of castles in Ireland, and this one isn't near the top of the list. However, it is conveniently located within walking distance, and it does have some unique historical details. The hours are 9:45 am to 5:15 pm.
St. Patricks Cathedral
A history focused trip to Dublin wouldn't be complete without a stop at the cathedral of the country's patron saint, St. Patrick. Built between the years of 1220 and 1260, Saint Patrick's Cathedral is one of the last buildings from the Medieval period and is the largest cathedral in Ireland. It is definitely beautiful, and worth a visit if you enjoy visiting cathedrals like I do. I've seen this cathedral every time I'm in Dublin!
Kilmainham Gaol Museum
Next, head further west and see Kilmainham Gaol Museum.  Approximately 45 minutes to see.  The hours are currently, April – September: Daily 09:30 – 5:30pm. Last tickets at 5pm and closes at 6pm.
Be sure to book in advance, as tickets sell out fast. This is a must-see if you are visiting Dublin! I recommend an early morning tour if your schedule allows, and see the museum following the tour.
On the way back into Dublin City Center, stop at The Brazen Head, Ireland's oldest pub from 1198. It's a cool place to grab a quick pint and immerse yourself in the history and charm of the city. I love charming little places that are full of remarkable history!
Temple Bar District
While the Temple Bar district can be touristy, it can also be a lot of fun! Here are a few of my top things to check if you're there in the evening.
Wander through the Icon Factory
I recommend starting first with the Icon Factory since it's open from 10 am to 6 pm. The Icon Factory is the largest open-air art exhibit showcasing Irish artists.
If you're looking for one of Dublin's best-kept secrets, you've found it at the Icon Factory. I recommend visiting to explore, admire the art, and pick up a unique locally-made souvenir.
Visit the Temple Bar Pub
You can't go to Temple Bar without visiting its namesake. The Temple Bar Pub is a renowned institution known for its live traditional Irish music and vast whiskey collection. It's a great place to absorb the local atmosphere, enjoy a pint of Guinness, and maybe even start a conversation with a local.
See a Film at The Irish Film Institute
For movie lovers, the Irish Film Institute is a must-visit. This cinema and film archive offers a mix of Irish and international films, many of which you won't find in mainstream theaters. It's my favorite cinema in Dublin for a more authentic local vibe. Don't forget to check out the bookstore and bar.
While I didn't get time to see the Project Arts Centre in Temple Bar District, it's known for having quality live performances at its intimate venue.
River Liffey
Lastly, don't forget to take a leisurely stroll along the River Liffey, which borders the Temple Bar district. It's a lovely walk, especially at sunset. I traveled to Dublin with my husband and extended family. The little quiet moments we shared walking along the river were very special.
⛴ Fun Fact: River Liffey is connected to multiple rivers and was a significant player in international trade for centuries. It runs through the middle of Dublin and divides the north from the south.
Where to Stay in Dublin
The Merrion, a gorgeous 5-star boutique hotel and spa, is between St. Stephen's Green and Merrion Square Park. It is like an oasis in the middle of a bustling city with its beautiful garden area. Their service is top rated as well as their food.
However, if you are looking for the most cost-friendly option, I would also recommend The Morgan Hotel in Temple Bar, which is in the middle of the action, Grafton Street and O'Connell Street in Dublin city center. The rooms are well appointed and contemporary style. After dinner, there is plenty of action in the Temple Bar scene.
Day 2 – Dublin Weekend Trip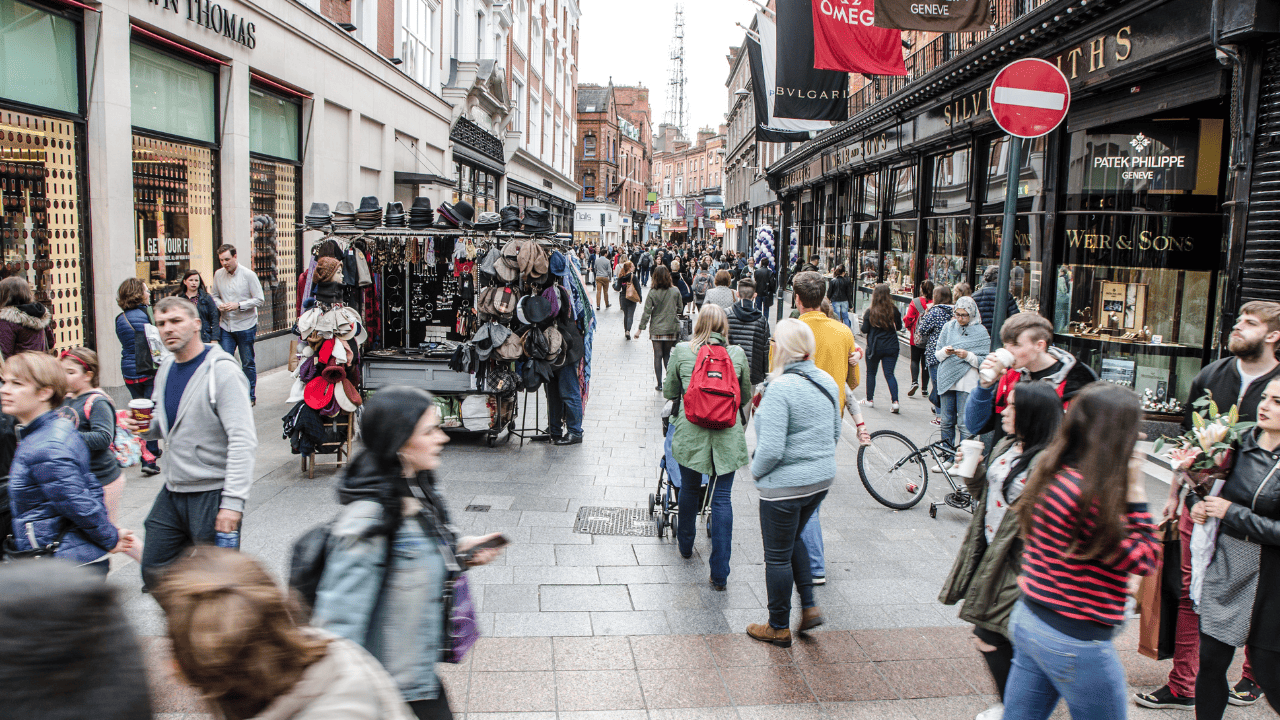 Since we were up late in Temple Bar District, we started our second day more leisurely than our first, on our 2 days in Dublin.
We enjoyed a light breakfast and headed out to explore the city. A few hours were spent just on Grafton Street, strolling and seeing the sights. Grafton has about any store you can imagine, plus some you won't have in the US.
Guinness Tour & Jameson Distillery
After lunch, I recommend seeing either the Guinness Storehouse or Jameson Distillery (or even better do both!).
I have been to Dublin a few times, and for a first time visitor the Guinness Storehouse an enjoyable tour with a free pint at the end with an amazing city view. I loved it at 18 years old, over 18 years ago now. Where does time go?! Anyway, it's worth a visit if Guinness is something you drink. Plan at least a couple hours.
The Jameson Distillery is another great stop while in Dublin. It is located just off of Smithfield Square in Dublin, Ireland. It is the original site where Jameson Irish Whiskey was distilled until 1971. The tour begins with a self guided e section going through the history of Jameson. Then, you get a guided version that goes into more depth on how the whiskey is made, and of course, taste test. It is a fun experience!
St. Stephen's Green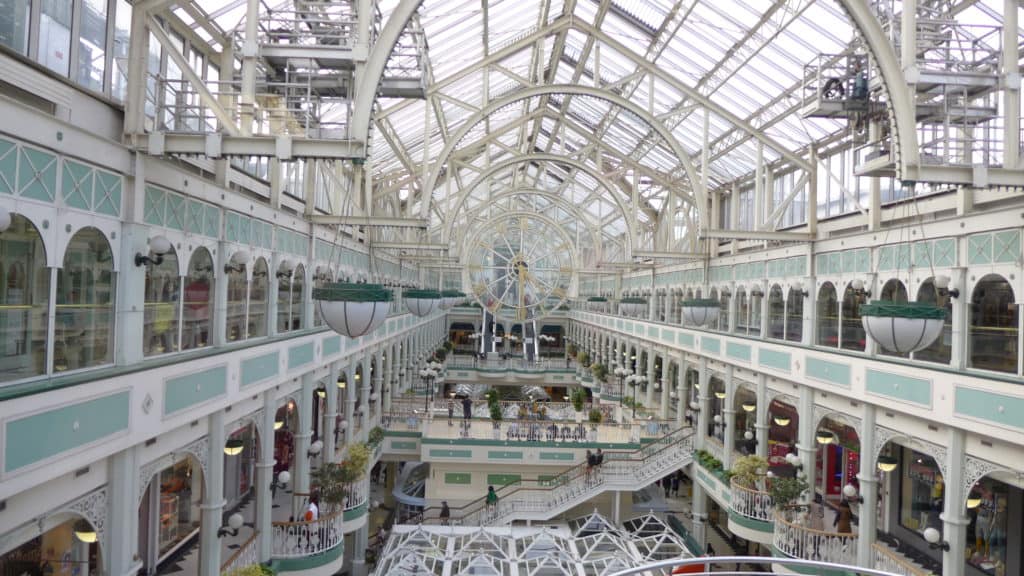 In the afternoon, we spent time in the leisurely park, St. Stephen's Green. It is a Victorian layout with paths winding through the trees, fountains and ponds, grassy fields, and themed gardens.
Nearby is Stephen's Green Shopping Center, which is nice on a rainy day when we need to get out of the weather.
Also nearby is the National Museum of Ireland, the Little Museum of Dublin, and the National Gallery of Ireland if you decide you would like to explore further, especially when it's raining, like on our Dublin weekend trip.
Final Thoughts on 2 Days in Dublin
I hope you enjoyed my short Dublin weekend trip. Honestly, 2 days in Dublin is not enough, but it gives you a small sample of what this fantastic city offers. However, you'll still have a fabulous time, and I highly recommend visiting whether or not it is a short trip.
Related Articles to Read Next