Looking for fun things to do in Siesta Key Village? You have come to the right place for restaurants, bars, shops, and more fun in the Village of Siesta Key!
Siesta Key is a world-famous destination for its beautiful beaches and turquoise waters. "The Village" is also a great place to enjoy delicious food and shopping within a short walk of the beach.
This guide will show you the best of what Siesta Key Village offers!
For a quick preview, check out my Instagram Reel for more Siesta Key Village & Siesta Beach Photos.
🌴 Read Next: 16 Best Beaches Near Bradenton Florida + Expert Tips
Where is Siesta Key?
Siesta Key Village is located in Sarasota County, Florida. It's just under 15 minutes drive from downtown Sarasota and easy walking to the beaches of Siesta Key, making it ideal for a weekend getaway.
The main street in Siesta Key Village is Ocean Boulevard, with most stores and restaurants located off this strip.
Parking
Siesta Key has free parking and plenty of spaces available (depending on the season) near the beach.
Siesta Key Village also has a free parking lot, but it tends to fill up quickly. There is paid metered parking, and some businesses have valet services.
Siesta Key Breeze Trolley
The Siesta Key Breeze Trolley provides daily pickups from 8 am to 10 pm. It is a free shuttle service that is convenient to enjoy downtown Siesta Key and heads to Ocean Boulevard, Beach Road, and Midnight Pass Road. It's ideal for beachgoers and will pick you up from places like Turtle Beach. The downtown pick-up location is next to the Gazebo in Siesta Key Village.
Siesta Key Breeze Trolley has a mobile app to track the trolley in real-time.

Bars & Restaurants in Siesta Key Village
Siesta Key Village is home to many great restaurants, cafes, and ice cream shops. This is a fun, casual beach town. No need to dress up, you'll find this is a very laid-back atmosphere.
There are plenty of restaurants to choose from in Siesta Key Village. Whether you're looking for a casual meal or something a little more upscale, you'll find what you're looking for here.
Here are some of our favorite Siesta Key Village Restaurants that you may want to check out.
The Cottage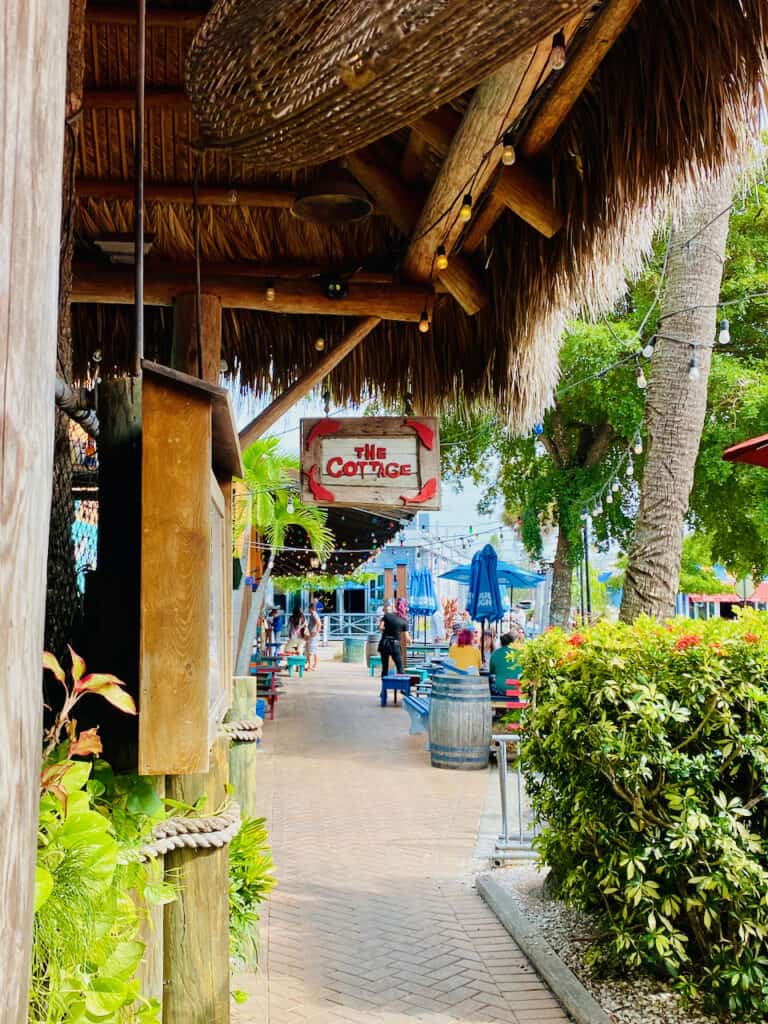 The Cottage is a favorite among locals and tourists alike. This tiki-style restaurant serves fresh seafood, sandwiches, and indoor and outdoor seating.
While it may be slightly pricier than other Siesta Key Village restaurants, we thought the quality and service were excellent. Our favorite items are the Billionaire Burger and Wonton Tuna Tacos.
Gilligan's Island Bar & Grill
Gilligan's Island Bar & Grill is a solid option to enjoy a burger and an ice-cold beer while sitting in a spacious tiki hut. This open-air restaurant is close enough to the beach to "The Village" for a quick bite. While I like burgers, the coconut shrimp is also an excellent choice.
Daiquiri Deck Siesta Key Village
The Daiquiri Deck is a local institution that is known for fun vibes and live music. This no-frills bar serves up delicious daiquiris and bar grub. Make sure to try one of their delicious frozen drinks.
Daiquiri Deck has a great happy hour every day from 3 pm to 7 pm with discounts well drinks, wines, and draft beers. Also, half price on souvenir cup daiquiris!
The Hub Baja Grill
If you're looking for a fun ambiance, one of the most ideal places to eat is the Hub Baja Grill. It has casual indoor and outdoor dining with festive lights in the center of downtown Siesta Key. Margaritas, grouper tacos, or short rib tacos are all excellent choices.
Lobster Pot Restaurant
Located in the heart of downtown Siesta Key, the Lobster Pot Restaurant is a good choice for seafood lovers. It's a casual environment with a nautical theme. While it's on the pricier side, try the lobster bisque or the lobster roll. And don't miss out on the yummy complimentary cornbread.
Siesta Key Wine Bar
You'll want to visit Siesta Key Wine Bar for a cozy wine bar where you can sample a flight or buy a bottle. They have a decent selection of wine, beer, and wine popsicles. Prices are usually reasonable, and they have an attentive staff.
The Old Salty Dog
The Old Salty Dog is a British-themed pub offering beer-battered hot dogs, island blackened grouper tacos, and other bar delights. Sitting near the edge of town, it's got an attractive exterior that beckons visitors (especially since it's dog friendly). Plus, there is often live music to add to the atmosphere.
Another Broken Egg
Another Broken Egg is a chain restaurant that tends to be one of my go-to's when craving a traditional breakfast. They have excellent pancakes and omelets. I visit them usually in Clearwater Beach, but they also have a location just off Ocean Boulevard downtown.
Siesta Key Village Shops
The village of Siesta Key is home to various charming stores and shops. From local artisans to national brands, there is a good variety in the three or four blocks of storefronts on this 8-mile-long island.
Shopping in Siesta Key Village is the perfect way to spend an afternoon or evening after a day at the beach.
Whether you're looking for souvenirs or beachwear, you'll find what you're looking for in the village. Here are some of our favorite places to shop in Siesta Key Village.
Beach Bazaar
Beach Bazaar is a super cute beach souvenir shop in Siesta Key Village. They have a wide variety of items, such as beach supplies, swimwear, home decor, jewelry, and clothing. They also have kids' items like stuffed animals, beach toys, snacks, and more!
If you are looking for gift ideas, Beach Bazaar has some unique items and jewelry pieces available. Go by even for a quick browse since the staff is friendly.
Siesta Key Outfitters
After walking through many other Siesta Key Village Shops, Siesta Key Outfitters is one of our favorites because you can design your own shirt. Another added plus is they carry a wide variety of sizes, from babies to adults. If you're tired of the typical beach t-shirt, you've come to the right place! They will make it in front of you.
Foxy Lady Siesta Key
Foxy Lady is the perfect place to find hands-on customer service for women's clothing. This boutique specializes in casual yet chic beachwear, unique clothing, swimwear, and accessories. Foxy Lady Siesta Key has been a local staple for women's clothing since 1972 and has a second location in St Armand's Circle.
CaliFlorida Surf & Skate Shop
CaliFlorida Surf & Skate Shop offers an array of skate surf or skimboards, clothing, and other fun beach items! It has lots of clothes and decks, plus other cool stuff with friendly service.

Siesta Key Ice Cream, Gelato, & Donuts
I have a sweet tooth, so stopping at the local Siesta Key ice cream and donut shops is always a must!
Made in Rome Organic Gelato
While in the "Village," get a tasty treat. Our recent favorite is Made in Rome Organic Gelato. It is as good as anything I had in Italy! Plus, it's made on-site daily by their friendly staff.
Kilwins
Although it is a chain, I also enjoy fudge and ice cream from Kilwins. They are opening a shop in Siesta Village Plaza. My personal favorite is their Macinac Island ice cream.
Meaney's Mini Donuts
Yum, if you love donuts – you'll have a make a quick detour at this Siesta Key donut shop located in the center of the village. The smell of donuts beckons you. Try the bavarian cream-filled donut if you can't decide! Plus, Meaney's also makes good coffee and ice cream too.

Festivals & Events
Siesta Key Farmers Market
The Village of Siesta Key hosts several festivals and events throughout the year, such as the Siesta Key Farmers Market located across from Morton's Siesta Market. It is held from 8 am to 12 pm, selling fresh produce, locally made artwork, clothing, and more!
Siesta Key Crystal Classic
Since 2010, Siesta Key has hosted the Crystal Classic in November. This Master Sand Sculpting Competition is a popular event where 24 sculptors compete for the grand prize. Proceeds go to support the Ringling College of Art + Design.
There are also a host of other festivals and events throughout the year! Check out the calendar of events provided by the Siesta Key Chamber of Commerce.

Spend Time at Siesta Beach
Known for its ideal white quartz sand beaches and bright turquoise waters, it's no wonder Siesta Key has been repeatedly ranked the #1 Beach in the United States. In 2020, it was again ranked the #1 Beach in the U.S. by TripAdvisor's Traveler's Choice Awards.
Siesta Beach offers something for everyone with more amenities than the average beach!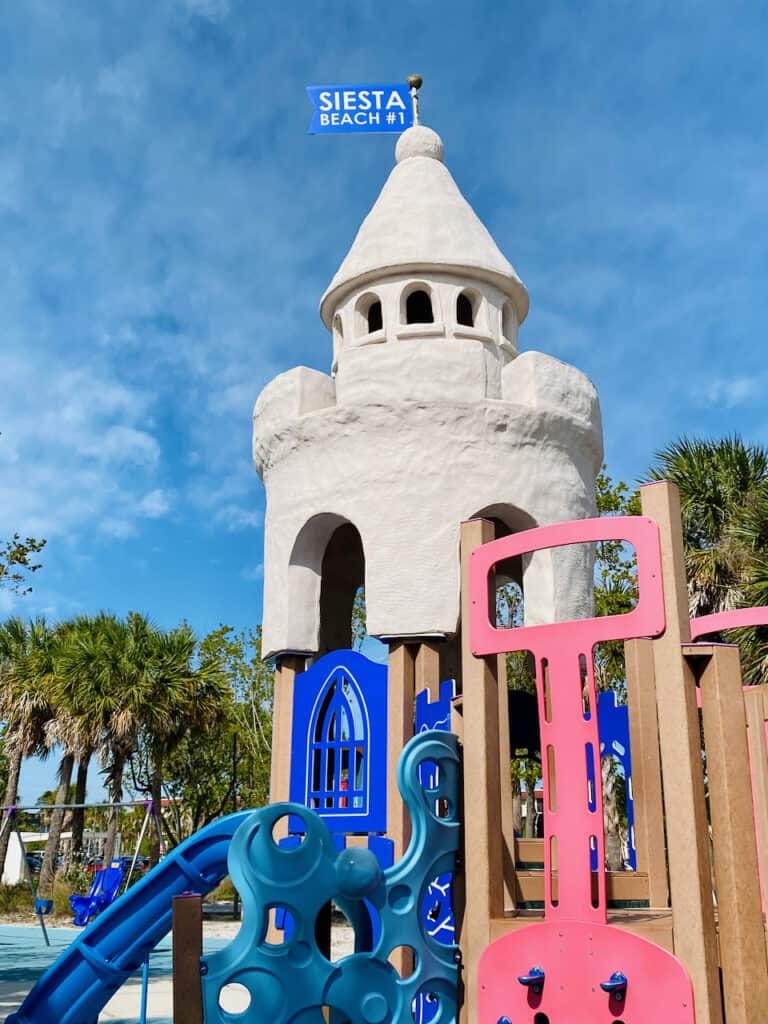 Some of the best features at Siesta Beach include:
Playgrounds (2 to 5 years old & 5 to 12 years old)
Volleyball Courts
Eatery / Cafe
Barbeque and picnic areas
Free parking (with many parking spots too)
You'll also find the beach to be a safe atmosphere, with lifeguards and police frequently monitoring the property.
Siesta Beach is a romantic getaway for lovers, a family-friendly destination, and plenty of fun things to do in Bradenton and Sarasota nearby.
Siesta Key Vacation Rentals & Hotels
With an award-winning beach and fun downtown, you'll definitely want to stay longer! Check out the variety of Siesta Key hotels and VRBO vacation rentals to optimize your time.
Final Thoughts on Siesta Key Village
The Village of Siesta Key is a charming community with plenty to offer visitors and locals alike. With a variety of local restaurants, bars, and shops, there's something for everyone in this vibrant village.
Whether you're coming here for a cold drink after a day at the beach or local cuisine, spend some time in the Village during your next visit to Siesta Key!
Frequently Asked Questions
Is there a downtown area in Siesta Key?

Yes, Siesta Key Village is the downtown of Siesta Key, Florida. Located on Ocean Boulevard, you can easily walk to the beach. Siesta Key downtown has approximately 100 shops, boutiques, restaurants, and ice cream shops to enjoy.
When is the best month to visit Siesta Key?
There are multiple factors to consider when choosing the best month to visit Siesta Key. The ideal weather conditions are March through May while avoiding hurricane season, which runs from June to November. November is also an excellent choice to see the Crystal Classic (International Sand Sculpting Festival).
Can you swim in Siesta Key year round?
Yes, Siesta Key is an ideal place to swim year round. The water temperatures can range from the 60s to 80s degrees Fahrenheit (winter months to summer months).
Is Clearwater or Siesta Key better?
Clearwater Beach and Siesta Key Beach are both among the highest ranked beaches in the United States. You honestly can't go wrong visiting either location. Clearwater Beach is more lively, with multiple resorts and hotels on it. Siesta Beach has more free parking and has a more local feel to it.
Did You Find This Post Helpful? Share It!
If so, I would love to hear about your Siesta Key downtown adventures! You can follow me on Instagram, and tag your images to @erinstraveltips and hashtag #erinstraveltips. I look forward to seeing you there!
Related Florida Travel Articles